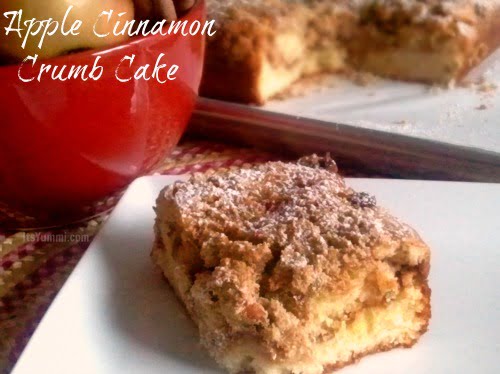 There are times when I think words can't describe a recipe well enough. You need to utilize all of your senses to experience how wonderful it is. Your eyes need to gaze on its beauty. Your sense of smell needs to breathe in the earthy aromas of cinnamon, nutmeg, and baked apples. Your ears need to be attentive to the moaning and rumbling of your stomach as it aches for the taste of a true bakery style coffee cake. The kind that you may have experienced at your local bakery. Meuer's Bakery in Waukesha, Wisconsin was where my heart lived as a young child.
Trips there with Daddy on Sunday morning were as wonderful as daddy/daughter time can get. Being the youngest girl in the family AND sharing a birthday with him had definite advantages! 🙂 Back to the sensory overload…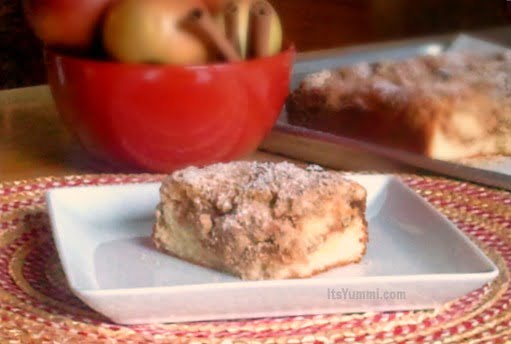 As your fingers delicately lift the crumbly, moist cake to your lips, you'll know in an instant that your mouth and tongue are in for an explosion of tasteful love…
[Chef Becca Heflin|http://www.itsyummi.com" target="_blank]
This Recipe Makes/Serves: 9-12
One bite of this moist coffee cake will take your mind to your favorite bakery! It's packed with cinnamon, walnuts, and apples, and topped with a crunchy streusel and a sprinkle of confectioner's sugar,
5 minPrep and Rest time (if applicable)
25 minCook Time
30 minTotal Time
Ingredients
FOR THE CAKE
1 1/2 cups sifted all-purpose flour
1/2 cups sifted cake flour
2 1/4 teaspoons baking powder
3/4 teaspoons salt
3/4 cup superfine sugar (see notes)
2 whole eggs
1/2 cup melted butter or vegetable oil
1/2 cup milk (any variety)
1 medium Granny Smith or baking variety apple, cored, peeled, and thinly sliced


FOR THE FILLING
1/2 cup light brown sugar
1 1/2 teaspoons cinnamon


FOR THE STRUESEL TOPPING
1/2 cup light brown sugar
1/2 cup chopped walnuts or pecans
1 1/2 teaspoons cinnamon
1/2 cup all-purpose flour
2 oz. (1/2 stick) butter, softened
Instructions
Heat oven to 400 degrees F. (375 convection)
Lightly grease a 9" square baking pan
In a large bowl, combine flours, baking powder, sugar, and salt. Make a well in center of the dry ingredients; set aside.
In a medium bowl, whisk together eggs, butter or oil, and milk. Pour wet ingredients into well in center of dry ingredients and use a spatula to mix just until combined and no flour remains.
In a small bowl, combine ingredients for filling. In another small bowl, combine ingredients for struesel topping. Use fingers to combine the butter into the dry mixture. The result should resemble coarse meal, with pieces the size of peas.
Pour half of cake batter into pan and sprinkle filling evenly over it. Place sliced apples evenly over filling. Add remaining batter and sprinkle struesel topping evenly over top of batter.
Bake for 25-30 minutes, or until knife inserted into cake comes out clean.
Allow cake to cool for 10 minutes, then remove from pan and transfer to wire rack to cool completely.
Important Notes!
If you can't find superfine sugar, place regular granulated sugar into a food processor or coffee grinder.
http://www.itsyummi.com/apple-cinnamon-crumb-cake/
All Rights Reserved 2016; Its Yummi (www.itsyummi.com) - This recipe may not be distributed, sold or used for any commercial purpose (including sharing on social media platforms). The ONLY authorized use is by to share an IMAGE ONLY along with a link to the blog post on itsyummi.com where the recipe can be found.