Learn the secret recipe for making a delicious fresh apple crisp, with a buttery crumb topping that you'll swoon over!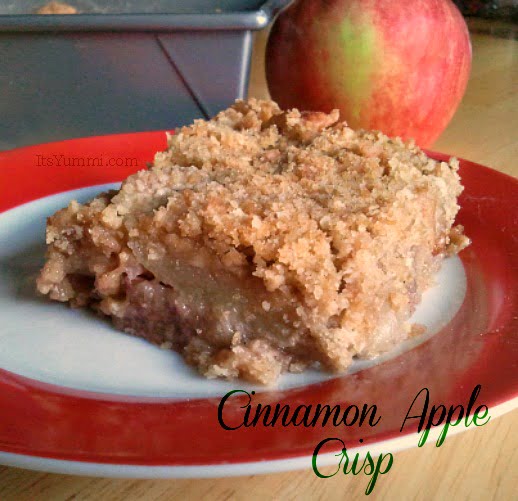 CONFESSION:

I'm having a one-sided emotional love affair…with a woman.  I believe I've mentioned her once or twice or maybe a hundred times before today.  Her name is Joy, and Brian not only knows about my infatuation with her, he's totally okay with it!!  *thump thump*  What a great guy he is!
Joy is everything I need in a relationship that can't already be found in my relationships with God or Brian.  What?  You don't believe me?  Read on…I have PROOF!

Joy's got really great fashion sense.  If I need to know what color lip gloss goes best with my eye and/or sweater color, I'm DEFINITELY not asking Brian for advice.  His idea of high fashion is wearing knee high tube socks with his dress shorts.
I'd be willing to give up a slab of bacon that God doesn't really know or care much about the latest trends in Revlon colors, either.   JOY knows her fashion and makeup, though.  Based on photos I've seen, she rocks every book signing that she attends. Perfectly adorable hair, fashionable clothes, and the perfect application of makeup. I'll bet she looks totally adorable in a pair of skinny jeans, too. Speaking of skinny jeans, I think the last time I fit into a pair was back in the 6th grade.  These days, I MIGHT be able to get an arm in there if I pushed really hard, but then I'd look like a butcher had shoved my arm into a sausage casing.

FAIR WARNING:  Getting old isn't for sissies.  Learn to love who you are now so that when your boobs start sagging to your stomach you can still look in the mirror and see your beautiful soul shining through.  My sweet Joy has the whole package and then some.  A fit body, adorable spirit, caring heart… *sigh*  Ain't love grand?

She's also an incredible author.  She owns the English language and knows how to use it!  ROCK THOSE WORDS, girlfriend!  I bet she's a hellion when she plays Words with Friends!  Simply stated, her stories make my heart smile. Like the one she blogged about last week.  She talked about Kitten.  The story was so sweet, my teeth started to hurt a little.  OH, and she didn't just TALK about her adorable cat.  She gave us gorgeous photography to go with those beautiful words.  Yet another thing I L-O-V-E about her.  The photography on her blog is STUNNING.  I think it goes without mentioning that she's an incredible cook, too.  Why else would I have a desire to make EVERY recipe in her cookbook?  Even the ones with coconut (of which I'm deathly allergic) were tempting for me to try.

Right about now, you may be shaking your head and wondering if I'm trying to embarrass the heck out of myself and/or Joy Wilson.  I'm NOT trying to do that, Joy!  Pinky swear.  I realize that lots of you girls out there likely have wonderful FRIENDSHIPS with women who possess many of the same qualities as Joy, but I wonder…do you have dreams about your friend?  Dreams where you're wearing matching aprons like this one?

Dreams where you and your friend are baking together in a cozy kitchen?  Do you spend time at work daydreaming about yummilicious challenges where you taste test each other's lemon curd to see whose is best?  Do you get a little giddy when you imagine dancing like a rock star with your girlfriend in the kitchen?  I didn't think so….and apparently, Joy is more like you and less like me.  I have proof of THAT, too.

The recipe I made from her cookbook this week is apple crisp.  Not just ANY apple crisp, mind you.  Joy calls it "MAN bait" apple crisp.  Oh crap…my life may be ruined.  *sigh* At least I have some of this crisp to feed my emotions with.  It would make me feel a whole lot better if you bought a copy of Joy's book and made some of this crisp, too.  At least then we'll have one more thing in common…a mutual affection for a girl named Joy.  Pretty please?
CLICK HERE FOR THE RECIPE