Having been born and raised in Wisconsin (The Dairyland State) pretty much attests to the fact that I am a lover of all things cheese.  Throughout the years, I have found ways to incorporate cheese into breakfasts, lunches, and dinners, and most recently into this asiago vegetable risotto!
Typically, I favor semisoft and fresh cheeses like provolone, marscapone, and farmers cheese more so than the hard, "stinky" cheeses like bleu, stilton, and feta.  However, I'm working towards developing my palate so that I can experience all of the wonderful tastes and textures available!
In honor of my favorite fat-laden protein, here is an incredibly easy and delicious recipe for you to try.  I found this recipe (and the gorgeous picture) at the Wisconsin Milk Marketing Board website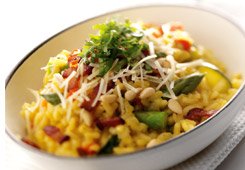 Asiago Vegetable Risotto
Asiago Vegetable Risotto
Created By:
Chef Becca Heflin
Recipe Category:
Side Dish
Prep time:
Cook time:
Total time: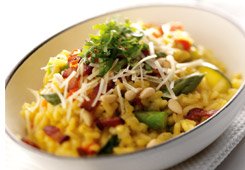 Creamy arborio rice, cooked with fresh garden vegetables and flavorful saffron, then sprinkled with asiago cheese. It's a tasty side dish that will impress your palate!
WHAT'S NEEDED
2/3 cup (6 ounces) butter, divided
1 tablespoon olive oil
1 1/2 cups Arborio rice
3 1/2 cups chicken broth, divided
Pinch of saffron threads
1 medium zucchini, sliced into 1/4 inch half-rounds
1 cup asparagus, cut into 1 1/2-inch pieces
1/2 cup red pepper, diced2 green onions, sliced
1 teaspoon black pepper1/4 cup lemon juice
1/2 cup (4 ounces) Asiago Cheese, shredded
2 tablespoons fresh basil, chopped
1/4 cup pine nuts, toasted
4 ounces bacon, preferably Applewood-smoked bacon
HOW TO MAKE IT
In 3-quart pan, heat 1 tablespoon butter and olive oil over medium-high heat. Add rice and stir continuously until edges of kernels are translucent; about 3 to 4 minutes.
Add 1/2 cup broth and stir until absorbed; about 3 minutes. Reduce heat to medium and add another 1/2 cup broth, saffron, zucchini, asparagus, red pepper, onions and pepper. Cook until all liquid is absorbed; stirring frequently.
Continue to add remaining broth, 1/2 cup at a time, cooking until liquid is absorbed each time.
When all liquid has been added and absorbed, stir in lemon juice, Asiago and remaining butter. Mixture should be creamy and rice should be al dente.
Before serving, stir in basil, pine nuts and bacon
Doesn't that asiago vegetable risotto look yummi?!  I can't wait to use up some fresh veggies from the garden on this dish VERY soon!