Spinach Parmesan Sables are a healthy, light, and crispy cracker that will give you the salty snack you're craving for WITHOUT all of the fat, calories, and guilt!
Do you know the oh-so-talented Abagail Johnson Dodge? Her friends call her Abby. She's a gem in the world of baked goods. You can read all about her HERE.
I was first introduced to Abby when I came across her cookbook, Desserts 4 Today
. That little book transformed me forever, because in it, Abby shares a recipe for Nutella brownie bites. I'm sure you already know about my Nutella obsession, and if you don't, just use the search box on my site and look up the word Nutella. You'll find ALL sorts of Nutella love around here! At any rate, What's better than the recipe itself is the fact that they're made from only 4 ingredients and they bake up in 11 minutes. Hello, obsession!
Anyway, I digress. Abby has a monthly post on her site called #BakeTogether where she shares an easy recipe that she then encourages us foodies to put our spin on and link up to her site with it. The end result is always pure wonderfulness, as we are able to see one another's creations and share our recipes at the same time.
This month's #BakeTogether recipe is for sables. Until I read Abby's recipe for them, which you can see HERE, I honestly had never heard of a sable. Turns out, it's a flaky, buttery bundle of goodness. Sort of a cross between a cracker and a cookie. They're made using a fancy sounding French pastry technique called fraisage. I just love saying that word because it secretly makes me sound like an expert in the art of French pastry… FRA-SAJ…The sables are light as air and they pair well with coffee, tea, milk, or even a glass of wine.
Abby's version was a spicy Parmesan sable, which really sounded delicious. I thought about making the recipe as written, but then I realized how close it is to St. Patrick's day, so I decided to give my sables some luck 'o the Irish green using one of my favorite savory ingredients, baby spinach! Look how adorable my Spinach Parmesan Sables turned out!
If you want to make them, just use Abby's recipe and then fold in 1/2 cup of finely chopped spinach as you're creating the log. You could probably even combine it during the initial mixing in your food processor, but I wanted to make sure that I was preparing the dough correctly since I had never used this technique before.
I really like how the spinach gives the sables a fun marbling effect. There's a touch of cayenne pepper in the recipe, too, so if you make them with this version, you'll get a little salt, a little tang, and a wonderfully buttery cracker that just melts in your mouth!
I scarfed down ate a couple of them while they were still warm, right out of the oven, but I bet they'll taste even better after they've cooled down. I'm making a cheesy ham & potato casserole tomorrow and these will be a perfect compliment for it. I'm going to bake up another batch to go with our corned beef & cabbage on St. Patty's day, too.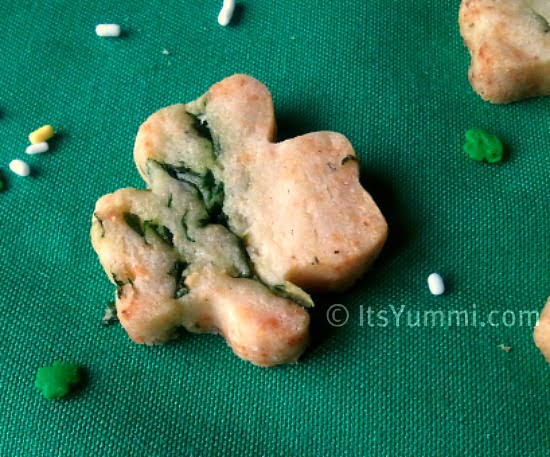 If you like salty snacks, you might also want to check out my recipe for Ranch Roasted Nuts.
I hope you enjoy these spinach Parmesan sables!