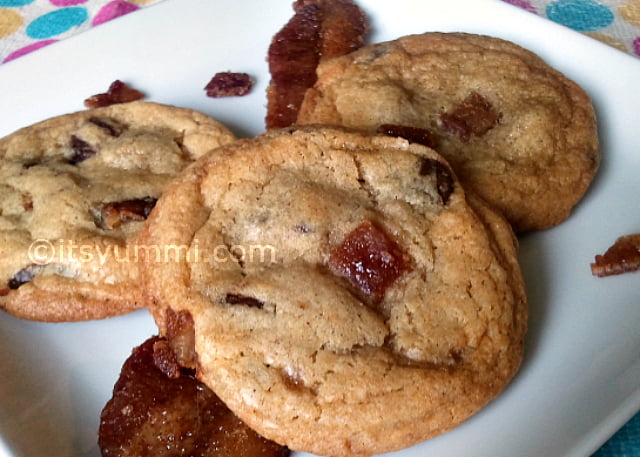 As the battle with my poor health (I have Pernicious Anemia) continues, I've been keeping my spirits up by surrounding myself with a few of my favorite things.  *insert cheesy yet wonderful Julie Andrews Sound of Music tune here*
My favorite things are NOT raindrops on roses, but whiskers on kittens are cute.  Also:
Baby giggles - Since I'm far too ancient to grace the world with a beautiful baby that possesses an adorable giggle, I've had to use my resourceful nature and seek out one of the cutest babies ever created.  Enter Kaden Daniel... the son of Lacey, one of my besties, and her hubby Tyler.
Look at that little Earth angel!  We'll be celebrating his first birthday tomorrow.  I just want to gobble him up, and when he giggles for me, my anxiety and cares just melt away.  Beats a Calgon bath any day of the week!
Fragrant flowers - It doesn't matter how down I am, when I smell a lilac tree in bloom, my frown turns upside down.
Browned butter & bacon - Until today's recipe came along, I could and would have listed these items separately as two of my favorite things.  Actually, I could probably still do so, considering the fact that browned butter is so stinking delicious that I could drink it straight from a glass.... and bacon.....well, unless you're brand spanking new to the land of It's Yummilicious, you already know about my obsession with pork fat.  I just can't get enough.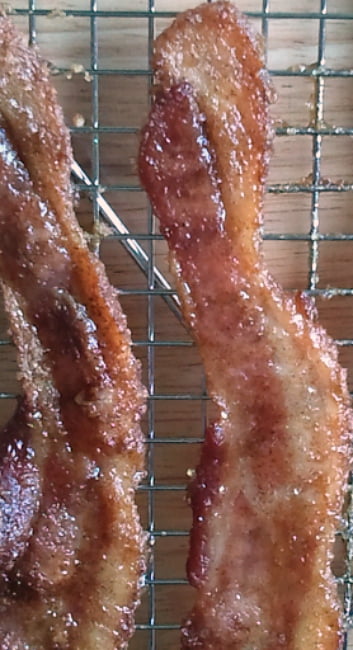 However, I decided to combine my two loves with one other favorite, chocolate chip cookies... and now my life will never be the same.  If you make a batch of these cookies, I can promise that you'll say the same thing.
There's just nothing but pure bliss to be had from the sweet and salty combination.  Candied bacon is made by baking strips of good quality, thinly sliced bacon (center cut works well) that have been dredged in brown sugar and cinnamon on both sides.  You place them onto a cooling rack that has been laid on top of a foil lined cookie sheet and then bake them at 350 degrees for about 15-20 minutes, or until the bacon is crisp and the sugar has been caramelized onto the bacon.  It's obscenely addictive and so freaking good that you may even squeal out loud a little when you eat it.  OK, maybe that's just me, but either way, I have high hopes that you will LOVE it!
After you've candied the bacon, you dice it up into pieces that are about the same size as a chocolate chip and add them to the cookie dough before you bake them.  It adds a wonderful chewy aspect to the cookie that is out of this world good.
Because the browned butter chocolate chip cookie dough has to be chilled before it can be baked, you won't be able to stir the bacon into the dough.  I just placed a few pieces of bacon into the balls of dough as I was panning them up....easy peasy.
Another little secret weapon of wonderfulness to these cookies is the addition of some cinnamon.  I started adding it to my regular chocolate chip cookie dough a couple of years ago and I can't really explain in words how that little added touch creates an extra special flavor note to the cookie that leaves you craving more of them.  ESPECIALLY when they're warm right from the oven.  AHHHH-MAZING!
In case you didn't catch last week's recipe for Snickers Cheesecake Bars, here's a video tutorial on how to make browned butter...the final piece de la resistance in this recipe.  Good grief....why was that Frenchman making a verbal appearance here?!  OH, I know... because browned butter originated in France.  Over there it's called beurre noisette. Anyway, here's how you make it.
Just wait until your kitchen is filled with that aroma. It's incredible!
I really feel the need to warn you about how awesome and addicting these cookies are.  I seriously believe that they are the best chocolate chip cookies I've ever made or eaten in my lifetime.  Lacey tried one yesterday and she had a tough time keeping her drool under control as she mumbled through her chewing "OH MY GOSH, these are so good!"  That response right there is yet another of my favorite things  :)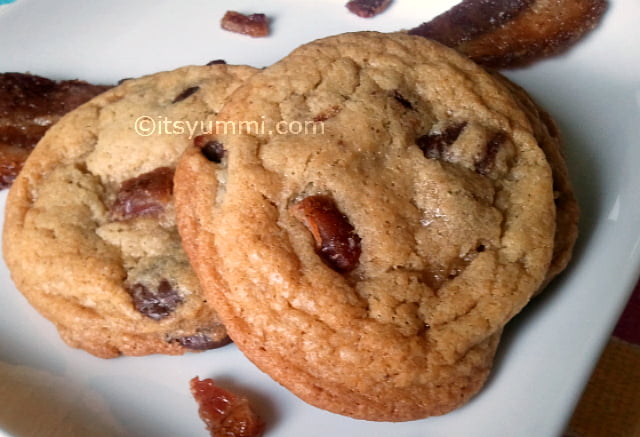 In fact, these chocolate chip cookies are SO good, I think they are worthy of an entry into the 52 Kitchen Adventures Chocolate Chip Cookie Challenge!  Stephanie, the genius behind 52 Kitchen Adventures said she's looking for the best of the best.  Well, behold THESE, girlfriend!
If you think YOU have the best chocolate chip cookie recipe to ever exist, be sure to head on over and get yourself involved in the awesome cookie challenge!  I'd also love to hear from those of you who try these cookies.  Please let me know what you think of them!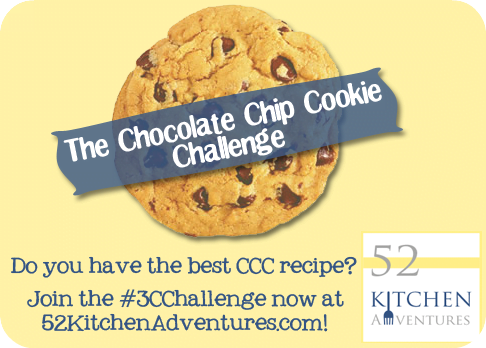 Until next time, be blessed... and be sure to feed your stomach AND your spirit!
Becca
Browned Butter Chocolate Chip Cookies with Candied Bacon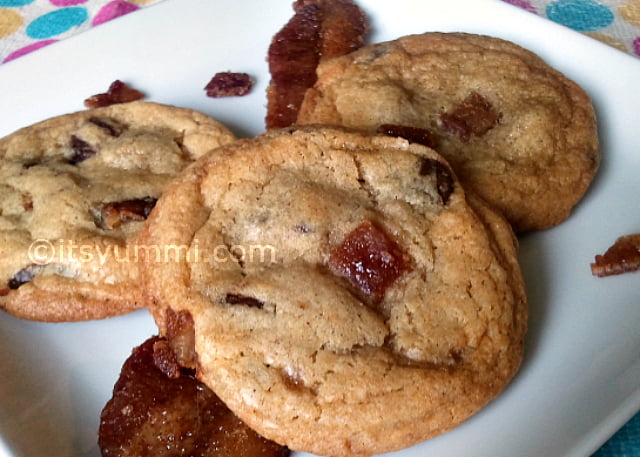 Candied bacon brings a sweet and salty combination to these chewy browned butter chocolate chip cookies. The use of bread flour adds to the wonderful chewy texture.
WHAT YOU\'LL NEED
2 1/4 cups bread flour (this gives the cookies a wonderful chewy texture)
1 teaspoon kosher salt
1 teaspoon baking soda
2 teaspoons ground cinnamon
1 cup unsalted butter, browned
1/4 cup granulated white sugar
1 1/4 cups dark brown sugar, packed
1 Tablespoon half and half or milk
1 Tablespoon lemon juice, freshly squeezed
1 1/2 teaspoons vanilla extract
1 large egg
1 large egg yolk
2 cups chocolate chips (bittersweet or semi-sweet)
3-4 strips candied bacon
HOW TO MAKE IT
Sift together flour, salt, cinnamon and baking soda onto a piece of parchment paper or into a bowl and set aside.
Melt butter in a medium saucepan over low heat. Continue to cook on low heat, stirring often, until butter is browned. Turn off heat and stir in the white and brown sugars.
Scrape the mixture into a medium mixing bowl and use an electric mixer to cream the butter and sugars together. Add half & half, lemon juice, vanilla extract and eggs. Mix in until well combined. Add half of the flour mixture and incorporate into the batter with electric mixer. Add the rest and mix until thoroughly combined. Stir in the chocolate chips. The cookie dough will be very soft and buttery. Cover the bowl with plastic wrap and chill until firm (an hour or two).
Heat oven to 375°F (350 F for convection ovens). Line baking sheets with parchment paper.
Use a #30 serving scoop (2 Tablespoons) to place balls of cookie dough onto the baking sheet, keeping about an inch and a half between each ball. Take a few pieces of candied bacon and incorporate them into each dough ball.
Bake 10 to 12 minutes or until cookies are set on the edges but still a little soft in the center (they'll continue to bake on the cookie sheet for 2 minutes after you remove them from the oven)
After 2 minutes, remove cookies from the baking sheet and place on wire racks to continue cooling.
Notes
All-purpose flour can be substituted for the bread flour, but the cookies won't be as chewy.
http://www.itsyummi.com/browned-butter-candied-bacon-cookies/
Recipe From: www.ItsYummi.com