In the world of chocolate desserts, brownies are one of those treats that appeal to the masses. Whether you're a fan of the chewy gooey or the bakey cakey variety, a well made brownie is sure to bring a smile to even the grumpiest of grumps, and a toffee caramel brownie will send you swooning!
That being said, it goes beyond the consistency with me. If I were to start thumbing through the awesome brownie recipes I've come across, the endless variations on the basic brownie theme would have my heart going pitter pat long into the evening. If you don't believe me, just hook up with me on Pinterest and do a search for brownies. It's a surefire way to make you drool all over yourself.
Ready to bake? Give these toffee caramel brownies a try and see if you don't die and go to brownie Heaven. YUM!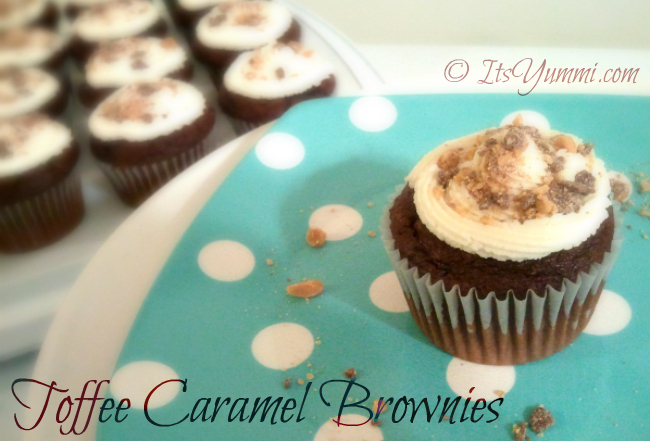 I created these caramel brownies on a whim one afternoon. I had some caramel buttercream frosting left over from when I had made Snickers cupcakes and I sure wasn't going to let it go to waste. I also had a bag of toffee chips and a package of Rolos in my baking cabinet that had been calling my name. I knew that Brian would want to share these with his coworkers, so I decided to bake them in cupcake liners to make them easier for him to serve. Fudgey brownies stuffed with chocolate and caramel, topped with that sinful frosting and a smattering of toffee chips. OH. EM. GEE.
As I had hoped, they were a grand slam home run. Winner winner caramel brownies for dinner!

Chef Becca Heflin
This Recipe Makes/Serves: 12
Toffee Caramel Brownies
Chewy, fudgy brownies filled with creamy caramel and topped with decadent caramel buttercream and rich toffee pieces.
10 minPrep and Rest time (if applicable)
25 minCook Time
35 minTotal Time
Ingredients
1/2 cup unsalted butter
3/4 cup granulated sugar
1 cup flour
1/2 cup unsweetened dark cocoa powder
1/2 teaspoon salt
2 eggs
6 Rolo candies, cut in half
1 cup of crushed toffee pieces
Instructions
Heat oven to 350 degrees F.
Line a standard cupcake tin with 12 paper liners. Spray each lightly with non-stick spray.
Melt the butter in a small saucepan over medium heat. Whisk in sugar and bring to a boil, whisking frequently; boil 1 minute. Set aside to cool for 5 minutes.
In a medium bowl, sift together flour, cocoa powder and salt; whisk until combined.
In a large bowl, whisk together eggs until combined. Whisk in melted butter-sugar mixture until well combined. Stir in flour mixture until just combined.
Fill each liner 1/3 full with the brownie batter and place a Rolo into each liner.
Place more batter into each liner, filling each one approximately 3/4 full. Sprinkle toffee pieces on the top of each brownie before baking.
Bake brownies for 20-24 minutes, or until edges are browned but the center of each brownie is still slightly soft. Allow them to cool completely in pan before frosting them with the caramel buttercream. Sprinkle tops with more toffee pieces if desired.
http://www.itsyummi.com/brownie-bonanza/
All Rights Reserved 2016; Its Yummi (www.itsyummi.com) - This recipe may not be distributed, sold or used for any commercial purpose (including sharing on social media platforms). The ONLY authorized use is by to share an IMAGE ONLY along with a link to the blog post on itsyummi.com where the recipe can be found.