In the world of chocolate desserts, brownies are one of those treats that appeal to the masses.  Whether you're a fan of the chewy gooey or the bakey cakey variety, a well made brownie is sure to bring a smile to even the grumpiest of grumps
That being said, it goes beyond the consistency with me.  If I were to start thumbing through the awesome brownie recipes I've come across, the endless variations on the basic brownie theme would have my heart going pitter pat long into the evening.  If you don't believe me, just hook up with me on Pinterest and do a search for brownies.  It's a surefire way to make you drool all over yourself.
To add fuel to the brownie blaze we've got going, here are a few great deals to help spread the brownie love:
PREPARED PANTRY - This site is a brownie lover's dream come true!  For those moments when you need a dessert and you need it FAST, this place should be your go-to source.  I LOVE their baking mixes and kitchen tools, but even more awesome than the products are the great prices and awesome deals they have to offer.  I think that their shipping charges are really reasonable, too.  Get this…  They offer 7 different flavors of brownies mixes.  SEVEN!  Check out the varieties HERE
Ooo, I almost forgot.  They have two nifty brownie cutters, too.  One has a wavy design, so you can use it to make a decorative edge on any bar treats.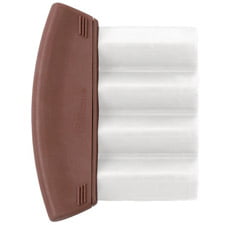 CLICK HERE for more information
The other tool will slice your brownies cleanly and evenly.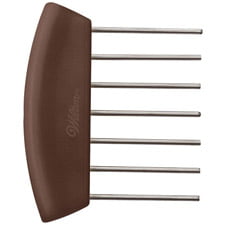 CLICK HERE for more information
Both of those nifty gadgets are must-haves in my opinion, and they'd even make a great little gift for a lucky mom or grandma on Mothers Day.
Ready to bake?  Give these toffee caramel brownies a try and see if you don't die and go to brownie Heaven.  YUM!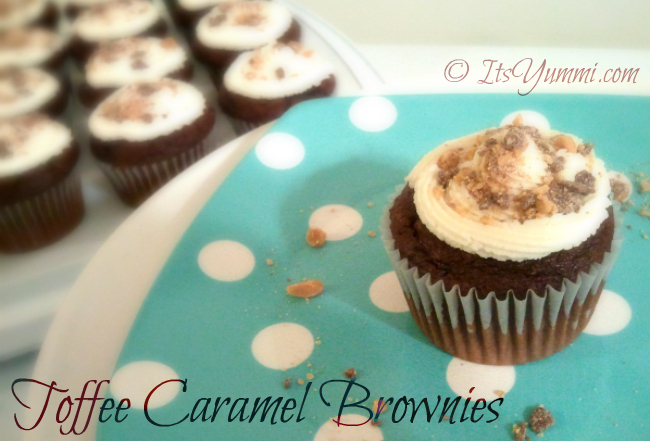 I created these on a whim one afternoon.  I had some caramel buttercream frosting left over from when I had made  Snickers cupcakes and I sure wasn't going to let it go to waste.  I also had a bag of toffee chips and a package of Rolos in my baking cabinet that had been calling my name.  I knew that Brian would want to share these with his coworkers, so I decided to bake them in cupcake liners to make them easier for him to serve.  Fudgey brownies stuffed with chocolate and caramel, topped with that sinful frosting and a smattering of toffee chips.  OH. EM. GEE.
As I had hoped, they were a grand slam home run.  Winner winner brownies for dinner!
[amd-zlrecipe-recipe:60]
Affiliate Disclosure: To help pay my household bills, keep my fur babies fat and sassy, and pay for the maintenance fees of this website, I have become a blogging affiliate for The Escalate Network and The Prepared Pantry.  Within this post are embedded affiliate links. When you print coupons, accept offers, and/or purchase products, I am provided a small compensation.  I greatly appreciate your support!  I really really really REALLY do!  Thank you!