If you're a regular reader of this blog, you know that because of my disabilities, some days I feel much better physically and emotionally than others.  Today was a good day, so I intended to take full advantage of it!
I started my day by fulfilling a couple of orders for mini cinnamon roll cookies.  Needless to say, I had to make an extra batch, because whenever I make these cookies they come out of the oven and are grabbed by a strange magnetic pull, causing some of them to accidentally slip onto a plate and then drop right down in front of me with a great big "EAT ME" sign.  It's very Alice in Wonderland-ish and really quite awesome. I usually go with it because frankly, the Cheshire Cat scares the bejeezus out of me.
When I had completed my cookie baking, I decided to poll my Facebook fans to see if I should bake something sweet or savory.  That's when IT happened.  The Tweet heard 'round the kitchen... I called it that because I was standing in front of my stove when I read the following comment from one of my very favorite chefs, Felisha: " I want something different rather than a rehash of the same-ole. I challenge you to make a sweet rosemary recipe!"
Oooooooo.......a CHALLENGE!  The only thing better than a challenge is a triple dog dare challenge.  Ralphie knows all about those...
I accepted Felisha's challenge with the utmost of enthusiasm.  Thanks to inspiration from Epicurious, here's what I came up with.  It's a savory and not overly sweet corn cake, glazed lightly with a rosemary lemon syrup.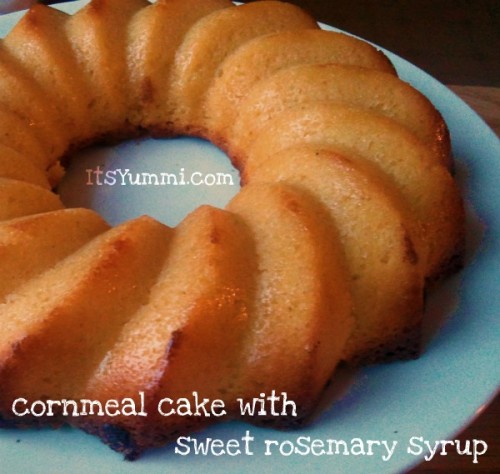 I was very happy with the results!  The crumb was wonderful and the rosemary syrup gave the corn cake a wonderful sweetness and aroma.  I just couldn't stop there, though. I felt like it needed a little oomph to take it up a notch, so I whipped up a batch of lemon cream and topped it with some fresh organic raspberries.  NOW it was challenge worthy!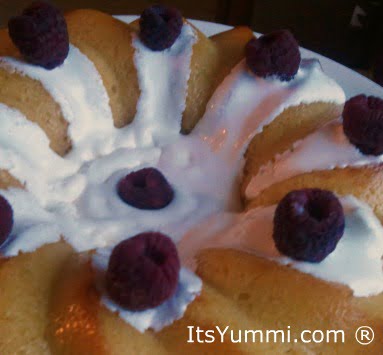 Now it's my time to invoke a little challenge on YOU.  Make one of these beautiful cakes and see if you can eat just ONE slice.  I triple dog dare ya....
Cornmeal Cake with Sweet Rosemary Syrup and Lemon Raspberry Cream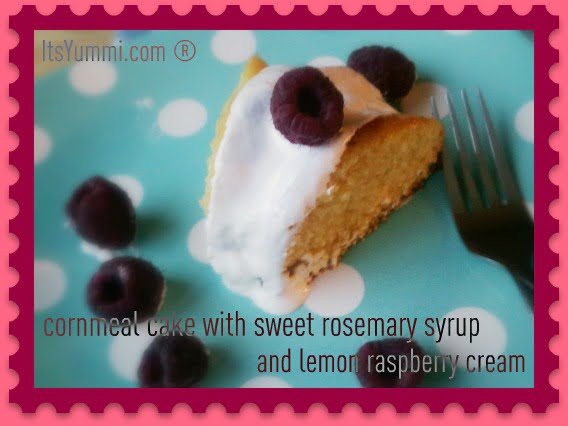 WHAT YOU\'LL NEED
FOR THE CAKE

1 stick (1/2 cup) unsalted butter, softened
1 cup sugar
1 cup yellow cornmeal
3/4 cup all-purpose flour
1 teaspoon baking powder
3/4 teaspoon salt
2 large eggs
1 large egg yolk
2/3 cup milk

FOR THE SWEET ROSEMARY SYRUP

3/4 cup sugar
3/4 cup water
1/3 cup fresh rosemary leaves, chopped
1 tablespoon fresh lemon juice (or 1/2 teaspoon of True Lemon Crystallized Lemon)
1/4 teaspoon vanilla
HOW TO MAKE IT
MAKE THE CAKE
Heat oven to 350°F. and butter and flour an 8- by 2-inch round cake pan..
In a large bowl with an electric mixer, beat together butter and sugar until light and fluffy.
Add eggs and vanilla and mix to combine.
Add dry ingredients and beat on low speed until combined. Beat batter on high speed until pale yellow, about 3 minutes.
Pour batter into prepared pan and bake in middle of oven 40-50 minutes, or until a tester comes out with a few crumbs adhering.
Make Rosemary Syrup while cake is baking.
Cool cake in pan on a rack for 10 minutes.
Invert the cake onto a plate and then return it right side up, to rack.
While cake is still warm, gradually brush 1/3 cup syrup over it, allowing syrup to soak in before adding more. Chill remaining syrup in a small pitcher, covered. Syrup-soaked cake may be made 1 day ahead and kept wrapped in plastic wrap at room temperature.
If desired, garnish with freshly whipped cream combined with 1/2 teaspoon of fresh lemon juice and top with fresh berries of your choice.
http://www.itsyummi.com/challenged-by-a-chef/
Recipe From: www.ItsYummi.com