One of my wonderful readers, Chrissy, requested that I share recipes that are very easy to make, with 5 ingredients or less, and are easy on the wallet.  Ask and you shall receive, my friend!
I love this recipe on multiple levels.  First and of utmost importance, it includes bacon.  Ohhhh, bacon.  I.LOVE.YOU.

Let's not forget the cheese, either.  Creamy cream cheese.  CHEESE.
I'll begrudgingly put aside the fats for a moment and mention that this recipe also includes some good-for-you healthiness, in the way of protein; namely...chicken.  I happen to love chicken, but if you don't, you could easily substitute turkey or pork  cutlets for the chicken breasts.
Then there's spinach.  Packed with iron and antioxidants, it's one of the healthiest veggies around...especially for me. I admit, I never learned to appreciate and love the taste of spinach until I was diagnosed with anemia.  I hated the taste of it, but then a genius decided to cover it with artichoke hearts, Bechamel sauce, and lots of ooey, gooey, Parmesan cheese.  Once that happened, I knew that there were redeeming qualities in it that could no longer be overlooked!  Truthfully, it's all in the cooking process.  There's not much more unappetizing than overcooked veggies, and spinach is VERY easy to overcook.  It requires barely more than 2 minutes in a steam bath to look and taste wonderful.
I've made this recipe more convenient for you by using frozen spinach.  Just place the frozen spinach into a colander to drain and then squeeze as much water as you can from it.  I usually wrap it in a few sheets of paper towel to help wring out any excess moisture.  If you refuse to eat spinach, this recipe also works wonderfully with chopped broccoli.
ENJOY!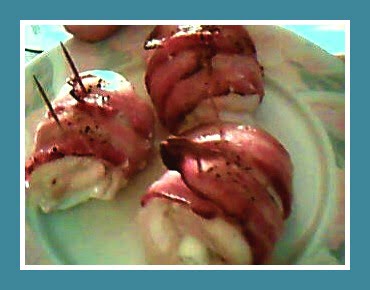 Cheesy Chicken and Bacon Roll-ups
INGREDIENTS:
1 pound boneless, skinless chicken breasts
1 package (8 oz) of cream cheese  (cut down the calories by using low fat or non-fat cream cheese)
8 slices of regular cut bacon (thick cut doesn't work well, because it doesn't have enough time to get crispy in the oven)
4 oz (1/2 small package) of frozen spinach, thawed and drained
1 teaspoon lemon zest
1 teaspoon lemon juice
salt & pepper
DIRECTIONS:
Take 4 boneless, skinless chicken breasts and pound them flat.
In a small bowl, make a mixture of 8 oz. of Philly cream cheese, ½ cup frozen spinach (thawed, drained, squeezed of liquid), tsp. of lemon zest, 1 tsp. of lemon juice, and 2 tsp. of black pepper.
Place some of the mixture on top of each chicken breast and roll 'em up.
Wrap two pieces of bacon around each breast and put a toothpick in them to hold it together.
Place into a greased casserole dish and bake at 375 degrees F for 35 minutes, or until the internal temperature of the chicken reaches 163 degrees F (proper cooking temperature for poultry is 165 degrees F, but there will be "carryover cooking" after the dish is removed from the oven.