This is one of the simplest 5-ingredient dinners I've made to date. It may be small in ingredients, but it's big in flavor!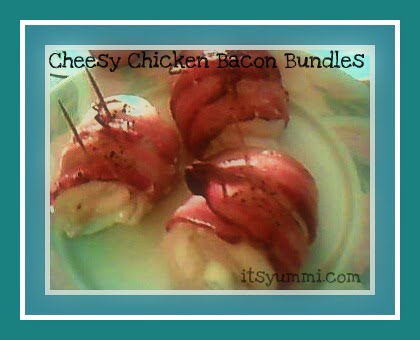 Cheesy Chicken Bacon Bundles
This 5-ingredient chicken dinner may be small on ingredients, but it's large on flavor!
WHAT YOU\'LL NEED
4 boneless skinless chicken breasts
8 slices bacon
8 oz. of Philly cream cheese
½ cup frozen spinach (thawed, drained, squeezed of liquid)
tsp. of lemon zest
1 tsp. of lemon juice
2 tsp. of black pepper
HOW TO MAKE IT
Heat oven to 375 F.
Place each chicken breast between two pieces of plastic wrap or parchment paper. Using a mallet, pound the chicken breasts flat.
In a medium sized mixing bowl, use a hand mixer or wooden spoon to combine cream cheese, spinach, lemon zest, lemon juice, and black pepper. Lay some of the mixture into the center of each piece of chicken.
Roll up each piece and wrap two pieces of bacon around each one, inserting 2 toothpicks into each one to hold the bundle together.
Bake in a baking dish that's been sprayed with non-stick spray at 375 F for 35 minutes or until the internal temperature of the chicken reaches 163 F.
http://www.itsyummi.com/cheesy-chicken-bacon-bundles/
Recipe From: www.ItsYummi.com