Many of you know by now how what a carb lover I am.  You've also likely heard one of my gazillion rants about how overweight I've become in the past 6 months.  Because of my severe anemia, I'm unable to do any real strenuous exercise, so those adorable *gag* carbs have stored up sugar and fat in my body and it's now bursting at the seams.
For about 2 seconds, I considered going on a paleo diet, where the land of no carbohydrates lives in abundance.  I just couldn't (or wouldn't) gain the willpower to give them up completely.  However, I am trying to keep my daily intake of them at or below 40 grams a day.  At least my body will have a fighting chance to drop some excess weight.  I also cut all soda pop out of my diet.  I was drinking 3-4 caffeine-free, sugar-free sodas a day.  Basically empty carcinogens into my bloodstream.  So, I've joined the August challenge over at Skinny Ms., which is to go an entire month without ANY soft drinks.  I'm hopeful for positive results!
One of the contributors over at Skinny Ms. also gave me a recipe for a healthy breakfast bar.  I was excited to try it, until I saw that it contains dates.  Meh...I'm just not a fan.  So I put on my recipe development hat and went to work adapting her recipe to something that sounded awesome to me and was pretty much equal in nutritional value.  Here's what I came up with.  I hope you try and enjoy them!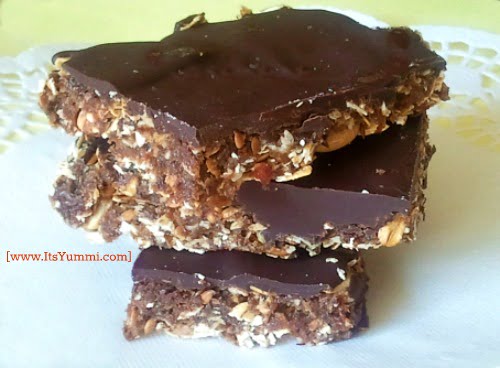 Chewy Raisin Breakfast Bars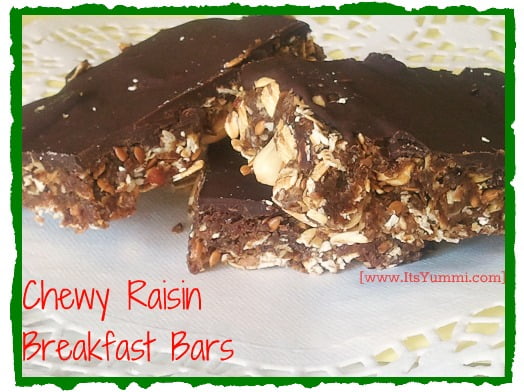 recipe adapted from Chocolate Peanut Butter Almond Bars at SkinnyMs.com
WHAT YOU\'LL NEED
1.5 cups dark raisins
1/3 cup natural crunchy peanut butter (I used Skippy Natural)
3/4 cup old fashioned (not instant) rolled oats, toasted
2 Tablespoons golden flax seeds, toasted
1/4 cup Spanish peanuts, with skins
1/4 cup bittersweet chocolate chips (I used Ghirardelli)
HOW TO MAKE IT
Heat oven to 350 degrees.
Line a cookie sheet with parchment paper and evenly distribute oats and flax seeds. Toast until lightly golden, about 15-20 minutes. Allow to cool at room temperature.
Add raisins to a food processor and pulse until raisins form into one big piece. It's very important to make sure the raisins are more than just diced, but are as stated, "one big piece". Add peanut butter and pulse until combined. Add oats, flax seeds, and peanuts and continue to pulse until all ingredients are well combined. Scrape sides and pulse one additional time.
Dough will be a little sticky, so if necessary, add one drop of water to make it easier to handle. Use the same lined cookie sheet as above. Shape dough into a square 9 inches x 9 inches x approximately 1 inch tall.
In a small saucepan, add chocolate chips, melt over low heat, stirring continuously. Remove from heat and spread across the top of the bars.
Place cookie sheet into a freezer or refrigerator and allow chocolate to cool and set. Use a bench scraper or a sharp knife and cut the bars into 6 equally sized pieces. Store in an airtight container in the refrigerator, for up to 7 days.
Notes
NUTRITIONAL INFORMATION Serving Size 1 bar (82.7 g)
Amount Per Serving Calories 350 Calories from Fat 157 Total Fat 17.4g Saturated Fat 4.5g Trans Fat 0.0g Cholesterol 0mg Sodium 39mg Total Carbohydrates 46.2g Dietary Fiber 5.7g Sugars 26.8g Protein 9.4g Vitamin A 0% • Vitamin C 1% Calcium 4% • Iron 15% * Based on a 2000 calorie diet
http://www.itsyummi.com/chewy-raisin-breakfast-bars/
Recipe From: www.ItsYummi.com