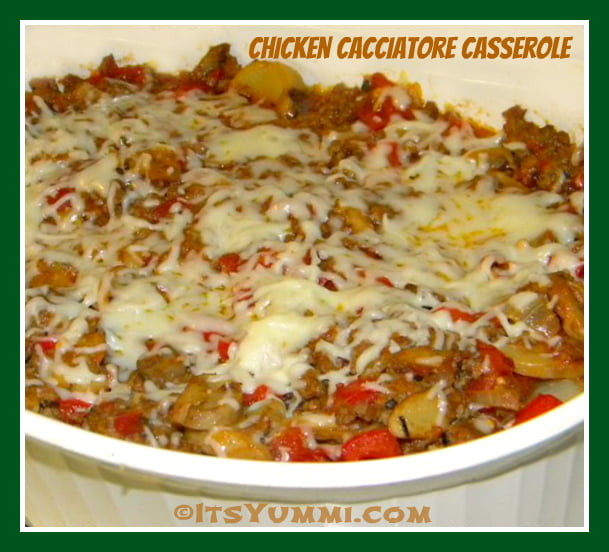 Nearly everyone I know has eaten a casserole or twenty in their lifetime. They're versatile, easy to throw together at the last minute, freeze well, and are a great way to be frugal and resourceful with leftovers.  I've heard some horrible news recently.  There are actually people out there that DETEST casseroles.  People like my friend Chris.  I think she may be one of those "casserole snobs" I've heard about.  She turns her nose up at all casseroles because of bad childhood memories of mushy tater tot casseroles and green beans mixed with mushroom soup and oversalted onion rings on the top.  I'm here to prove to the casserole snobs that there are some awesome taste adventures waiting for you in the casserole dishes of the world.  Just open your mouth and close your eyes and you will get a GREAT surprise!  :)
With 6 kids and a feeding frenzy for a father to feed, my mom was always trying to find ways to make the grocery budget dollars stretch as far as possible, so casseroles became a staple at our house.
My dad passed away from a heart attack when my younger brother and I were 13 and 15 years old respectively.  Dad's death wasn't easy on any of us, but my mom got hit the hardest.  She was only 45 years old and left not only with 2 teenagers to raise by herself, but also to continue operating the family business, a Christian bookstore.  The long hours she spent there meant that my brother and I were very often left to fend for ourselves for dinner.  After mom learned that my brother and I were feasting on Honey Nut Cheerios and peanut butter sandwiches for dinner, she decided that it was important for us to learn how to make at least one somewhat healthy and easy dinner.
She taught my brother how to master a marinara sauce so that we could have pasta dishes, and she taught me how to be the casserole queen.  She started me off with a simple tuna noodle casserole dish, and then she explained the functionality of a "little of this, little of that" from the leftovers in the fridge.  Before I knew it, I was tossing things together like a pro.
The first rule of casseroles: Always make sure that you've got enough liquid so that your grains and meat don't dry out while they're cooking. - I realize that some people ENJOY those crusty, crunchy edges along the sides of a casserole, but not this girl. I want tender and juicy morsels.
Second rule of thumb: There can NEVER be enough cheese. EVER. - Maybe that rule is only pertinent in Wisconsin, where wonderfully fresh cheese can be found in abundance.  Regardless, there's something euphoric about biting into a warm casserole and having the melted cheese run in strands off of your fork and onto your chin.
Today's casserole combines all of the elements noted above, and it's sure to please even the grumpiest of casserole snobs in your family.
Chicken Cacciatore Casserole
Yield: 4-6 servings
Recipe adapted from Yummly.com
INGREDIENTS
1 cup rice ,uncooked
2 Tablespoons fresh parsley, chopped
8 ounces (1 cup) chicken broth
5 ounces tomato paste
4 ounces sliced mushrooms
4 ounces (1/2 cup) dry white wine
2 ounces (1/4 cup) water
1/2 cup onion, chopped
1/2 cup green bell pepper ,chopped
1 can diced tomatoes, with liquid
1 tsp dried basil
1 tsp garlic salt
1/2 tsp italian seasoning
1/4 tsp black pepper
1 pound boneless skinless chicken breast, cut into bite-sized pieces
1 cup shredded mozzarella cheese
1/4 cup parmesan cheese, grated
DIRECTIONS
1 Spread rice in bottom of lightly greased 13x9 baking dish.
2 In small bowl, stir together 1 tablespoon of the parsley and all
remaining ingredients except chicken and cheeses.
3 Pour over rice.
4 Arrange chicken on top of rice mixture.
5 Bake covered at 350° degrees for 30-40 minutes, until rice is tender and
chicken is no longer pink.
6 Uncover and sprinkle cheeses on top.
7 Return to oven and bake another 5 minutes.
8 Sprinkle on remaining parsley just before serving.