If you came looking for a rich, decadent chocolate cake with Ermine frosting, you've come to the right place! Grab your apron and come in to my kitchen!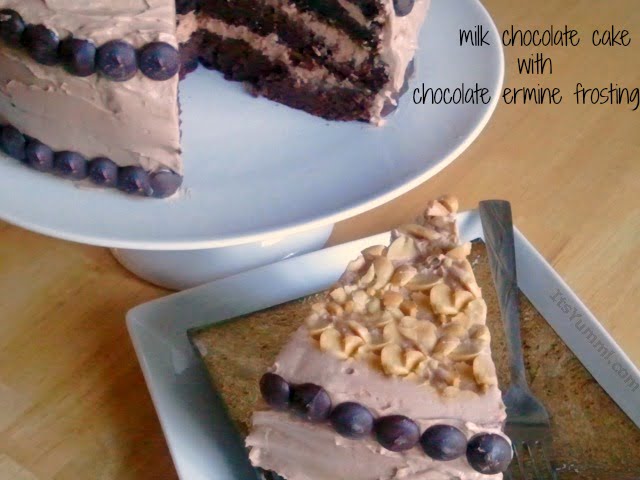 Lately, I've had the feeling that life is slipping through my fingers without so much as a "HEY DOOFUS! Wake up and enjoy me before I'm gone!" Just this week alone, two of my scheduled 4-hour shifts at work have become 10-hour shifts. I totally need the money, so I'm not upset about that end of the deal, but I am a bit bummed about the fact that I've missed out on some quality time with all of my fans on the Cooking with Chef Bec Facebook page and more importantly, the love of my life, Brian. It's difficult to call it a relationship when relations are slim to none…know what I mean?
One event that we did participate in together this past week was celebrating Brian's 55th birthday. I asked him what he wanted for his special birthday dinner and his response was, "I'd like to cook up hamburgers and brats on the grill." I stood there perplexed for a moment, trying not to let drool drip from my chin as my jaw dropped to the floor.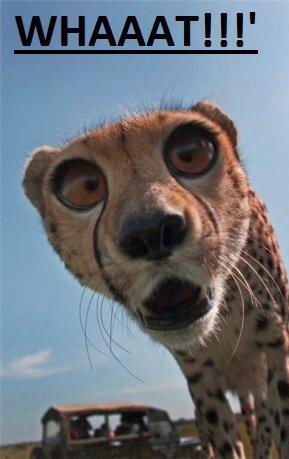 Does he want ME, the worst grill master on the planet, to cook burn his dinner outside?! I decided right then and there that a serving of insanity must hit everyone square in the face on their big double nickel birthday. If it's true, I'm completely screwed when I get to that age, because I'm already one crayon short of a box.
I should have known better. All IS right with the world because Brian earned a new title on his birthday. He will hereinafter be referred to as Mr. Wonderful because the man didn't want me to man the grill for him…He thought it would be great fun to cook up his own dinner. Good grief, I love him! I took great measures to be sure that those burgers were AMAZING, though. I added some Feiny's Steak Rub to the ground sirloin. Aye carumba, that seasoning blend is yummi! It has a great smoky taste, but there's a slight sweetness in there, too. I'm thinking it might be oregano. It was just the perfect amount of flavor for the beef and so good that I didn't even use condiments on my burger. Now coming from the mustard queen, that is saying a LOT! They were juicy, flavorful, and all around perfect.
I can't say enough good things about Chef Adam Feinberg, either. He's a down-to-earth Colorado guy whose talent for creating flavor is off the charts. His customer service skills are exceptional, too. He went above and beyond my expectations by sending me samples of all five of his spice blends so that I could try them out. The rubs available for sale right now are the Steak rub, BBQ, citrus BBQ, Chesapeake Bay, and the Goes With Everything rub. I've had such great results with them! The first thing I made were these boneless pork ribs.

Talk about easy and painless cooking! I bought 2 pounds of country ribs, rubbed them with 1/4 cup of Feiny's BBQ rub, placed them into a large (6-quart) slow cooker, added 1/4 cup of water and let them cook on low heat for 6 hours. I served them up with BBQ baked beans (THIS is my favorite recipe) and a nice garden salad.
However, to save face, this chef DID contribute to the birthday meal a little bit. I baked Brian's cake. From scratch. Rest assured that no box mixes were harmed in the creation of this yummi dessert…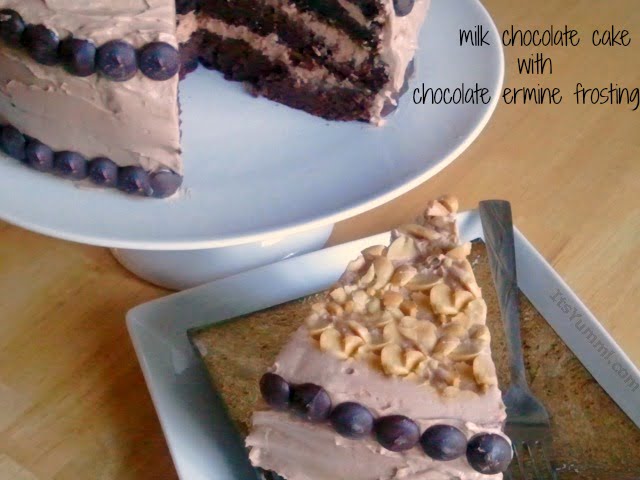 Brian is a chocolate lover (as if I needed another reason to adore him) so I baked up a milk chocolate butter cake and topped it with silky, creamy, dreamy, not-too-sweet chocolate ermine frosting. If you're scratching your head wondering what the heck ermine frosting is, you're not alone. Until this week, I called it "the world's best cupcake frosting and filling" because I didn't know there was any official name for it. The method for making it is as fun and non-traditional as a group of Boy Scouts selling boxes of Thin Mint cookies. For real…you know you want to try this.
Chocolate Cake with Ermine Frosting
Chef Becca Heflin
This Recipe Makes/Serves: 10-12
Chocolate Cake with the "World's Best" Ermine Frosting
Rich chocolate cake, covered with a light and fluffy chocolate ermine frosting. This cake is the stuff that dessert dreams are made of!
20 minPrep and Rest time (if applicable)
40 minCook Time
1 hrTotal Time
Ingredients
FOR THE CAKE
4 ounces (120 grams) unsweetened chocolate, chopped
1/3 cup (30 grams) unsweetened cocoa powder
1 cup (240 ml) boiling water
2 1/4 cups (295 grams) all purpose flour
2 teaspoons baking powder
1 teaspoon baking soda
1/4 teaspoon salt
1 cup (2 sticks / 226 grams) butter, softened
2 cups (400 grams) granulated white sugar
3 large eggs
2 teaspoons pure vanilla extract
1 cup (240 ml) whole milk (I used 1% and it worked fine)
FOR THE FROSTING
1 cup whole milk
1/4 cup all purpose flour
2 Tablespoons unsweetened cocoa powder
1 cup sugar
sea salt, to taste
2 sticks cool, unsalted butter
Instructions
FOR THE CAKE
Preheat oven to 350 degrees F (177 degrees C) and place rack in center of oven. grease two - 9 x 2 inch (23 x 5 cm) round baking pans. Line the bottom of the pans with parchment or wax paper.
In a heatproof bowl place the chopped unsweetened chocolate and cocoa powder. Pour the boiling water over the chocolate and cocoa powder and stir until they have melted. Set aside to cool while you make the batter.
In a separate bowl, whisk or sift the flour, baking powder, baking soda, and salt.
In the bowl of your electric mixer, or with a hand mixer, beat the butter until smooth and creamy. Gradually add the sugar and continue beating until the mixture is fluffy (this will take about 3 minutes). Add the eggs, one at a time, mixing well after each addition. Scrape down the sides of the bowl as needed. Add the vanilla extract and melted chocolate mixture and beat to combine.
Add the flour (in three additions) and milk (in two additions), beginning and ending with the flour mixture. Beat only until the ingredients are mixed together. Divide the batter evenly between the two prepared pans and smooth the tops. Bake for about 35 - 40 minutes or until a toothpick inserted in the center just comes out clean and the tops spring back when lightly pressed. Remove from oven and place on a wire rack to cool for about 10 minutes. Then remove the cakes from their pans and cool completely on a greased wire rack before frosting.
FOR THE FROSTING
In a medium saucepan, whisk the flour and cocoa powder together with a small amount of your milk to form a paste.
Add the rest of the milk and the sugar to the pot and whisk over medium heat.
Add a heavy pinch of salt and taste. Adjust if necessary.
Bring the milk mixture to a boil, whisking constantly. Whisk for another 30 seconds to a minute and then remove from the heat.
Pour into a metal bowl to cool. Whisk occasionally until the mixture reaches room temperature. You can speed this up by refrigerating the mixture.
Fit your mixer with the whip attachment. Whip the butter until light and fluffy.
Add the chocolate mixture, a couple of tablespoons at a time, making sure each addition is incorporated before adding the next and scraping the bowl as necessary.
Important Notes!
http://www.itsyummi.com/chocolate-cake-ermine-frosting/
All Rights Reserved 2016; Its Yummi (www.itsyummi.com) - This recipe may not be distributed, sold or used for any commercial purpose (including sharing on social media platforms). The ONLY authorized use is by to share an IMAGE ONLY along with a link to the blog post on itsyummi.com where the recipe can be found.