Dried cherries, chocolate, and mini marshmallows, all tucked inside of a sweet sugar cookie. These Chocolate Cherry Marshmallow Cookies will put a smile on your face!
Last weekend, I cleaned out my fridge and made a delicious vegetable quinoa salad. Once every decade now and then, I get sorta mentally out of sorts and decide that I should organize something. Today was cabinet organization day. OK, I'm sorry…I lied. It wasn't intentional. Truth be told, I was scouring through my baking supplies in search of miniature candy bars, but by the time I found them, I looked around and realized that I had emptied everything out of the cabinet onto the counter top, so I decided that I may as well put it back in there with some semblance of order. I know…I'm certifiably crazy. Admit that you love me anyway and we can move on.
Speaking of being mentally out of sorts, will one of you please explain what possesses me to hide candy bars in the back of cabinets anyway? It's not like anyone else ever looks in there. Well, unless Hasome is on the hunt for chocolate, but he usually stops scouring and starts devouring when he finds a bag of semi-sweet chocolate chips. Thankfully, he's totally not a chocolate aficionado or he would keep digging until he found the REAL loot
Anyway, back to the cabinet clean out. I found a plethora of nuts, in every size and variety, but as the jingle goes, sometimes you feel like a nut, sometimes you don't. Today, I didn't. Next I came upon a bag of miniature marshmallows. Good times are sure to be had with those, so I put them off to the side. Then I found a bag of Door County dried cherries… MAJOR yum and a great match for the bittersweet chocolate chips that were right beside them.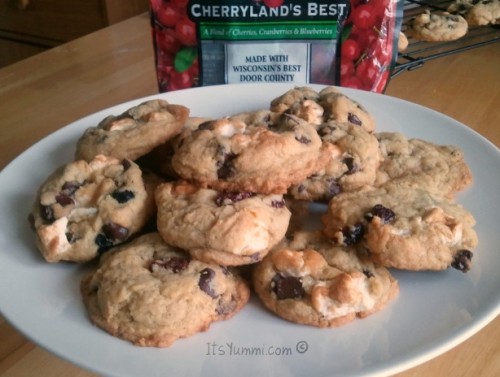 With the ingredients in hand for a wonderful batch of chocolate cherry marshmallow cookies, I knew that even with a cabinet full of reorganization ahead of me, my day was sure to be amazing. And it was. Yours can be awesome, too. Just crank out a couple batches of these bad boys.
Incidentally, if you're trying to cut back on the sweets, I highly recommend using Erythritol in place of granulated sugar. Unlike some of the other artificial sweeteners on the market, you can bake with it and not end up with a disgustingly bitter mess in your mouth.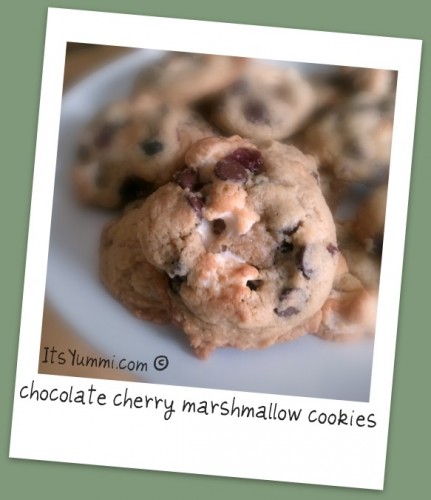 Ready to sink your teeth into these chocolate cherry marshmallow cookies?
Chef Becca Heflin
This Recipe Makes/Serves: 24
Chocolate Cherry Marshmallow Cookies
Dried cherries, chocolate, and mini marshmallows, all tucked inside of a sweet sugar cookie. Chocolate Cherry Marshmallow Cookies will put a smile on your face!
8 minPrep and Rest time (if applicable)
10 minCook Time
18 minTotal Time
Ingredients
4 oz. (1 stick) unsalted butter, softened
1.9 oz. (1/4 cup) granulated sugar
2.5 oz. (1/3 cup) light brown sugar
1 large egg
1 tablespoon pure vanilla extract
6.6 oz. (1.5 cups) all-purpose flour
1/2 teaspoon baking soda
1/8 teaspoon kosher salt
1/2 cup dried cherries, chopped
1 cup chocolate chunks or chips
40 mini marshmallows or 10 flat marshmallows quartered
Instructions
Heat oven to 350 degrees F (325 F convection) and line 2 large baking sheets with parchment paper or a pastry mat.
Place butter and sugars in a stand or electric mixer, beating until light and fluffy, about 2 minutes. Add egg and vanilla, beating until well combined. Slowly add dry ingredients along with cherries, chocolate chunks and marshmallows. Mix until just combined.
Portion the dough onto prepared baking sheets about 1 inch apart with a medium (#40), 1.5 Tablespoon cookie scoop. Bake until cookies are lightly golden, about 9-12 minutes. As soon as the cookies come out of the oven, use a knife or edge of an offset spatula to push melted marshmallow back around the cookie.
Let cookies cool for 10 minutes on the baking sheet before transferring to a cooling rack. Enjoy!
http://www.itsyummi.com/chocolate-cherry-marshmallow-cookies/
All Rights Reserved 2016; Its Yummi (www.itsyummi.com) - This recipe may not be distributed, sold or used for any commercial purpose (including sharing on social media platforms). The ONLY authorized use is by to share an IMAGE ONLY along with a link to the blog post on itsyummi.com where the recipe can be found.