As far as I'm concerned, it's been FAR too long since I've blogged about my favorite chocolate-hazelnut spread, Nutella.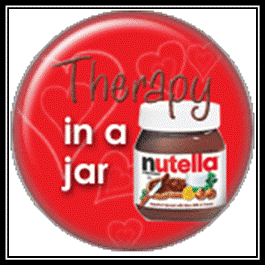 Those of you who've been repulsed by the thought of eating a brown nut butter, let me assure you that you are missing out on one of the most decadent and creamy concoctions that your taste buds will ever experience. Besides being amazingly Yummilicious, it's also been called "Therapy in a jar", and those of you who've followed my story over the past several months know that I need all of the therapy I can get, so I certainly won't snub my nose at THIS form of it!

Nutella is a mixture of hazelnut butter that has been flavored with cocoa powder. It's definitely not low in calories or fat, but because it's made with skim milk, I'll continue to lie to myself and say that it's healthy. You have my permission to do the same. You're welcome. J

This recipe was a creation of mine on one of those days when I just couldn't eat enough chocolate. Girls, you know what I mean, right? Anyway, I made them using my absolute favorite chocolate cookie recipe and then I topped the warm cookies with Nutella ganache, (which is just a fancy word meaning that I melted equal parts Nutella and heavy whipping cream) and then I used an offset spatula to spread the ganache across the tops of the cookies. I finished them off with a little dusting of powdered. They are rich, decadent, and absolutely AMAZING!

If you're up for a challenge, I suggest that you make a batch of these cookies, pour yourself a cup of coffee, tea, or tall glass of milk, find a cozy corner to relax and enjoy the moment in… and then try not to eat an entire plate full of these while you're there.

Chocolate Cookies with Nutella Ganache

Yield: 24-30 (2.5-inch) cookies

Ingredients

2 3/4 cups all-purpose flour

3/4 cup unsweetened Dutch processed cocoa powder

1/2 teaspoon salt

1 teaspoon baking powder

1 cup unsalted butter, room temperature

1 3/4 cups granulated sugar

2 large eggs

2 teaspoons pure vanilla extract

Nutella Ganache (See recipe below)

powdered (confectioner's) sugar, for dusting

Directions

Preheat oven to 350° F (325° F convection) and place rack in the center of the oven.

Line your cookie sheets with parchment paper or silicone pastry mats.

In a large bowl whisk together the flour, cocoa powder, salt, and baking powder.

In the bowl of your electric mixer (or with a hand mixer), beat the butter and sugar until light and fluffy (about 3 to 4 minutes).

Add the eggs, one at a time, beating well after each addition. Add the vanilla extract and beat until combined.

Slowly add the flour mixture and beat until the dough is smooth.

Divide the dough in half and wrap each half in plastic wrap. Refrigerate for about one hour or until firm enough to roll.

Remove one half of the chilled dough from the refrigerator and, on a lightly floured surface, roll out the dough to a thickness of 1/4 inch. (Keep turning the dough as you roll, making sure the dough does not stick to the work surface.)

Cut out circles using a lightly floured cookie cutter and transfer cookies to the prepared baking sheet.

Place the baking sheets with the unbaked cookies in the refrigerator for 10 to 15 minutes to chill the dough which prevents the cookies from spreading and losing their shape while baking.

Bake the cookies for about 8-10 minutes or until they are firm around the edges.

Remove from oven and let cookies cool on baking sheet for a few minutes before transferring to a wire rack to finish cooling.

When the cookies are still warm,

use an offset spatula to coat the tops of the warm cookies Let the ganache cool completely and just before serving, dust with powdered sugar.
Nutella Ganache
1/2 cup Nutella
1/4 to 1/3 cup heavy cream

Cook in heavy-bottomed sauce pan over MEDIUM heat*, stirring constantly until the mixture is completely smooth (7-10 minutes). Let the ganache cool slightly (about 5 minutes).

*Do NOT use HIGH heat; if you rush this, you won't like the results.