This is a MAGICAL day, because it's Chocolate Peanut Butter Day! Are you ready for this?  Your buddy Chef Bec has brought Chocolate Peanut Butter Pretzel Doughnuts to the party!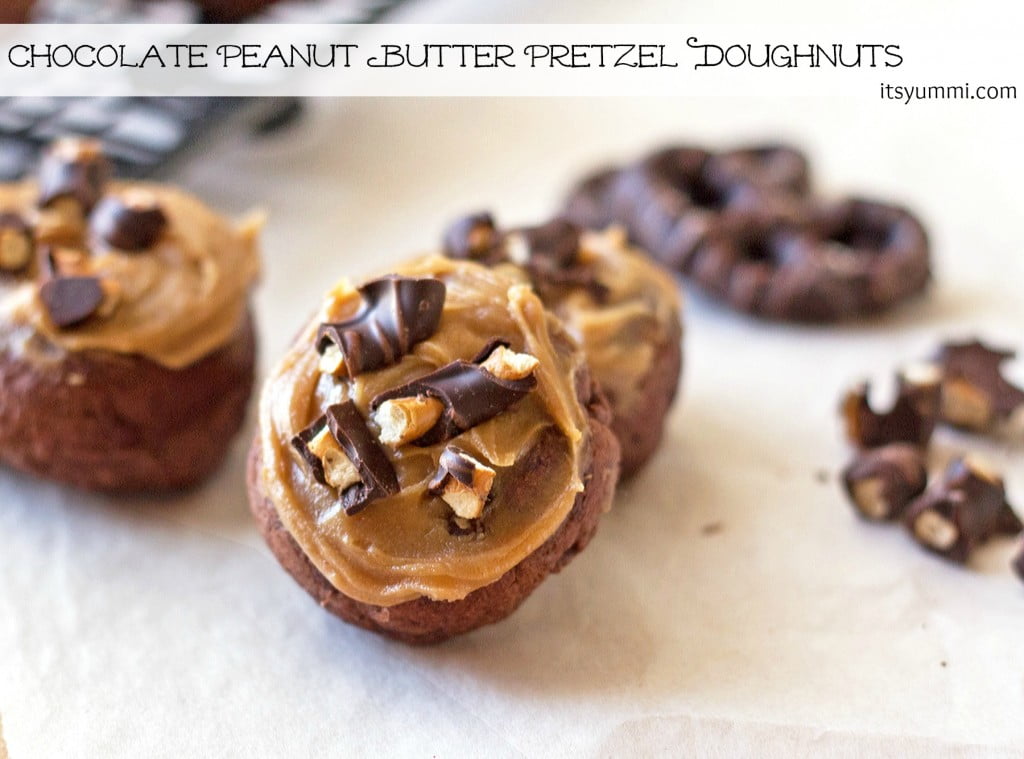 This party is hosted by Carla from Chocolate Moosey and Miriam from Overtime Cook.  30 bloggers and I are sharing our favorite chocolate peanut butter recipes, ranging from cookies and bars to scones and muffins. Follow the hashtag #chocPBday on social media and join us with your favorite chocolate and peanut butter recipes. Looking for recipes all in one place? Follow our Pinterest board. We've ALSO teamed up with OXO, King Arthur Flour, and Peanut Butter & Co. to bring you three fabulous prize packs. If you love to bake, you NEED his giveaway in your life!  

Here are the prizes up for grabs:
Prize Pack #1: OXO Baking Tool Set: One 3-in-1 Egg Separator, One Bent Icing Knife, One Brownie Spatula, One Cake Tester, One Cookie Spatula, One Cupcake Icing Knife, One Cupcake Corer, One Egg Beater, One Stainless Steel Measuring Cups, One Stainless Steel Measuring Spoons, One Medium Cookie Scoop
Prize Pack #2: King Arthur Flour ingredients: One bag of all-purpose flour, one package of Guittard bittersweet chocolate disks, and one bottle of  pure vanilla extract
Prize Pack #3: Peanut Butter and Co. package including: one Dark Chocolate Dreams 6-pack, One Variety 6-pack, and One 31 Days of Dark Chocolate Dreams cookbook
The entry form for the giveaway is at the bottom of this post, but you might want to dig in to one these adorable chocolate peanut butter pretzel doughnuts first.  They're bite sized, for perfect portion control.  Well, unless you're ME.  I took enough to fill up a dessert plate, which ended up being enough to feed 4 people.  I need to learn to stop stacking my desserts on the plate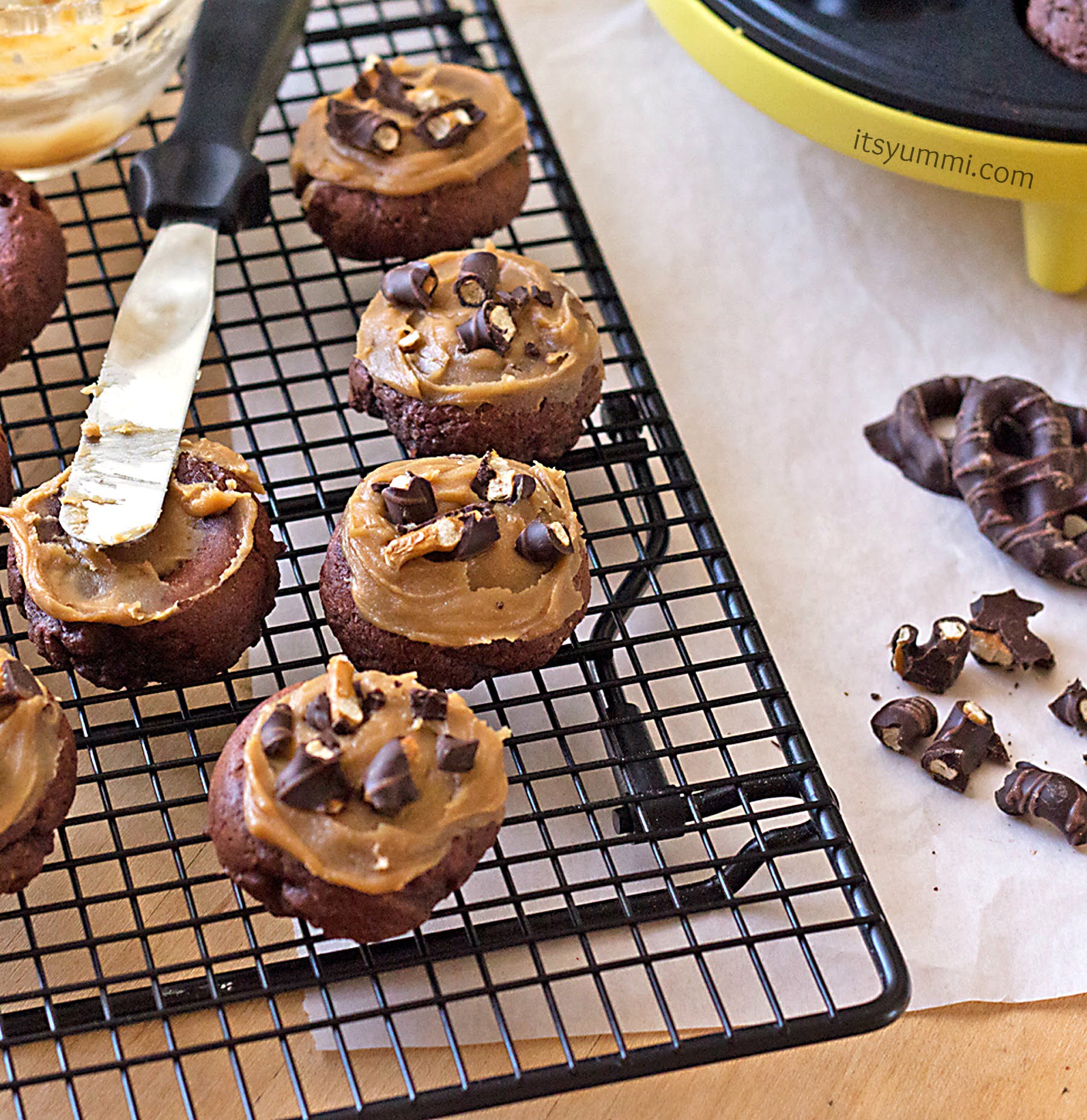 RECIPE NOTES:
~ I used a mini doughnut maker to bake these in, but this recipe will also work for making traditional sized cake doughnuts baked up in a doughnut pan.  You'll just need to bake them at 350 F for 18 minutes or so, until the cake springs back when lightly poked.  Come to think of it, you could even make this recipe in mini muffin tins, or traditional cupcake tins!  However, you'll want to double the recipe if you're making larger sized treats.
~ Because I wanted to cut SOME of the "naughtiness" out of these chocolate peanut butter pretzel doughnuts, I substituted a low carb baking mix for the all-purpose flour, and I used a cup-for-cup sugar substitute instead of granulated sugar.  If you don't mind a few extra carbs, use the traditional ingredients.  I won't tell anyone!  

Chocolate Peanut Butter Pretzel Doughnuts
Created By:
Chef Becca Heflin
Prep time:
Cook time:
Total time: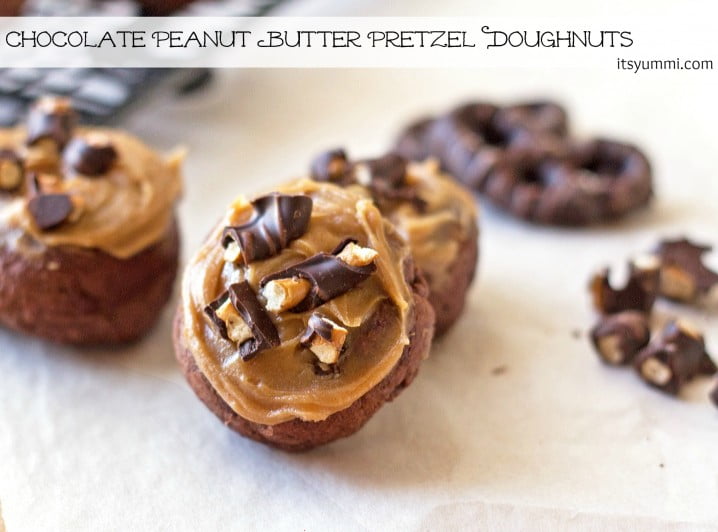 Bite-sized chocolate cake doughnuts are covered with peanut butter icing and chocolate covered pretzels. It's a chocolate peanut butter lover's dream treat!
WHAT'S NEEDED
3/4 cup low carb baking mix (I used Bob's Red Mill)
1/4 cup almond flour
1/3 cup cocoa powder
1/4 cup granulated sugar substitute (cup-for-cup variety)
3/4 teaspoon baking powder
1/4 tsp baking soda
1/4 tsp salt
1/4 tsp xanthan gum (omit if using all-purpose flour)
1 large egg, plus 1 egg yolk, lightly beaten
1 ounce (2 Tablespoons) butter, melted
1/2 teaspoon vanilla extract
2 ounces (1/4 liquid cup) unsweetened almond milk, or regular milk
Peanut Butter Glaze
2 Tablespoons peanut butter
2 Tablespoons heavy whipping cream
2 Tablespoons unsweetened almond milk or regular milk
1 Tablespoon powdered sugar
1/4 teaspoon vanilla extract
1/2 cup broken chocolate covered pretzels (or regular pretzels)
HOW TO MAKE IT
Use a pastry brush to coat wells of a doughnut maker (or the wells of a doughnut pan.
In a large bowl whisk together low carb baking mix, almond flour, cocoa powder, granulated sugar substitute, baking powder, baking soda, salt and xanthan gum. Stir in eggs, melted butter, and vanilla until thoroughly combined. Add almond milk and stir until smooth.
Fill wells of doughnut maker, or fill wells of doughnut pan 2/3rds full. Bake according to doughnut maker's instructions, or 18 to 20 minutes if using a doughnut pan, or until set and donuts spring back when touched. Flip out onto a wire rack to cool completely. Repeat with remaining batter.
Once doughnuts have cooled, spread with peanut butter frosting and sprinkle with chocolate covered pretzel pieces.
Makes 12 mini donuts or about 6 regular sized doughnuts
IMPORTANT INFO!
If desired, you can use 1 cup all-purpose flour instead of the almond flour and low carb baking mix.
If MY chocolate peanut butter concoction isn't enough to quench your desire and satiate your obsession, take a look at what the rest of the gang made.  What a list of LOVE!
Before I give you the giveaway entry form for a chance at all of the goodies I mentioned earlier, I'd like to give a a HUGE thank you to our sponsors!  Here's where you can find and follow them:
OXO: Website | Facebook | Twitter | Pinterest | Instagram | YouTube
King Arthur Flour: Website | Facebook | Twitter | Pinterest | Instagram
Peanut Butter & Co: Website | Facebook | Twitter | Pinterest| Instagram | YouTube
Disclosure: The prizes for this giveaway have been provided by the Sponsors. None of the bloggers associated with this giveaway have been compensated in any way for their participation in this giveaway.  We did it simply to celebrate our love of chocolate and peanut butter!
Good luck to all of you!