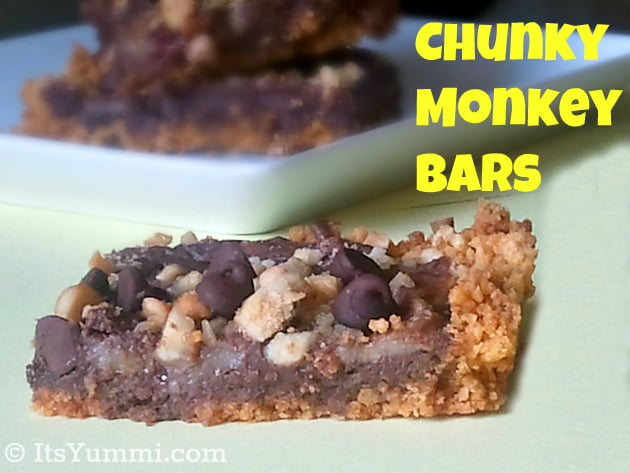 Earlier this morning, I posted my weekly Sundays with Joy recipe for Vegan Chocolate Banana Cupcakes.  If you haven't taken a peek yet, please do so.
I'm sorry. I caved under peer pressure and published TWO blog posts on the same day.
No....I take that back. I'm NOT sorry. This is a recipe that I created off the top of my head yesterday, and a group of my fans over on the It's Yummilicious Facebook page asked me to get the recipe posted today. So here it is. I'm really rather proud of it, and I think that if you make it, you'll agree that it's worth buying a pair of stretchy pants for.
I was in the mood to make something peanut buttery, but beyond the basic peanut butter cookie.  I thought about making some buckeye cookies, but I was too hot and lazy to be bothered with rolling a bunch of cutsie peanut butter dough balls and then dunking them into melted chocolate.  Then I realized that I had a couple of bananas that were aching to be eaten, and I'm a big fan of combining those two flavors  PB&B sammies were one of favorites as a kid.  But the fact remained that I still wanted to incorporate chocolate into my dessert too.  After all, if I was going to gorge myself and gain weight, chocolate needed to be involved. It's one of the Yummilicious food commandments.
Thou shalt consume chocolate and bacon as often as humanly possible.
For those of you who aren't yet versed in the Yummilicious commandments, the next one is quite similar:
Thou shalt encourage chocolate consumption among thy brothers and sisters. 
So now that you understand why I HAD to share this recipe today, please do me the honor of making a pan full for someone you love this week.  Even (and especially!) if that person you love is you.  :)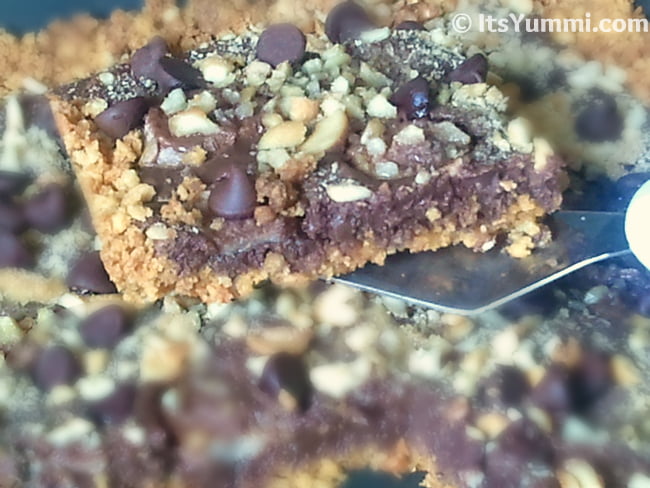 Chunky Monkey Bars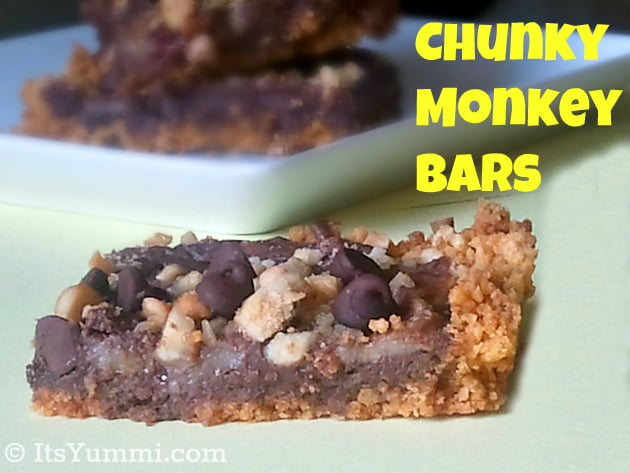 Created By:
Chef Becca Heflin
WHAT'S NEEDED
8 ounces (2 sticks) unsalted butter, melted
11.5 ounces (1 box) Whole Grain Peanut Butter Cheerios
1/4 teaspoon salt
2 large bananas, sliced into 1/4 inch thick slices
2 cups (12-ounce package) semi-sweet or bittersweet chocolate chips (I used Nestle semi-sweet)
1 can (14 ounces) sweetened condensed milk
1 teaspoon vanilla extract
1 cup cashew pieces, finely chopped (I pulsed mine in a food processor)
HOW TO MAKE IT
Heat oven to 350 degrees F. (325 if using a convection oven)
Place the cereal into the bowl of a food processor and pulse until it turns to crumbs. Pour melted butter over the crumbs and pulse to combine.
Reserve approximately 1/2 cup of crumbs and press the remaining crumbs into the bottom of a 13 x 9 inch baking pan. Bake the crust for 8 minutes and remove from oven. Let cool slightly (about 5 minutes).
Meanwhile, melt all but 1/2 cup of the chocolate chips and the sweetened condensed milk together in a heavy saucepan over low heat. Stir occasionally until the mixture is smooth and glossy. Remove from heat and stir in the vanilla extract.
Arrange the sliced bananas across the bottom of the crust. Pour the chocolate mixture over the top of the bananas and spread to cover as much surface area as possible. Combine the remaining 1/2 cup of crumbs, 1/2 cup of chips, and the chopped nuts together and sprinkle over the chocolate filling.
Bake for 20-25 minutes, or until the center is set. Cool in pan before slicing and serving.
IMPORTANT STUFF
Yield: 24 bars