What's better than shipping three food bloggers home baked cinnamon roll cookies?  Receiving cookies from them in return!!
I was super excited to be a part of this year's Facebook Cookie Swap (#fbCookieSwap).  I had a wonderful time baking cookies for my three recipients.  I'll post the recipe in a minute, but right now, I'd like to give a great big Yummi thanks to Elizabeth for the "Food of the Gods" cake, Sarah for the Java Chocolate Snowcap cookies and Lishie for the Hot Cocoa with Marshmallow cookies!  I'm happy to report that everything has been delightfully enjoyed!
I made miniature cinnamon roll cookies for my end of the swap, and according to the recipients, they were a yummi treat!
I used the recipe I found at Taste of Home to make these cookies.  It was super fun and incredibly easy too.  My short patience loved the fact that the dough didn't require any chilling before being panned onto the cookie sheets.
Because I was shipping the cookies to recipients on the east coast of the U.S. and I live in Wisconsin, I needed a coating on them that would set and ship well, so I used melted white chocolate instead of a traditional powdered sugar glaze, and it worked out wonderfully!  I think royal icing would also have held up well for shipping purposes.
A huge shout out to Lindsay from Love & Olive Oil and to Julie from The Little Kitchen for making this event so successful and delicious!  I look forward to participating again next year.
I hope you enjoy this recipe for cinnamon roll cookies!
Oh, and if you're looking for more easy Christmas cookies to make, give these delicious recipes a try!
Chocolate Gingerbread Crinkles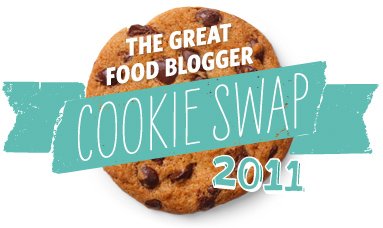 Chef Becca Heflin
This Recipe Makes/Serves: 30
One Two Three - Cinnamon Roll Cookies For Me!
10 minPrep and Rest time (if applicable)
10 minCook Time
20 minTotal Time
Ingredients
1 cup butter, softened
1-3/4 cups sugar, divided
3 egg yolks
1 tablespoon plus 1 teaspoon honey, divided
1 teaspoon Spice Islands® pure vanilla extract
2-1/2 cups all-purpose flour
1 teaspoon baking powder
1/2 teaspoon salt
1/2 teaspoon cream of tartar
1 tablespoon ground cinnamon
8 ounces white baking chocolate, chopped
Instructions
Heat conventional oven to 350° F (325 convection)
In a large bowl, cream butter and 1-1/4 cups sugar until light and
fluffy. Beat in egg yolks, 1 tablespoon honey and vanilla. Combine
the flour, baking powder, salt and cream of tartar; gradually add to
creamed mixture and mix well.
Shape a heaping tablespoonful of dough into a 6-inch log. In a
shallow bowl, combine cinnamon and remaining sugar; roll log in
cinnamon-sugar. Loosely coil log into a spiral shape; place on a
greased baking sheet. Repeat, placing cookies 1 in. apart. Sprinkle
with remaining cinnamon-sugar.
Bake for 8-10 minutes or until set. Remove to wire racks
to cool completely. In a small bowl, melt baking chocolate with remaining honey; stir until smooth.
Drizzle over cookies. Let stand until set. Store in an airtight container.
http://www.itsyummi.com/cinnamon-roll-cookies/
All Rights Reserved 2016; Its Yummi (www.itsyummi.com) - This recipe may not be distributed, sold or used for any commercial purpose (including sharing on social media platforms). The ONLY authorized use is by to share an IMAGE ONLY along with a link to the blog post on itsyummi.com where the recipe can be found.
Leave me a comment to let me know what YOUR favorite holiday cookie is!