This puff pastry dessert recipe is part of a Sponsored post written by me on behalf of Carton Smart. All opinions are 100% mine.
The holiday season is a time of reflection for me, but it's also a time to look forward and make plans for the approaching new year.  I've set a couple of goals for myself for 2014.
Goal #1…
Despite falling off of the healthy eating wagon around Thanksgiving, I intend to continue my quest to be a fit 50-year-old. Even if I don't lose all of the weight, I'm making baby steps to better health.
Goal #2…
Imagine if you and I and everyone we know made just one small, smart decision to better the Earth
every day
. Nothing major…just little things like taking shorter showers, picking up trash from the side of a street, or recycling cartons and cans instead of throwing them into the garbage with the rest of the waste that will sit in landfills for eternity.
On their own, those little tasks may not seem like much, but when they're performed by millions of people every day, they can have a HUGE impact on our own health and the health of our planet.
This holiday season, and straight into the new year, I want to challenge you to join me in making a difference. Let's
become Carton Smart
. Let's go out of our way to use products that are better for the environment, and/or healthier for our bodies, too!  You can join in on Twitter, too.
Tweet @CartonSmart
and share your ideas on ways to make a positive difference, and be sure to use the hashtag #CartonSmart when you Tweet so that others can share your great ideas, too!
In my efforts to be conscious about the packaging that I buy my products in, I was really happy to be introduced to Pacific Foods products. They come in Tetra Pak containers, which are made from 70% paper that's made from selectively harvested trees.  What the heck does that mean?
Sweet and simple…it's better for the environment! The packaging is green-worthy for sure, but even better is that the products take up 1/3 less space in my pantry than similar products from other manufacturers do. There are LOADS of products available, but here are the ones that I had the opportunity to sample.
Extra love for the fact that the products are ORGANIC and were DELICIOUS, too!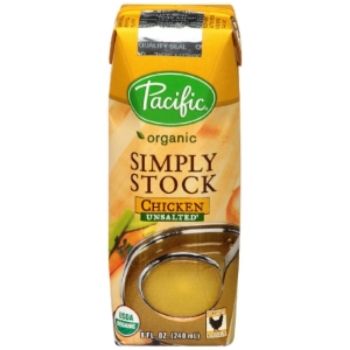 Granted, this is only an 8 ounce box, but a typical metal can of stock is 15 ounces and the metal isn't environmentally friendly. These cartons are recyclable, resulting in 60% less landfill space being used. Even the boxed stocks that I've purchased in the past are three times the size of this easy to use carton. Have I mentioned that I live in an apartment with virtually NO pantry space. Small boxes = LOVE.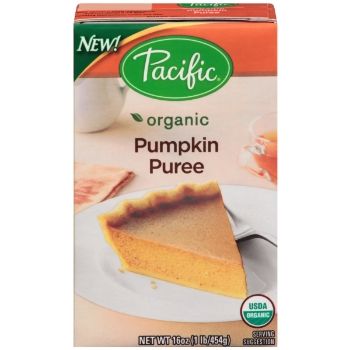 I wish I had known about this pumpkin puree product on Thanksgiving. It was SO good! I used it to make a delicious
turkey pumpkin pasta recipe.
This cranberry sauce was the surprise product for me, though.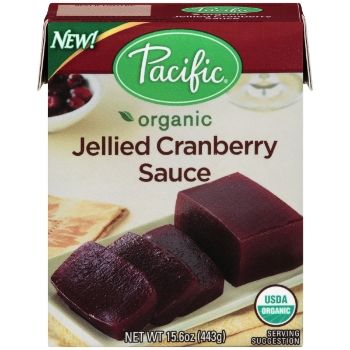 I've always made traditional cranberry sauce, as I grew up with the jellied stuff and absolutely hated it. I was really excited to open up the carton and find that it wasn't a wiggly mess inside.
Inside of the carton were real cranberries, a little pure cane sugar and some water. That's it.
No citric acid, cornstarch, gelatin, or other junk that doesn't belong in my cranberry sauce. It was delicious and I used it a primary ingredient in this puff pastry dessert recipe. If you don't have access to these products, you could make with leftover homemade cranberry sauce!
This puff pastry dessert looks fancy, but it's super simple to make!
Chef Becca Heflin
This Recipe Makes/Serves: 8
Cranberry Caramel Puff Pastry Squares
Light and flaky puff pastry squares are layered with seasoned cranberries and freshly whipped cream to make a quick and easy-to-make dessert that's great for a family dessert and fancy enough for a party.
5 minPrep and Rest time (if applicable)
15 minCook Time
20 minTotal Time
Ingredients
All Rights Reserved 2016; Its Yummi (www.itsyummi.com) - This recipe may not be distributed, sold or used for any commercial purpose (including sharing on social media platforms). The ONLY authorized use is by to share an IMAGE ONLY along with a link to the blog post on itsyummi.com where the recipe can be found.
If you've got an idea for a way to be Carton Smart, I'd love to hear about it! Just leave a comment for me under this post. Oh, and if you're a Pinterest lover like I am, be sure to Follow #CartonSmart on Pinterest
Follow #CartonSmart on Pinterest