Are you as hungry as I am?!  Thanksgiving week has finally arrived!
It's time for a turkey throw-down... yummilicious style!
In this corner, we have the most beautifully roasted bird I've ever laid my eyes on, courtesy of CookingLight
Isn't it GORGEOUS and drool-worthy?!
In THIS corner, we have a bird of a completely different color, but equally beautiful and drool-worthy, courtesy of the wonderful BrownEyedBaker:
Many of you are most excited for the main ingredient at your dinner table this Thursday; the turkey, ham, or other protein of your choice.
Not this girl.  Nope.  I've got much bigger plans than plating up a featherless bird.
Don't misunderstand, I am DEFINITELY a carnivore... a meatatarian....a lover of all things meat.
Of course I get excited for the beauty of a golden roasted, moist, tender turkey, but after learning the simple secret to making fresh cranberry sauce a couple of years ago, my life was forever changed.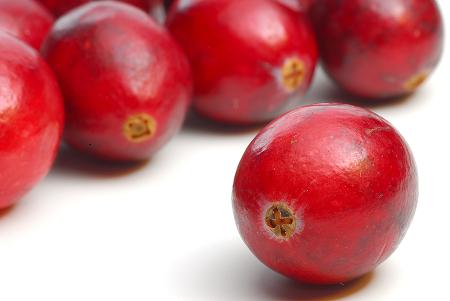 I am absolutely smitten with these little red beauties.  I love hearing them pop open while they are cooking. I love watching their gorgeous red juice reduce and thicken into a beautiful pot of love.  Their tartness works in perfect contrast with the sugar I use when I make cranberry muffins, it adds depth of flavor to loaves of cranberry nut bread, and it adds a perfectly healthy touch when I add them to the top of a bowl of oatmeal.  But my absolute favorite way to eat cranberries is in my holiday stuffing dressing, which I have aptly named Bountiful Harvest, because of the quantity of wonderful ingredients that grace the dish.
Before I give you the recipe for what will soon be your new most favorite side dish at your Thanksgiving table (it WILL be...trust me), allow me to enrich your mind with some facts about cranberries:
Cranberries are one of only three major fruits native to North America (Concord grapes and blueberries are the others)
One half of the cranberries consumed in the United States are harvested in Wisconsin, followed closely by Massachusetts.
Cranberry juice is the official state beverage of Massachusetts.
Honeybees are often used to pollinate cranberry crops, and are in fact more valuable in the performance of this task than they are in the production of honey.
If you strung all the cranberries produced in North America, they would stretch from Boston to Los Angeles more than 565 times.
According to a great article I found on RawDiet.com, one cup of cranberries only contains 46 calories, has 85mg of potassium, 8 mg calcium, 4.6 grams of dietary fiber and there is nothing like its bitter and sweet taste. When included in the  Raw Diet it is a good source resveratrol (which is also found in its cousins: blueberry and bilberry) and other antioxidants such as proanthocyanidinds (work by acting as barriers between bacteria and the lining of the urinary tract), oligomeric and vitamins C and K, all of which have cancer fighting properties. As a result, many people include Cranberries in colorful salads, cold soups, and green smoothies for flavor and health.
 Cranberries also contain manganese, choline, phosphorus, niacin, beta-carotene and phytochemicals. Hippuric and quinic acids (both having strong antibiotic effect), and formed in the urine, due to the properties of cranberries help break up and prevent kidney stones and hippuric acid actually discourages harmful bacteria (such as E. coli) in the urinary tract. They play a role in preventing bacteria from sticking the cell walls in such places as the urinary tract and the stomach.
 The anthocyanin content of cranberries (red color) can provide us with health benefits involving their unique antioxidant and anti-inflammatory properties. Actually, it is the synergy among the nutrients found in the whole berry as consumed in a raw food diet that is responsible for the majority of any health benefits. This rather than supplements do a better job of protecting our major systems—such as cardiovascular and the liver.
 In the last few years scientists have identified an increasing number of cranberry properties that help explain the anti-cancer and anti-inflammatory capabilities of the fruit in regards to a raw diet and certain cancers—lung, colon, breast and prostate.Maybe now you have a better understanding of why my heart lies in the cranberry bogs.  Give this recipe a try and see if perhaps you too, will become a cranberry convert.

Bountiful Harvest Dressing

WHAT YOU\'LL NEED

1/2 (12 ounce) package fresh cranberries
1 pound ground sausage
6 cups dried bread or stuffing cubes
1 medium onion, chopped
1 clove garlic, minced
1 teaspoon chopped fresh parsley
1/2 teaspoon chopped fresh oregano
1/2 teaspoon chopped fresh sage
1 pinch fresh thyme
1/3 teaspoon celery seed
1/4 teaspoon ground ginger
1/2 teaspoon salt
1/3 teaspoon ground black pepper
2 cups reduced sodium chicken broth
1/2 cup diced celery
1/2 cup diced Granny Smith apple, with skin on

HOW TO MAKE IT

Preheat oven to 350 degrees F (325 in a convection oven).

Place cranberries in a medium saucepan with enough water to cover, and bring to a boil. Cook just until skins pop. Drain, and cool.

Place sausage, onion, and celery in a large, deep skillet. Cook over medium high heat until evenly brown. Drain, and cool.

In a medium baking dish, mix cranberries, apple, sausage, bread cubes, onion, and garlic. Season with parsley, oregano, sage, thyme, celery seed, ground ginger, salt, and pepper.

Stir in chicken broth to desired consistency.

Bake 25 minutes, until surface is crisp and lightly browned.

http://www.itsyummi.com/crazy-for-cranberries/

Recipe From: www.ItsYummi.com