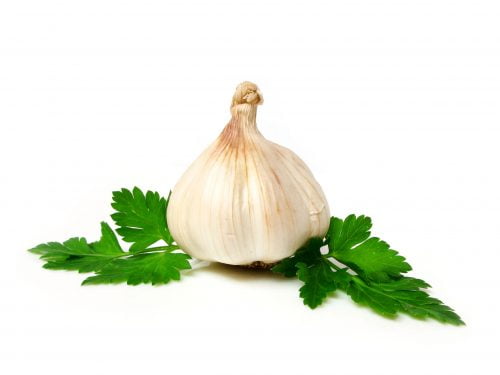 Last year, I came across a great article listing some health benefits of garlic.  I've always enjoyed adding garlic to dishes, but after learning about the uber healthiness of it, I started adding it to nearly every savory dish I made.
That's why I was super excited when the Lia Marie company approached me about reviewing their new garlic spreads.  Another reason to use garlic?!  Don't mind if I do!  Besides, I'd seen the tubs of garlicky goodness sitting alongside the butter and tub margarine at my local grocery store and I'd been itching to give it a try.  If you haven't seen it in your store yet, you can use their handy product locator to find a store in your area that carries it.
After going here and learning a bit more about the product and what ingredients are used to make it, I felt good about purchasing a tub of each variety.  I had a feeling that I'd love the original garlic spread, but the cheese freak in me was most excited about trying the 5-cheese garlic spread.  So into my basket went one of each...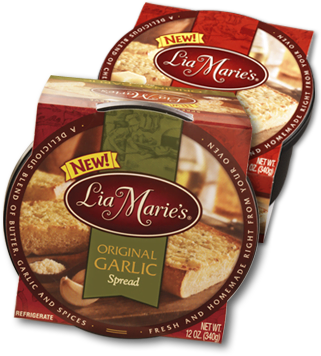 I imagined all of the endless possibilities for using the spreads in place of butter and garlic in dishes that I enjoy like garlic chicken, shrimp scampi, and roasted garlic mashed potatoes, and I immediately drooled all over myself.  I may have drooled onto the cart a little too.  Thank goodness for wet wipes.
After I got home from the store and unloaded my groceries, kismet happened.  Then I had an epiphany.  I like using fancy words every once in a while.  Don't judge.
Kismet:  My Life As a Mrs. had just posted an amazing, easy recipe for Gnocchi in Parmesan Garlic Sauce
Ephiphany: Substitute Lia Marie's for the garlic in her recipe, and add some roasted red peppers and peas for color and a taste enhancement and you'll have a dish that may send you into orgasmic fits of happiness.
Then I heard angels singing.... or maybe it was just my next door neighbor blasting Adele on her iPod.  Didn't matter...I considered it fate, put on my apron, and started prepping dinner.
I had purchased some ready to bake bread sticks, which I sliced horizontally and slathered with the Lia Marie's Original Garlic Spread.  I placed them onto a cookie sheet and off to the side until I was ready to bake them up.
Using Tina's recipe as inspiration, here's what I put together for dinner:
Creamy Garlic Gnocchi with Roasted Peppers and Peas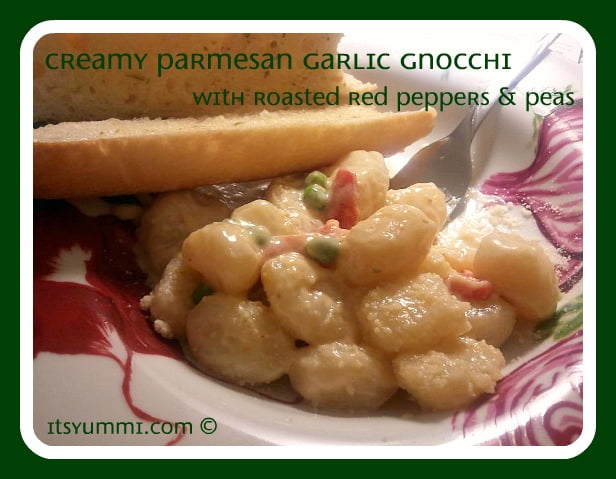 This creamy garlic gnocchi makes a great meal on the nights when you have little time to prepare dinner. Serve it up with a salad and some garlic bread sticks made with Lia Marie's original Garlic Spread and you'll have a fresh meal that the whole family will love!
WHAT YOU\'LL NEED
1 pound gnocchi
4 tablespoons (2 oz.) Lia Marie's Four Cheese Garlic Spread
2 cloves garlic, minced
1/2 red bell pepper, roasted and diced small
1/2 cup frozen peas
1/4 cup freshly grated Parmesan cheese
1/4 cup gnocchi cooking liquid
1/4 cup (2 oz.) heavy cream or half & half (OPTIONAL)
freshly cracked black pepper
salt
HOW TO MAKE IT
Cook gnocchi according to the package instructions (I like to salt the water until it tastes "like the sea"). Be sure to reserve 1/4 cup of the cooking liquid.when you're draining the gnocchi.
In a saucepan, melt the garlic spread over medium-high heat. Once the pan is hot, add the red bell pepper, peas, and minced garlic. Saute for 1 minute, stirring constantly so that the garlic doesn't burn..
Add the cooked and drained gnocchi, top with the Parmesan and cooking liquid. Stir until nice and creamy. Reduce heat to a low simmer and allow the liquid to reduce (about 3-4 minutes). Season with salt and pepper to taste. and garnish with additional grated Parmesan, if desired.
http://www.itsyummi.com/creamy-garlic-gnocchi/
Recipe From: www.ItsYummi.com
I love this product so much, you'll definitely see more posts using the Lia Marie's products in the future. In the mean time, I'd love to offer one of you a coupon good for a FREE Lia Marie's product to try for yourself. To enter, just enter using the Rafflecopter form below.
If you can't wait to see if you've won, head on over to the Lia Marie's Facebook Page and print out a $1 off coupon.