If you've been a reader of this blog for a while, you know that I proclaimed 2012 to be the year of making healthier eating choices for myself.
ODE TO A DIET: Eating healthier does NOT mean eating bitter greens and mushy beans, but if all goes well, it WILL mean fitting back into my SKINNY JEANS!
I still believe firmly in eating all things in moderation.  FAIR WARNING: If someone tells me that I have to give up eating bacon or chocolate, things could get brutally violent around here.  I'll be throwing hissy fits and shoveling spoonfuls of Nutella into my mouth to comfort myself.  Ugly, I tell ya.  Don't go there.
Lucky for me, I was recently given the opportunity to learn just how delicious making healthy food choices can be.  The great folks over at Cybros - The Sprouted Bakehouse sent me a wonderful selection of their sprouted grain products to try.  I've got to admit that just the word "sprouted" had me thinking that my taste buds might be in for some gritty, dried out sadness.  WOW, was I ever wrong!  Their products are WONDERFUL!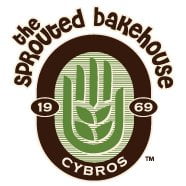 So you may be asking yourself WHAT THE HECK ARE SPROUTED GRAINS?  I'm so glad you asked!  :)
The Science of Sprouting
Whole grains contain all three parts of the grain: the germ, endosperm and bran. In traditional flour-based breads, these whole grains get broken down when processed into mill flour. Cybros Sprouted Grains represent whole grains in their purest form. Grinding their grains into dough bypasses the processing that can extract nutrients and/or add other starches with negative nutritional attributes.  The result is healthy, delicious baked goods!
How Do They Do It?
The process begins with whole grains of red wheat berries, oat groats, rye berries, barley, corn, rice and millet. These grains are biologically intact and could be grown into new plants. They are soaked in water, shifting from the dormant state to an active (or sprouting) state.
Once the grains have sprouted – or just barely begun to grow into plants – they are pressed through a special sieve and mixed directly into dough. Because they don't pass through the milling and refining process of flour, sprouted grain breads contain far less flour than traditional breads. Nutritionists tell us that sprouting the grains increases the vitamin content of seeds, some as much as 500%!  Sprouting also begins transforming the starches into simple sugars, making them more digestible, and increasing vitamin and mineral assimilation. In addition to that, All Cybros Breads are certified by the kosher supervisors of Wisconsin.
I was given the opportunity to try a loaf of the sprouted 7-grain bread, one of the sprouted grain baguettes, a package of dinner rolls, and a loaf of their raisin bread.  They  all looked SO good, I was like a kid in a candy store trying to figure out what to try first.
Since I'm currently following the Weight Watchers eating plan, I decided the first thing to do was figure out how many points the items were worth.  When I learned that the 7-grain bread is only 1 point per slice, I nearly fell off of my chair!  (Most of the traditional 100% whole wheat breads are 2-3 points per slice).  That's because of the high fiber content in the bread.  I instantly toasted up a slice and spread a teaspoon of peanut butter onto it, then topped it off with some sliced banana.  HELLO LOVER!
The next day, I decided to try making a turkey roll in my slow cooker.  It called for 4 slices of white bread, torn into small pieces, so I used the sprouted 7-grain bread instead.  The result was a moist, delicious easy to prepare meal that was only 4 Weight Watchers points per serving!  Here's the recipe (adapted from Weight Watchers)
WHAT YOU\'LL NEED
Cooking spray
1 pound extra lean ground turkey or beef
1 cup finely chopped onion (1 small onion)
1/2 cup finely chopped green pepper
3 slices Cybros sprouted 7-grain bread, torn into small pieces
2 tsp prepared yellow mustard
1 Tablespoon fresh sage, finely chopped
1 tsp dried parsley flakes
1 (8 oz) can tomato sauce or 3/4 cup low sugar catsup
1/2 teaspoon salt
3/4 teaspoon freshly ground black pepper
HOW TO MAKE IT
Spray slow cooker with cooking spray. Place a steamer basket into the slow cooker for the turkey roll to rest on while cooking. This will allow the grease to drain as the roll cooks.
In a large bowl, combine meat, onion, green pepper, bread pieces, mustard, and 1/2 of the tomato sauce or catsup.
Mix well to combine and form into a roll. Place in prepared crockpot.
Stir sage, salt, pepper, and parsley flakes into remaining 1/2 of the sauce or catsup and spoon mixture evenly over the roll.
Cover and cook on LOW for 6 to 8 hours. Divide into 8 servings.
Notes
Weight Watchers PointsPlus+ = 4
Nutritional Information (per serving): Calories 167, Fat 7g, Protein 17g, Carbs 9g, Fiber 1g
http://www.itsyummi.com/cybrosreview/
Recipe From: www.ItsYummi.com
Over the weekend, I made french toast with the sprouted grain raisin bread which was DELIGHTFUL, and I spread Lia Marie's 4-cheese Garlic Spread on the baguette to serve with Sunday night's dinner. Not a single product disappointed me! Truthfully, I can't begin to tell you how awesome the Sprouted Bakehouse products are. You really should try them for yourself. You can use this handy dandy product locator to find a store near you that sells the products, and/or you can order them from the online store.
Now for the part of my post you've been waiting for.  THE GIVEAWAY!  Thanks to generosity of The Sprouted Bakehouse, one of my lucky readers will win a gift box of products identical to what I was able to try!  I'm SO happy for you, because I just know you're going to love these yummilicious products!  To recap, here's what will be shipped to your home if you win: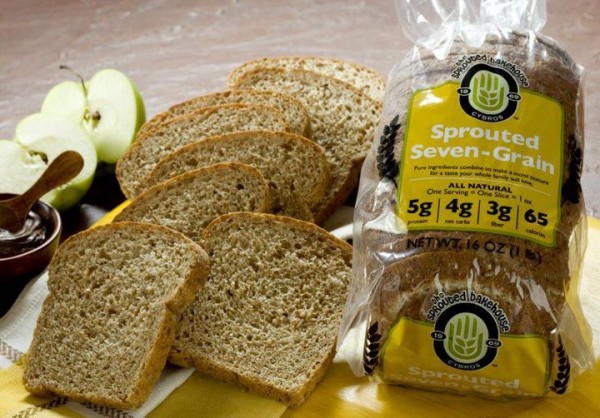 1 -  16-ounce loaf of sprouted 7-grain bread
1 - 16 ounce loaf of sprouted grain raisin bread
1 - 16 ounce package of sprouted grain dinner rolls
1 - sprouted grain baguette loaf
TERMS OF GIVEAWAY
To enter for a chance to win, just use the Rafflecopter form below.  The winner will be randomly selected from all eligible entries after the giveaway closes on Sunday, March 11th. The winner will be posted here and notified via email on Monday, March 12th, and will have 48 hours to respond.  If no response is received within 48 hours, another winner will be selected.
IMPORTANT CONDITIONS:  All entries will be verified prior to drawing a winner.  You must remain a fan of the It's Yummilicious and Cybros fan pages through the end of the giveaway to be eligible to win.  GOOD LUCK!
Disclaimer and Giveaway Gobbeldy-gook:
Cybros - The Sprouted Bakehouse  provided me with free products to try, but I was not monetarily compensated in any other way.  All opinions expressed herein are my own.  I truly do love the products and hope that you will, too!
This giveaway is not affiliated with, endorsed, or sponsored by Facebook in any way.


a Rafflecopter giveaway