Let me tell ya, I have some SERIOUSLY creative readers and Facebook fans. It's flipping awesome, really.  This Double Chocolate Pomegranate Oatmeal Bars recipe is for YOU, and YOU, and most importantly, YOU!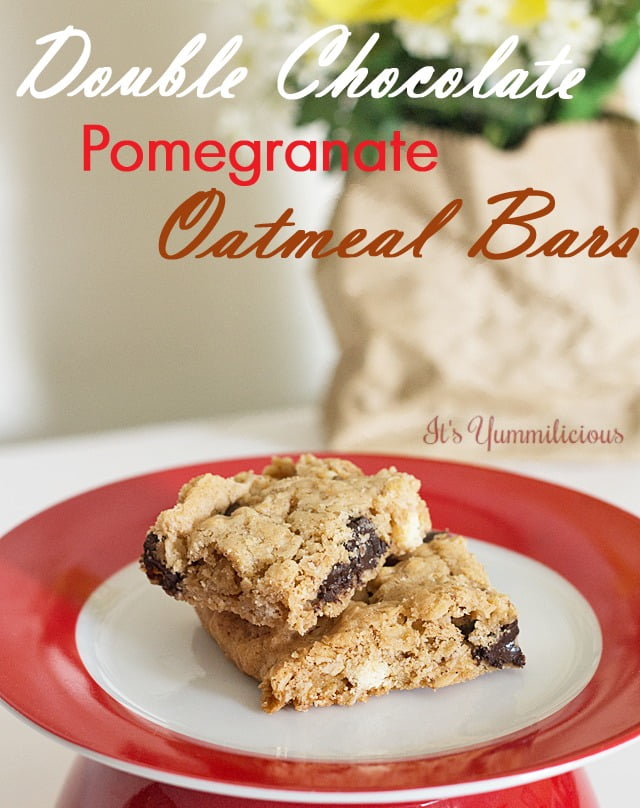 I say that because yesterday afternoon, I popped on to the Cooking with Chef Bec Facebook page and asked for some help in naming this incredible bar cookie.  This sinfully delightful cookie is loaded with so many great ingredients, I was hard pressed to find a name worthy (and short enough!) to use as the title of this post.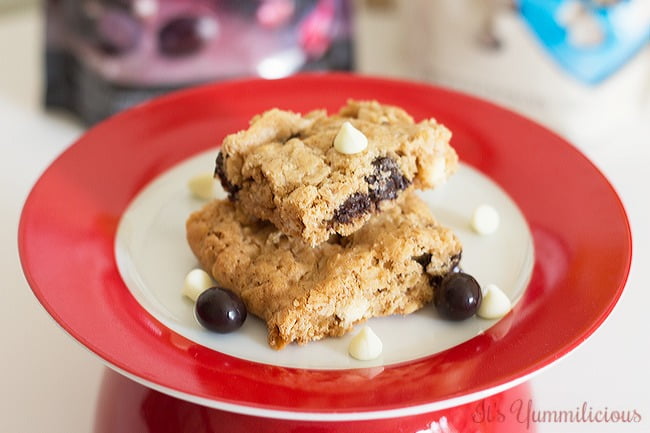 Inside of these yummi treats, you'll find lots of oatmeal, BROWNED butter (that nutty flavor…YUM), white chocolate chips, and dark chocolate covered pomegranate arils. In addition to "Double Chocolate Pomegranate Oatmeal Bars", here are some of the other great name suggestions that I received:
Pomegranate oatmeal crumble cookie

Pome-a-late bars
Yummi Bar
Chocoategranate Bars
Pom-Oat Browns
AND these last two suggestions came from my buddies, Jim and Cliff.
"I'd call them GONE.  I'll be right over!"
OH my GOODNESS!
Nope. Those guys aren't smart asses at ALL.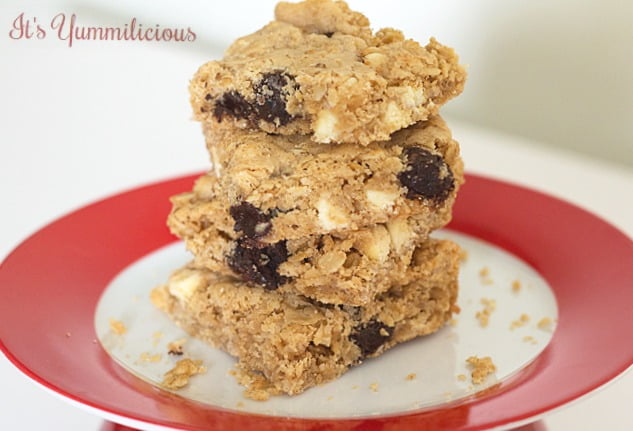 Truth be told, what I like most about these bars is how chewy and crumbly they are.  I normally go for soft and chewy where great cookies are concerned, but when it comes to oatmeal based cookies, I love that crumble!  IMPORTANT NOTE:  If you're OCD about crumbs on your floor, you might want to stand over the kitchen sink when you eat these.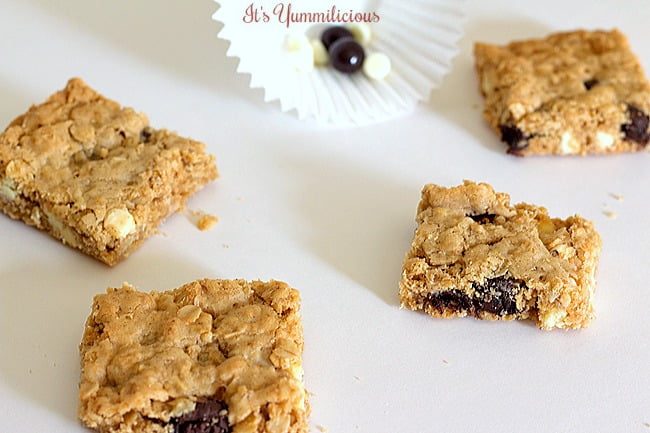 Double Chocolate Pomegranate Oatmeal Bars
Created By:
Chef Becca Heflin
Prep time:
Cook time:
Total time: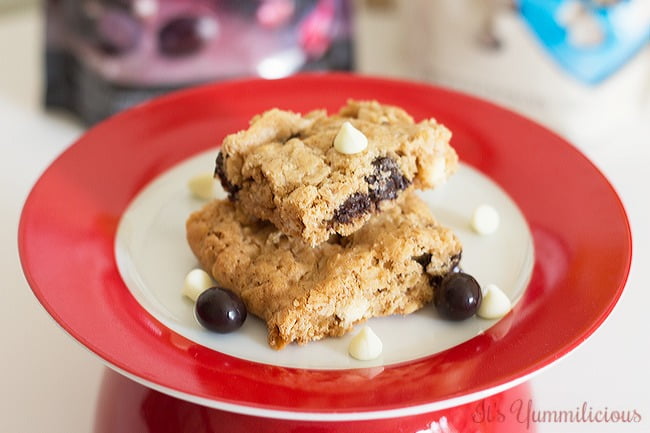 These chewy, crumbly, browned butter oatmeal bar cookies are stuffed with white chocolate chips and dark chocolate covered pomegranate arils.
INGREDIENTS
1 cup (2 sticks) butter, browned
1/2 cup granulated Stevia (or 3/4 cup sugar)
3/4 cup packed brown sugar
2 large eggs
1 tablespoon vanilla extract
2 cups low-carb baking mix (or all-purpose flour)
2 cups old fashioned oats
1/2 teaspoon salt
1 teaspoon baking powder
1 tablespoon cinnamon
1 teaspoon ground nutmeg
1 cup white chocolate chips
1 cup chocolate covered pomegranate arils (I found mine at Sams Club)
INSTRUCTIONS
Heat oven to 350 degrees.
BROWN THE BUTTER

Melt butter in a medium saucepan over medium heat. Watch carefully, swirling pan every few minutes. When brown specks gather in the bottom of the pan and it's smelling nutty, swirl briefly 2-3 times and remove from heat. Transfer butter to heatproof bowl and set aside to cool.
FOR THE BARS

In large mixing bowl, whisk eggs and sugars together. Add vanilla extract and slowly pour in browned butter. Whisk to combine.
Mix in flour, oats, salt, baking powder, cinnamon and nutmeg. Use a wooden spoon to combine, assuring that all flour is incorporated.
Fold in white chocolate chips and chocolate covered pomegranate seeds.
Press dough into a greased 9x13" baking dish.
Bake at 350 for 20 minutes.
Let the bars cool for 30 minutes before cutting.