Slow Cooker BBQ Baked Beans Recipe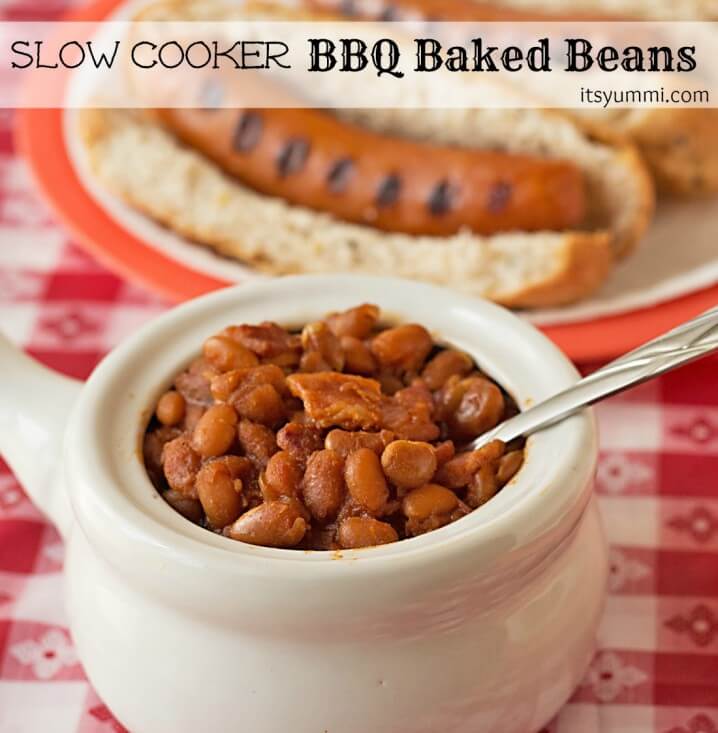 Created By:
Chef Becca Heflin
Recipe Category:
Side Dish
3 cups dry navy beans (or other white beans)
9 cups hot tap water
1 ham hock
4 slices thick cut bacon, diced
1 large onion, diced
1-2 teaspoons salt (optional, depending on how salty your pork products are)
1 Tablespoon freshly ground black pepper
1 teaspoon dry ground mustard
1/4 cup molasses
1/4 cup brown sugar
8 ounces (1 cup) organic tomato sauce
1/2 cup BBQ sauce
2 Tablespoons Worcestershire sauce
1 Teaspoon liquid smoke
Place dried beans onto a rimmed baking sheet. Sort through and discard any pebbles or broken beans. Place beans into a large pot and cover with at least 9 cups of water (more if your pot will allow it). Soak dried beans for 8 to 12 hours.
After soaking beans, drain water, rinse beans, and place them into a large (6 quart) slow cooker. Tuck the ham hock into the center of the beans, then add the onion and bacon.
In a large bowl, combine hot water, salt, pepper, mustard, molasses, brown sugar, tomato sauce, BBQ sauce, Worcestershire and liquid smoke. Stir to combine fully and pour contents over the beans.
Cook beans in the slow cooker on low power for 4 hours, then increase heat to high and cook for an additional 3 hours. Test beans for softness. If additional time is needed, cook on high until beans are completely softened, but not mushy.
Recipe by
Its Yummi
at http://www.itsyummi.com/slow-cooker-bbq-baked-beans-recipe/