...So there I was, minding my own business, eating leftover chunks of cookie dough straight out of the freezer (don't judge....I just don't like to waste food) when I heard "the beep".
You know...the beep...that happy little tone notifying me that one of my foodie besties, Chris, had mentioned me on her Facebook page.  In an elegant act of food hoarding, I popped a couple of cookie dough chunks into my cheeks for safe storage and dashed off to my laptop to see what the buzz was all about.  Turns out, Chris had graced me with an awesomesauce award.  LOOKIE...she categorized me as a Kreativ Blogger!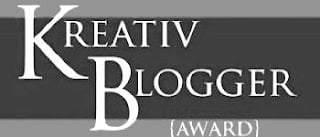 In the course of reading her blog post (which you should TOTALLY check out for yourself HERE to get a sense of her wonderfulness), I learned some new things about Chris.  For instance, I learned that she likes music artists long gone.  Elvis is dead... but she will help his music to live on forever.  I, on the other hand, will help his love for peanut butter, banana, and bacon sandwiches to live on forever.  I'm cooperative that way.
So the "rules" of the Kreativ Blogger Award state that I need to do the following:
1.  Thank and link back to the awarding blog. 
2.  Answer seven questions. 
3.  Provide 10 random factoids about myself. 
4.  Hand the award on to 7 deserving others.
So here are the questions I was asked to respond to:  Read, learn, and enjoy!
#1. What is your favorite song?
I'm a child of the 60's, so my earliest summers included dancing to songs from the Sgt. Pepper's Lonely Hearts Club Band album by The Beatles, but by the time I got to high school, I was head over heels crazy in love with Phil Collins / Genesis.  I swoon to hear him sing....
#2. What's your favorite desert?
Hands down... molten lava cake with fresh raspberries and whipped cream on top.
#3. What do you do when you are upset?
Cry... then pray....then cry some more.  Rinse and repeat.
#4. Which is your favorite pet?
I grew up a dog lover, but after a couple of bad experiences with then, I'm now a cat lover.  My sweet baby boy Cojack is the best (and naughtiest) kitty ever!
#5. Which do you prefer, White or Whole Wheat?
A hearty, healthy, whole grain bread... warm from the oven, slathered with butter and honey.  Unless I'm having a grilled cheese sandwich and tomato soup.  Then, I need a mushy white bread.  It's the rules.
#6. What is your your biggest fear?
I'm afraid that my children will get married and not invite me to their wedding because I'm so strange.
#7. What is your attitude mostly?
My attitude is "Let go and let God".  I try to turn things over to Him as often as possible, because the problems that seem like mountains to me are mere grains of sand in His hands!
10 RANDOM FACTS about ME 
1.   I'm at my best between 7:30 and 10:30 am.  I'm prone to hormonal insanity at all other times. Tread cautiously.
2.  I don't wear makeup.  At all.  Ever.  Skin care...DEFINITELY.
3. I suffer horribly with Trypanophobia.  If you don't know what that means, CLICK HERE and look it up.  It's not pretty.  Actually, it's quite ugly.  If you're a nurse, I love you, but stay the heck away from me with that thing.
4. When nobody is looking, I eat Chocolate Fudge PopTarts... warm....with reckless abandon.
5. In the early 1990's, I was such a good bowler, I tried out for the LPBT (Ladies Pro Bowlers Tour).   Obviously, I didn't make it, so I consumed enormous amounts of chocolate and felt much better about myself.
6.  I am still very good friends with 2 people that were in my kindergarten class.  I take friendships SERIOUSLY.
7.  I'm the world's messiest housekeeper, but I'm completely crazed when it comes to food safety.  I've been known to carry a food thermometer in my purse...just to keep restaurant cooks accountable

8. My parents were only children, so I have no Aunts, Uncles, or Cousins, but my parents made up for it by giving me 5 siblings.  I now have 22 nieces, nephews, great nieces, and great nephews
9. Two words:  CANDIED BACON
 10.  I have no depth perception.  Do not EVER ask me to parallel park a vehicle that you care about.
OK, so now I need to pass this award on to 7 other bloggers.  Truthfully, I can think of at least 100 amazing bloggers who deserve this award.  They're creative, fun, helpful, inventive, and just overall wonderful.  I should write a recommendation post one of these days, linking you to all of their sites.  In the meantime, here are links to seven of my favorites:
A Broken Compass - Melissa is a hard working, sweet-as-apple-pie mom of 3 girls who has battled through some amazing life challenges and lived to blog about it.  It's real, it's raw... it's life on life's terms with Mel.  I couldn't love her more if I tried.
Hugs & Cookies - Danielle is the genius baker behind this adorable site.  Everything she does is made of sweetness!  I must be candidly honest and say that part of her blog branding includes the use of ALL CAPS in her blog posts.  It took some getting used to for me, but her desserts are SO worth the Internet "screams"  :)
Cravings of a Lunatic - I'm not sure that there's anyone in the blogging world who is as equally hilarious as she is creative than Kim Bee.  She's a Canadian cook who will blow your skirt up with her recipes and keep you chuckling with her antics in and out of the kitchen.
Sweetapolita - Rosie is the queen of all things pretty and pink, and she has also given birth to two of the most beautiful and adorable little girls I've ever laid eyes on.  From cakes to cookies, to beautiful food photography, Rosie's sweet spirit and love shines through in everything she does!
SugarFree Mom - Until I found Brenda's site, I thought that dieting and eating healthy required consumption of bland, boring foods.  Oh, how wrong I was!
Living Low Carb...One Day at a Time - Karen has lost about 85 pounds living a low carb lifestyle.  She is my inspiration to lose my excess weight, and she's got some great recipes to help curb any carb addiction you may have!
Green Bay Consumer - Jennifer blogs about locals deals for people living in the Fox Cities area, but she appeals to the national masses with her ideas for saving money at the grocery store, and information on fun ways for families to spend time together without spending a fortune!  Besides all of that, she's got a heart of gold and she's a time management superhero!
So there you have it!  I hope you'll take the time to check these sites out.  They are all amazing women and DEFINITELY worthy of being crowned with a KREATIV BLOGGER award.