This chocolate strawberry dessert recipe is part of social shopper amplification that I participated in for Collective Bias and their advertiser. I'm a member of the Collective Bias®  Social Fabric® Community.  I was compensated for this post, but as always, all thoughts and opinions are my own.
 Fluffy Fool ~ A chocolate strawberry dessert recipe 
This parfait glass is filled with freshly whipped cream, strawberry puree, and little bites of 3 Musketeers candy bars. For a special dessert or chocolate treat, give this recipe a try!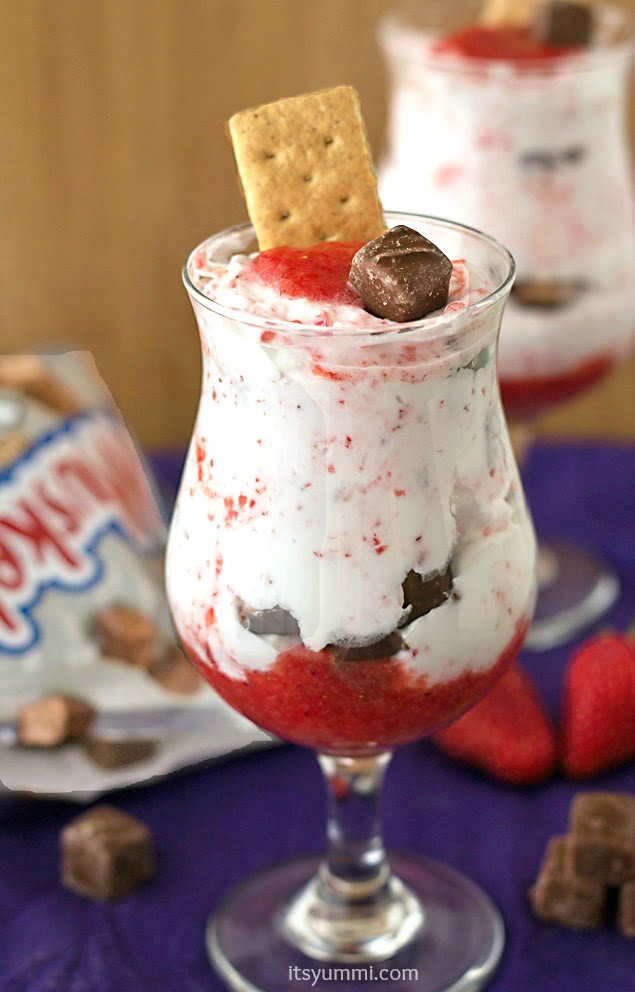 Thanks to #CollectiveBias for giving me this great opportunity to work with one of my favorite chocolate candy bars, 3 Musketeers! There's something special about the fluffy nougat that makes me a little giddy.  Now that they're available in bite sized portions, I love them all the more. It's like the gang over at Mars knows I'm trying to lose some weight or something. They totally hit the mark with their new line of Bites!
My catch phrase for the day will now be… #EatMoreBites!
I found them while I was at Walmart over the weekend. I don't normally peruse the candy like I do the air fresheners (don't tell me I'm the only one who does the "spray 'n sniff" test), but they had the 3 Musketeers Bites placed on an end cap near the candy aisle. I peeked around the corner and saw THIS.  How could I resist?!  P.S.  Mars and/or Walmart, if you're reading this, it would be a genius move on your part to set up a sample table for taste testing new candy varieties when they come out. I'll even offer my free sampling services! 😉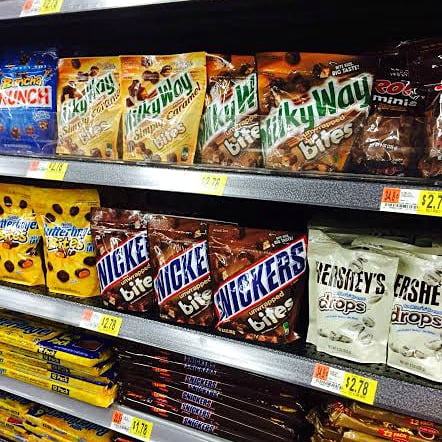 Oh, and because you know I'm here to try and help you save money, I found this awesome coupon offer for you. There's a DOUBLE SCORE on this one!
Receive $0.75 off when you buy (2) 2.83 oz. bags
Receive $3.00 off when you buy (2) 6 oz. (or larger) bags.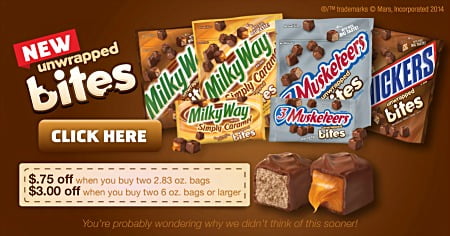 Oh, and if you're a Twitter user, join the #EatMoreBites Twitter Party on Friday, March 14, from 1:00-2:00 PM EST for a chance to win $550 in Walmart Gift Cards!
So that you don't miss any new recipes of mine, I recommend that you sign up to have my new posts sent straight to your email.  Just enter your info here, then set it and forget it!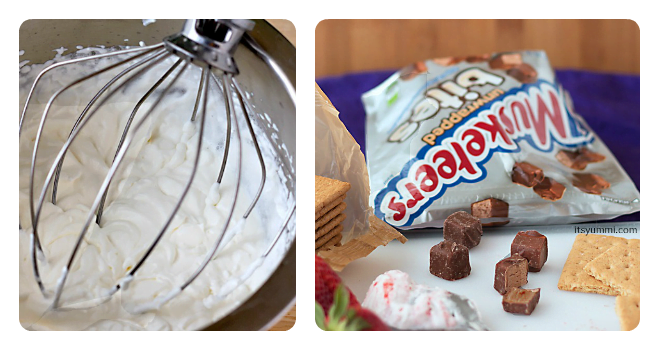 So you may be thinking, "What the heck's up with that NAME?!" No worries, here's your answer.
I like the word "fluffy"  

OK, that's only partially true. I do think the word fluffy is sort of cute, but the nougat in the 3 Musketeers Bites is incredibly fluffy, and the word "fool" comes from the fact that fool is traditionally a French dessert. In French, "fool" translates to "fouler", which means, "to mash", which is exactly what we do to the strawberries when we turn them into a puree.  See?  It all makes perfect sense now!
A little quick housekeeping before I give you the recipe for this delicious chocolate strawberry dessert:
For those that haven't already heard, I've got a great CASH giveaway taking place over on my Facebook page, Cooking with Chef Bec.  Check out the details on how to enter HERE.
OK, are you ready to eat some of this yummi goodness?  Grab your apron and I'll meet you in the kitchen. Let's get our FLUFFY FOOL on and #EatMoreBites!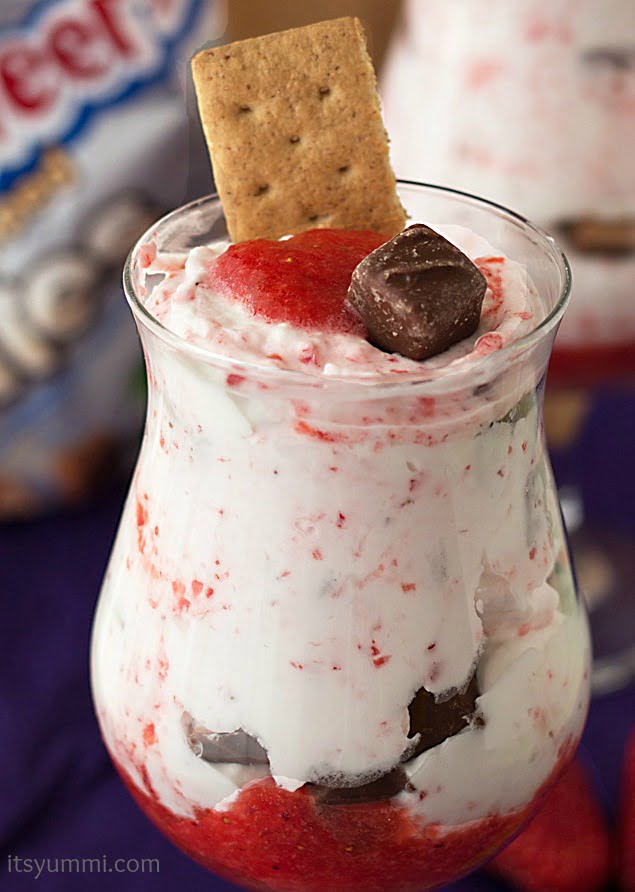 The Fluffy Fool ~ A Chocolate Strawberry Dessert
Created By:
Chef Becca Heflin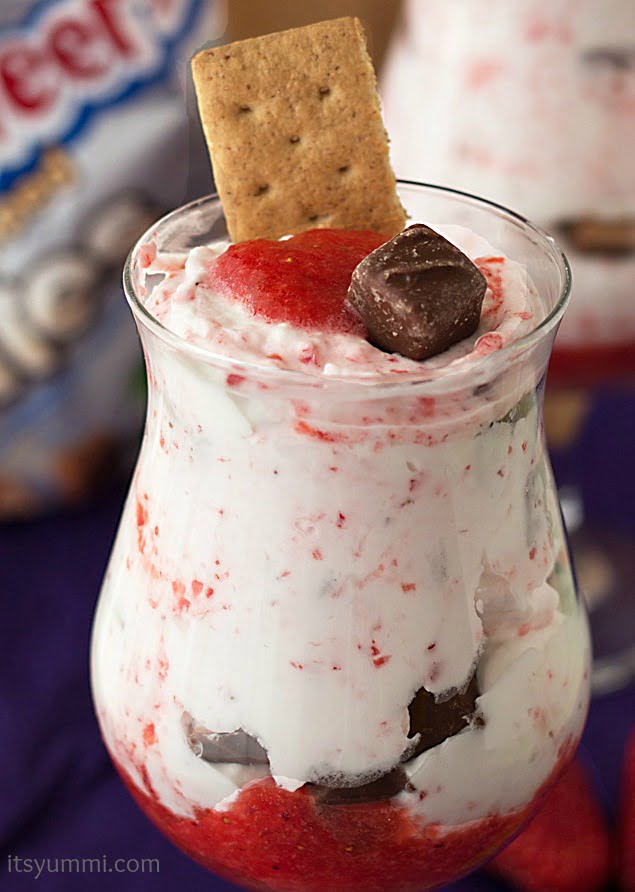 This chocolate strawberry dessert is traditional strawberry fool, packed with little pieces of 3 Musketeers Bites. Makes a light and fluffy sweet treat!
INGREDIENTS
4 ounces (about 2/3 bag) Mars 3 Musketeers Bites
For Strawberry Puree
1 pound fresh strawberries, diced (or thawed from frozen)
1/4 cup sugar or equivalent sugar substitute
For Whipped Cream
4 ounces (1/2 liquid cup) heavy whipping cream
2 Tablespoons sugar or equivalent sugar substitute
INSTRUCTIONS
Use a sharp knife to cut 3 Musketeers Bites in half (optional)
Make Strawberry Puree
Hull and dice strawberries and place into a large bowl. Stir in sugar, then cover the bowl with plastic wrap and chill for 30 minutes.
Place strawberries and their juice in bowl of a food processor or blender and process until pureed. Taste for sweetness. If you want them sweeter, stir in 1 Tablespoon sugar, repeating if necessary, until desired sweetness is achieved. Makes approximately 1 1/4 cups of puree. Chill until ready to assemble the dessert.
Make Whipped Cream
Place whipping cream into a chilled stainless steel mixing bowl. Use a hand or stand mixer and whip cream until soft peaks form (about 1 minute). Sprinkle sugar into the bowl and continue mixing for 1-2 more minutes, until medium peaks have formed and mixture is light and fluffy.
Use a silicone spatula or spoon to gently fold 1/2 cup of puree into the whipped cream. Don't over mix or you won't see those nice specks of strawberry in the finished product!
To assemble the desserts, place 3 Tablespoons of puree into the bottom of each parfait glass. (This recipe will give you enough for 2 parfaits. Add a layer of whipped cream mixture, followed by a layer of the Bites candy. Repeat layers of whipped cream mixture and candy until the glass is full. Finish with a Tablespoon of puree on top.
If desired, garnish with graham cracker sticks and more candy Bites