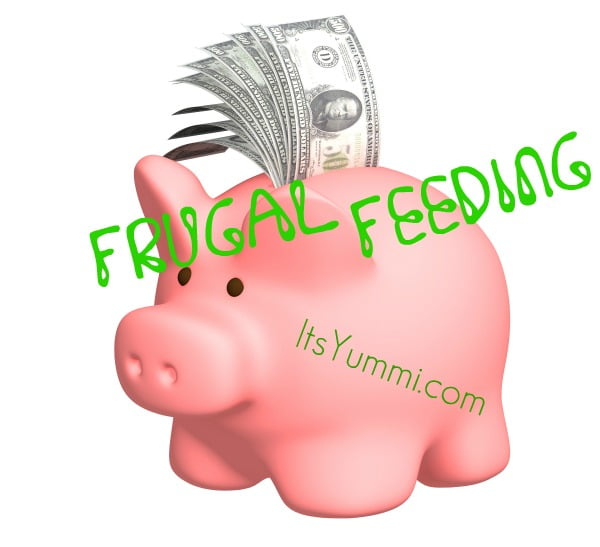 I mentioned  in my last post that I'm making some changes to this blog, effective with this week's posts.
One of those changes is the implementation of FRUGAL FEEDING.  Those are dishes that can be served for $1.00 or less per serving.  Of course, prices vary by region, so depending on your area, you may be able to create them for a few cents more or less per serving.  I live in northeastern Wisconsin, so the costing will be based on the grocery prices in my area.
Please bear in mind that these aren't necessarily intended to be full meals on their own, but in some cases, you could add an inexpensive side salad or some Lia Marie's garlic bread and they could be!  I'll be posting 3 frugal feeding recipes per week, on Tuesdays, Thursdays, and Saturdays.  Each Sunday, I'll be providing you with the base ingredients that you'll need for all 3 dishes for the week.  That way, if something looks yummilicious and you'd like to have the ingredients on hand to make it yourself the day I post it, you'll be able to do so!
What's even better is the fact that many of the grocery stores in this area have double coupon days that feed well (no pun intended!) into the plan.  Piggly Wiggly has double coupon days on Sunday, Monday, and Tuesday.  Pick 'N Save, Copps, and Rainbow Foods double coupons on Wednesdays and Saturdays (most weeks), and THIS week, Saturday is Double DOUBLE Daze, which means that you can double up to 10 coupons per transaction instead of the normal 5.  AWESOME!
I'm sure you're excited to get started and hear about this week's dishes, but before I give you the shopping list, I want to mention one more nifty thing.  Oh, whenever possible I'm going to help you stretch your dollar per serving even FURTHER by providing you with links to manufacturer coupons that can also save you money on the ingredients you'll need.  If you see a coupon that says "EXPIRED" across it, that means the print limit has been reached for the day. Be sure to check back often, though, because sometimes the manufacturer will replenish the coupons.
Now, let's get the show on the road and on to this week's dishes and shopping list!  If you have any questions, please don't hesitate to CONTACT ME
DISH ONE - Ham & Cheddar Supper Waffles w/ bacon
DISH TWO - Mashed Potato Soup
DISH THREE - Zucchini and Potato Frittata (VEGETARIAN)
What you'll need to make all 3 of these dishes:
STORE SALE - PNS/Copps/Rainbow and Piggly Wiggly both have a 5lb bag for $2.29
1 teaspoon granulated sugar
STORE SALE - Festival Foods GW granulated sugar 4lb/$1.88
1/4 teaspoon salt
5.5 cups milk (any variety)
STORE COUPON - Piggly Wiggly store brand milk (any variety) $1.49
STORE SALE - Piggly Wiggly store brand dozen eggs $1.29 B1/G1
10 Tablespoons (1.25 sticks) unsalted butter
STORE COUPON - PNS/Copps/Rainbow - Roundy's 1lb Sweet Cream Butter $1.49
2-4 ounces thinly sliced and chopped ham
(with STORE COUPON - PNS/Copps/Rainbow 2/$5, this will cost you $1.50, or $.19 per ounce!)
1.5 cups(12 oz.) shredded sharp cheddar cheese
STORE SALE - Piggly Wiggly Sargento Shredded Cheese 8oz/$1.99
STORE COUPON - PNS/Copps/Rainbow 16 oz/$2.88 = $.19 per slice
STORE COUPON - Festival Foods - Kitchen Kleen Russet Potatoes 5lb/$.88
STORE COUPON - Festival Foods - Flavorite Sour Cream 16oz/$.68
1 medium zucchini (about 5 oz.)
2 medium red onions
HERBS/SPICES and PANTRY ITEMS NEEDED
salt
black pepper
2 Tablespoons fresh mint
2 cloves garlic, minced or chopped
MORE COUPONS!