I think it's important to keep one's mind active and educated.  If you haven't performed any brain push-ups lately, allow me to be your spotter as we learn how to make an ordinary piece of beef extraordinary.
Better yet... let me show you how to turn a great steak into a FEIN steak!
STEP ONE:  Purchase a grass fed, hormone-free piece of beef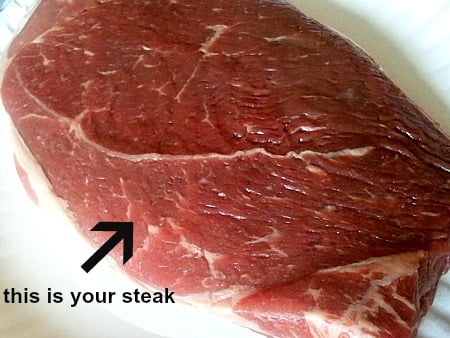 Incidentally, you will NOT have to give up your first-born child (although certain parents of teenagers may momentarily be tempted to do so!) to purchase a good cut of beef.  To get a king's cut at a pauper's price takes nothing more than being a smart shopper.  Simply look at the "use by" date stamped on the package.  If the date stamped on the package is the date you are at the store, speak with the manager of the meat department (or the store manager) and bargain a discount on the purchase.  If I use plenty of sparkling personality and I show exceptional gratitude, I can usually get the price reduced by anywhere from 15-25 percent.  Proper manners (please and thank you) go a LONG way in the bargaining process, too.
STEP TWO:  Marinate the beef
There are few things more depressing for me than spending money for a great piece of beef, only to have it prepared poorly and end up with a steak that's dry and lacking in flavor.  Some beef purists will say that a good steak only needs a small dash of salt and pepper to make it great.  I agree, in part.  It's important not to over-season the beef, but I don't see anything wrong with adding an extra layer of flavor to take the meal to the next level.  In my house, I know that I've seasoned a steak perfectly when we sit down to eat and Brian DOESN'T reach for the steak sauce.  For this particular steak dinner, I achieved that, and then some!  I marinated our sirloin with a dry rub.  Mind you, not just ANY dry rub...  I used a steak rub developed by my good friend, Chef Adam Feinberg, owner of Fein Tasting Foods.  Quality, American-made spices and herbs blended to perfection... ingredients from a top notch chef.  As I applied the rub to the beef, the aroma was enough to send my senses soaring.  I touched a little bit of the rub to my tongue and  I immediately began to salivate.  It was smokey, but with a tingle of sweet cinnamon, and then I grasped a little hint of cayenne at the end.  I could hardly wait to eat!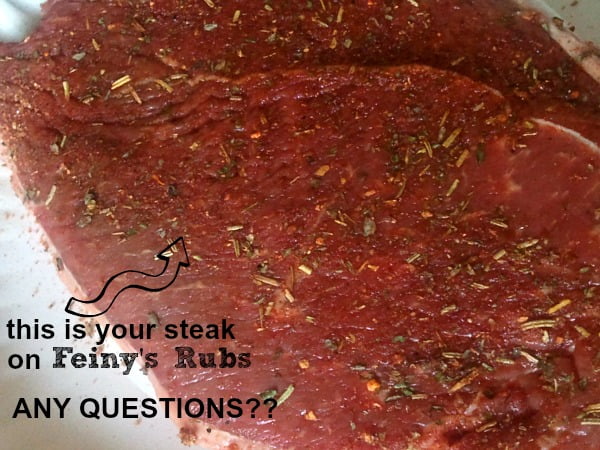 STEP THREE:  Sear and cook the beef
I think we can all agree that the BEST way to cook a steak is on a grill, right?  Unfortunately, we used up the last of the charcoal for our grill during our Labor Day cookout.  Dear Santa... I've been a VERY good girl this year.  Please bring me THIS CAMERA and THIS GRILL.  Thank you for your cooperation.  Love, Becca.
Because I couldn't grill the steak, I decided to use my second favorite cooking implement...my cast iron skillet.  I set my oven to 400 degrees and while it was heating up, I got my cast iron skillet nice and hot over medium-high heat on the stove top.  I added a tablespoon of grapeseed oil (it's got a very high smoke point, so I knew it wouldn't burn once I put the pan into the oven) and I seared the steak for a couple of minutes on each side.  Once the steak had a crispy crust to hold in the juices, I placed the cast iron skillet into the oven and cooked the steak for about 10 minutes, until a meat thermometer registered 143 degrees Fahrenheit in the thickest portion of the meat.  If you prefer your steak well done, wait until the thermometer reaches 153.  Once the pan is removed from the oven, the steak will continue to cook (this is called "carryover cooking") and it will temp up a couple of degrees as it rests.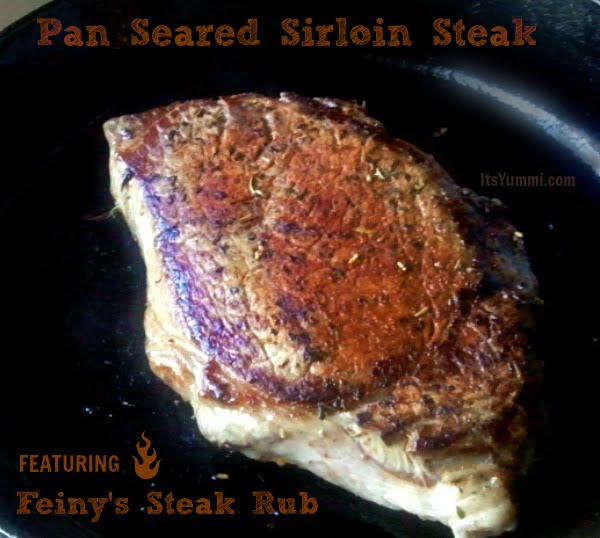 Suggested side dishes for your steak are potatoes and a tossed salad or veggie.  I made cheesy hasselback potatoes, which turned out MUCH better this time than they did the first time I made them.  CLICK HERE for the recipe.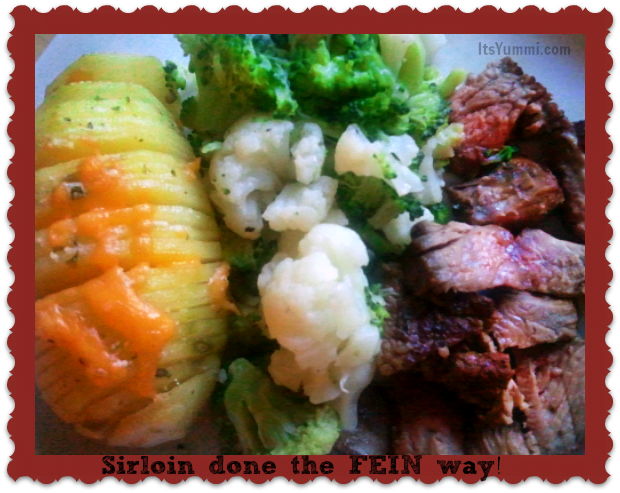 Now you've got the low-down on how to make a good steak a FEIN steak.  To season it to perfection, head on over to FEIN TASTING FOODS and pick up a jar or two of Feiny's Steak Rub.  If steak rub's not your thing, there are five other great rubs to choose from.  I was lucky enough to get free samples from Chef Adam, so I've been able to try them all (THANK YOU, ADAM!), and I have to say that the entire line of rubs is fabulous, but the Citrus BBQ rub and the Steak rub are my favorites.  Give 'em a try and see if you don't agree!
Disclosure:  I received free samples of the entire line of Feiny's Rubs, but I received no monetary or additional compensation for this review.  All thoughts and opinions are my own.  I really do love these rubs!