Hey... Look at me rockin' the low-carb eating plan!  I brought you a healthy Greek chicken!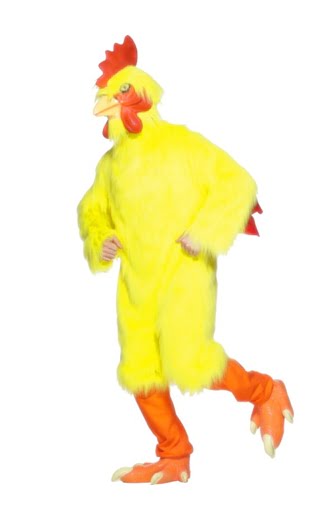 No no, silly... not THAT kind of Greek chicken.  THIS kind!  It's sitting on a bed of yummilicious veggies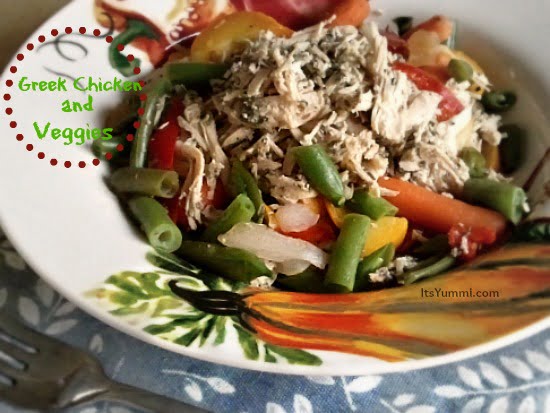 Truth be told, I really REALLY wanted to eat this dish dripping with lots of creamy, fat-laden Tzatziki sauce, covered with a warm pita, but just as I was reaching for the bread drawer, a wind blew in the window and my thunder thighs started slapping together.  That was all the motivation I needed to leave the carbs where they laid.  As it turned out, this dish didn't need any carbs whatsoever.  The chicken was moist, loaded with great Mediterranean flavor, and completely filling.  The veggies were perfectly steamed and seasoned.  Just to give the dish a nice extra zap of flavor, I squeezed some fresh lemon over the top before serving it.  If you're not limiting your carbohydrate consumption, definitely serve this with the starch of your choice.  Rice, pasta, pitas... even over potatoes would be great!
Is it easy to make, you ask?  OH YES it is!  4 hours on low in a slow cooker and you'll be doing the chicken dance... with the chicken dancing right into your mouth!
Greek Chicken and Vegetables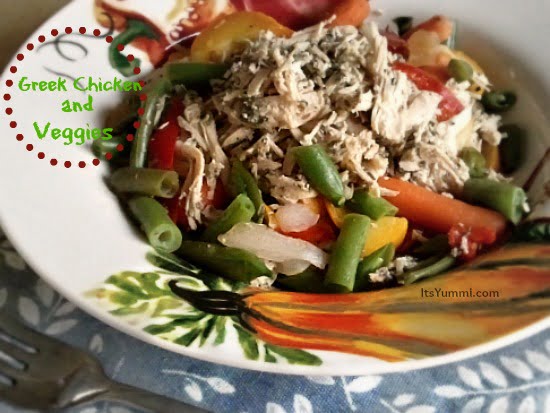 Created By:
Becca at Its Yummilicious
Recipe Category:
Main Dish
Boneless skinless chicken is jazzed up with Mediterranean herbs and spices and topped onto a bed of steamed vegetables to give you a fresh, flavorful, and healthy dinner.
WHAT'S NEEDED
1.5 pounds boneless skinless chicken cutlets
1 Tablespoon dried parsley
1 teaspoon dried basil
1 teaspoon dried thyme leaves
1 teaspoon rosemary
1/2 teaspoon marjoram
1/2 teaspoon salt
1/2 teaspoon pepper
1 teaspoon minced garlic
1/2 cup freshly diced onion
1/2 cup chicken stock or broth
1 Tablespoon freshly squeezed lemon juice
HOW TO MAKE IT
Place chicken into a gallon size Ziploc bag. Add all other ingredients, squeeze out as much air from the bag as possible, and seal the bag. Massage the bag to combine everything and place the bag of chicken into the refrigerator to marinate for 2-12 hours.
Empty contents of bag into a 6-quart slow cooker and cook on medium-low heat for 3-5 hours, or until the chicken is no longer pink and shreds easily with a fork.
Using 2 forks, shred the chicken inside of the slow cooker, replace the lid, and allow it to cook for an additional 15-20 minutes.
Serve with steamed vegetables of your choice. Would be extra delicious served gyros style in warm pita bread with tomatoes, onions, and cucumber (Tzatziki) sauce.