So it begins... healthy, DELICIOUS green smoothies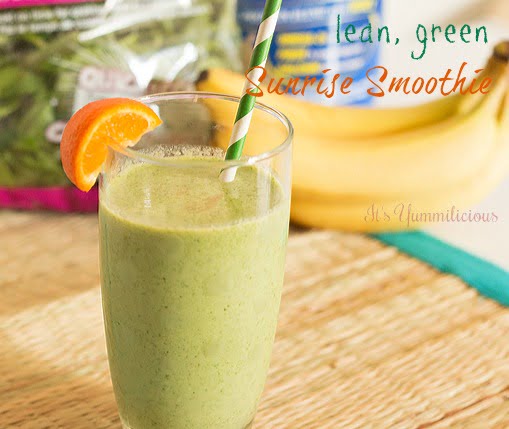 I'll share the recipe to this delicious smoothie in a moment.
As evidenced by the amount of cupcake, brownie, and cookie recipes posted on the pages of this blog, it's no secret that I'm a bit addicted to sugar and other not so healthy carbohydrates. I've hooked myself onto them and they've returned the favor, hooking themselves onto my stomach, waist, and thighs.
Hmm...Considering my undying devotion to muffin tops, it seems like a highly inappropriate (albeit, ironic) way to reciprocate if you ask me.
Earlier this year, I ventured into a new healthy eating lifestyle that I call "Fit by 50"  My goals were/are to begin an exercise routine and adjust my nutrition accordingly so that I can lose 50 pounds by my 50th birthday at the end of January.  Through the process, I want to get physically fit, but I also hope to learn how to love myself for who I am, and I want to be happier with myself physically, emotionally, and spiritually, too.
It's been a HUGE endeavor, especially given the fact that I've been stuck in a self-loathing mode for the past 40 years or so. I've made some progress though!  Baby steps are better than no steps, so I'm on my way!
My formerly sedentary self has been protesting the exercise routine and my post-menopausal body bitches daily about dropping the excess weight that I've been carrying around for the past 3 years, but I refuse to give up without a fight!  That's why I'm introducing a couple of new "guns" into my healthy living "holster" this week.

I've joined up with a group of bloggers (primarily food bloggers) who all share a common goal... to look and feel better about ourselves.  The group is called "Weight Loss Wednesdays", and it's the brain child of Karyn from the blogs, Pint Sized Baker and Dieters Downfall.
A few of the girls are already very active physically, but many share my situation...we're semi-sedentary and surrounded with unhealthy foods all day long. We've connected through a Facebook group and in addition to encouraging and supporting one another, we'll be holding one another accountable for our goals, as well as posting our progress every Wednesday. Sometimes we'll share recipes, other times we may blog about fitness tips, grocery shopping strategies, or perhaps we'll even share the things that we've learned about ourselves along the way. The group plans to stay connected through the end of this year!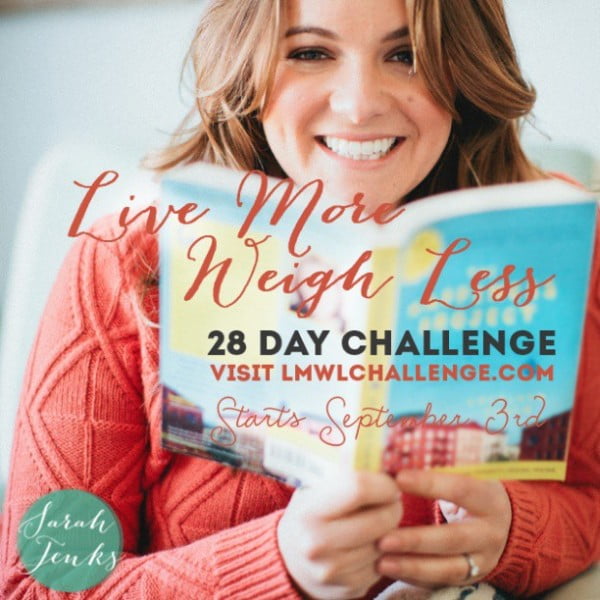 The other thing I've done to help me achieve my goals is to join in a FREE 28-day challenge being operated by Sarah Jenks. The program is called "Live More, Weigh Less".  The challenge began yesterday, but it's not too late to join in if you're interested.  You can start today, tomorrow, or even on the 15th if you want to!  I'm looking forward to a journey of self discovery and learning to love myself again – whether I lose 50 pounds by my 50th birthday or not.
I'd LOVE to have you join me, but even if you choose not to, I hope that you'll blend yourself up one of my lean, green, delicious sunrise smoothies, hop over and take a look at the latest posts from my fellow Weight Loss Wednesday blogger buddies...and make the most of your day!
Next week, we will all be sharing more specifically about our eating plans, so make sure you check back on Wednesday. If you're interested in reading more about some of the other bloggers' goals, check out these posts.: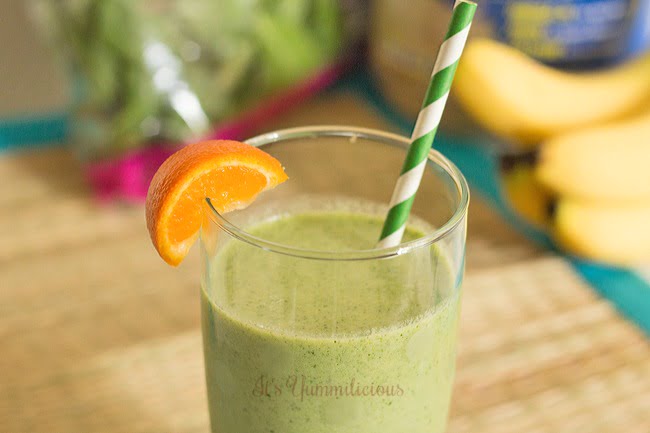 _____________________________________
Lean Green Sunrise Smoothie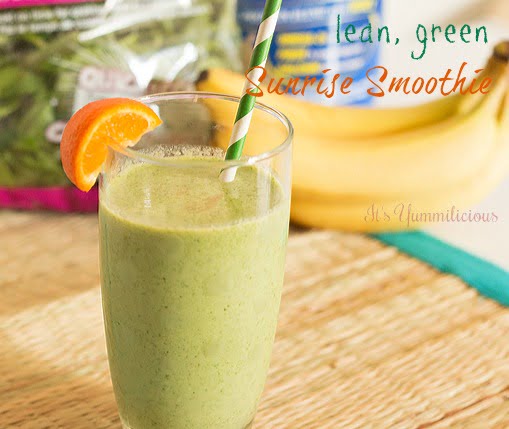 Created By:
Chef Becca Heflin
Recipe Category:
Beverage
This refreshing smoothie is packed with tropical fruit, healthy leafy greens, Greek yogurt, and protein powder, giving your body the fuel it needs to run strong all morning long!
WHAT'S NEEDED
1/3 cup Greek yogurt, plain or vanilla
2 cups baby spinach, kale, Swiss chard, and/or other leafy green vegetables
1 large banana
1 cup diced mango, fresh or frozen
juice of 1 clementine orange
1 scoop whey protein powder, plain or vanilla
10 ounces cold water
4-5 ice cubes
HOW TO MAKE IT
Place all ingredients into a blender and pulse or blend on high until greens are pureed and the mixture is thick, smooth, and creamy.
To make smoothie thinner in consistency, add more water. To thicken, add more ice cubes.
NUTRITIONAL INFORMATION
Serving size:
8 ounces
Calories:
185.9
Fat:
1.4
Saturated fat:
0.6
Unsaturated fat:
0
Trans fat:
0
Carbohydrates:
27.4
Sugar:
15.3
Sodium:
103.7
Fiber:
3.2
Protein:
18.2
Cholesterol:
43.1