Do you have someone (or perhaps many) people in your life who are great at encouraging you?  Those helpful souls who give you the necessary push you need now and then to go for the gusto.  To take risks.  To color outside of the lines.  To dream the impossible dream.  Oh good grief.  I'd better move on before I start wailing Man of La Mancha...
I definitely have people like that in my life...but they aren't always great at encouraging GOOD behavior out of me.  People like Joy.  Don't get me wrong.  I ADORE Joy.  I love her like the little sister I never had.  Sometimes I just want to reach out and cover her with virtual hugs and kisses and Dilly Bars and then gobble her up.  Umm...might be best to erase that visual from your head now.
Anyway, I have this love-hate-love relationship with her because every time I flip through the pages of her cookbook, I find yet another amazingly delicious recipe that finds its way into my kitchen and shortly thereafter, onto my hips.  I kid you not, there are some SERIOUSLY good eats in that book.  If you don't already own it, you should pick up a copy SOON.  The good food lover in you will thank you.  So will the manufacturer of elastic waistbands, but hey... some things are worth having in moderation, right?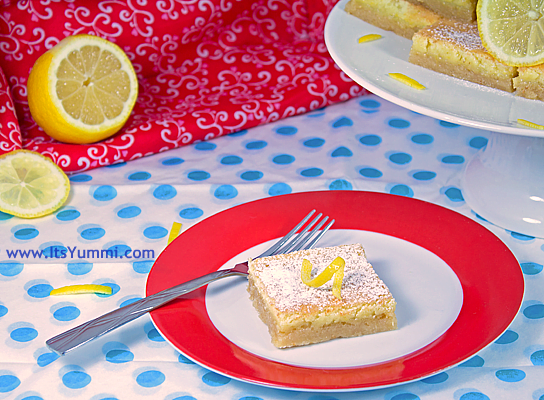 I find it sort of odd that until this recipe hit my eyeballs, I had never made a batch of lemon bars.  I've eaten my weight in them throughout my lifetime, and I really love tangy, citrus loaded foods, but some other recipe always took precedence I guess.  I can assure you, THAT won't happen again.  These bars were so flipping easy to make and so delicious that I now need to find a way to make them just a smidge healthier.  Otherwise, I may just end up making repeated batches of them and scarfing them down while watching Jillian Michaels beat the crap out of people on Biggest Loser, and then when I die in my house, my front door will have to be removed to get me out.
UGH...someone come over and remove these bars from my house immediately.  Please and thank you.
Lip Smacking Good Lemon Bars
Created By:
Chef Becca Heflin
When you top a butter cookie crust with tart lemon filling and add a dusting of powdered sugar, you end up with a dessert that sends your senses tingling and your lips doing a lip smacking happy dance!
WHAT'S NEEDED
FOR THE CRUST
2 sticks (8 oz) unsalted butter, softened but still cool
3/4 cup (5.6 ounces) granulated sugar
1/4 cup packed light brown sugar
2 cups (8.8 ounces) all-purpose flour, sifted
1/2 teaspoon pure vanilla extract (optional)
generous pinch Kosher salt
FOR LEMON FILLING
4 large eggs
3/4 cup granulated sugar
6 Tablespoons (3 oz) all-purpose flour
1/2 cup (4 oz) lemon juice (approx. 2 lemons)
zest of 2 lemons
powdered sugar, for topping
HOW TO MAKE IT
Heat oven to 350 degrees F.
Butter 9 x 13 baking pan and set aside.
TO MAKE THE CRUST
In the bowl of a stand mixer, use the paddle attachment to cream together softened butter and sugars at medium speed until light and fluffy.
Stop mixer to scrape down the sides of the bowl, and add flour, extract, and salt. Mix at low speed until just combined.
Press crust into prepared baking pan, and cook for 18-20 minutes, until light brown.
While crust is baking, MAKE THE FILLING
Whisk together eggs and sugar in a medium-sized bowl until smooth. Add flour, lemon juice, and lemon zest, and whisk until fully combined.
Remove crust from oven, and pour filling over warm crust. Place lemon bars back in oven and bake for an additional 20 to 25 minutes, until center is firm to the touch.
Cut bars into squares and dust with powdered sugar before serving.
IMPORTANT STUFF
Lemon bars will last sealed in an airtight container in the refrigerator for up to four days. Adapted from the Joy the Baker Cookbook: 100 Simple and Comforting Recipes
MORE great lemon bar variations can be found here: