If there's one thing I look forward to about winter in Wisconsin, it's Girl Scout cookie time!  Cutie patootie girls delivering me boatloads of my beloved Thin Mints... *swoon*
I recently came upon the knock-off version of that awesomesauce cookie.  Keebler Grasshopper cookies.  When I bit into one of those beauties, all I could say was SHA-ZAM!  They weren't exactly the same as the original, but they were gosh darned close!  At least now I know that no matter what time of year it is, I can chow down on a couple of frozen cookies.  Whaaat?!  You don't eat 'em frozen?!  You TOTALLY should...  They're da bomb, my lovely!
My obsession with minty cookies is not too far above my adoration for cheesecake, so when I came across this recipe for a Thin Mint cheesecake brownie over at Sweet Pea's Kitchen, I just knew I had to make myself a batch PRONTO!  After I had finished drooling all over myself, I sat down and savored one of these babies.  Have you ever wondered what Heaven is like?  WONDER NO MORE, my friend!  Have one of these and you'll be flyin' high in the clouds.
This recipe was submitted to the Chef In Training TUESDAY TALENT SHOW

Mint Cheesecake Swirl Brownies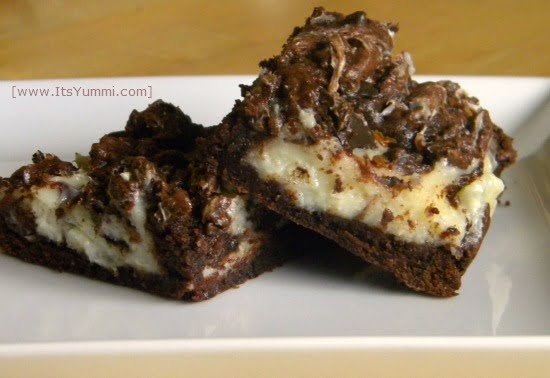 WHAT YOU\'LL NEED
1/2 cup unsalted butter
3/4 cup granulated sugar
1 package (8 oz.) cream cheese, softened
3/4 cup powdered sugar
1 3/4 teaspoons vanilla extract
1/4 teaspoon peppermint extract
1 cup flour
1/2 cup unsweetened dark cocoa powder
1/2 teaspoon salt
2 eggs
1 1/3 cups coarsely chopped mint cookies
HOW TO MAKE IT
Heat oven to 350 degrees F (325 convection oven). Spray the bottom and sides of an 8-inch metal baking pan with non-stick spray. Put a long piece of parchment paper in the bottom of the pan, letting the parchment extend up two sides of the pan and overhang slightly on both ends. (This will make it easy to remove the bars from the pan after they have baked.) Spray the parchment.
Melt the butter in a small saucepan over medium heat. Whisk in sugar and bring to a boil, whisking frequently; boil 1 minute. Set aside to cool for 5 minutes.
In the bowl of a stand mixer fitted with the paddle attachment, beat together cream cheese, powdered sugar, vanilla extract, and peppermint extract until combined, about 1 minute.
In a medium bowl, sift together flour, cocoa powder and salt; whisk until combined.
In a large bowl, whisk together eggs until combined. Whisk in melted butter-sugar mixture until well combined. Stir in flour mixture until just combined, then stir in the mint cookies.
Spread half of brownie batter into the prepared baking dish, followed by cream cheese layer. Distribute the remaining brownie mixture in 8 dollops over the cheesecake layer and spread evenly. Swirl in with a knife or spatula.
Bake for 24-28 minutes, until brownies and cheesecake are set. A knife inserted into the cheesecake mixture should come out clean and the edges will be lightly browned.
Let cool completely in pan on a cooling rack before lifting out the parchment paper to remove the brownies.
http://www.itsyummi.com/mint-cheesecake-swirl-brownies/
Recipe From: www.ItsYummi.com