As many of you know, I have a culinary degree, so I try to use my COOKING knowledge & skills now and then, but if you take a browse through my recipe index, you'll find that there are more desserts than anything else.  I have a serious sweet tooth, gang, what can I say?!  That's why I had to make you these Monster Cookies!
I wish I had a bit more talent in the decorating department, but hand eye coordination isn't my forte.  That's why, despite MANY attempts at creating masterpieces, you won't see too many gorgeous cakes on this blog.  What you will find, however, are cupcakes and cookies.  Lots and LOTS of cookies!  There just aren't enough days in my year to blog about all of the cookies I've created recipes for, but these monster cookies are one of my recent favorites.  Oatmeal, peanut butter, chocolate chips, M&M's… these babies are LOADED with yummi taste.  They're the perfect balance between chewy, soft, and sturdy, making them perfect for using to create ice cream cookie sandwiches, or dunking into a tall glass of cold milk.  I hope you enjoy them!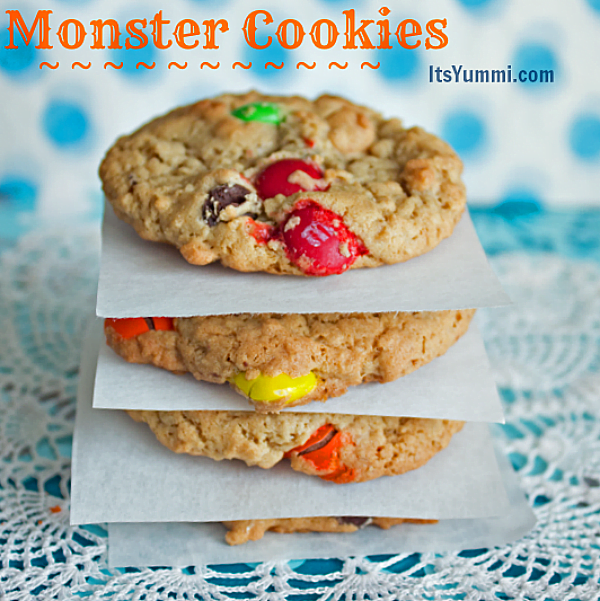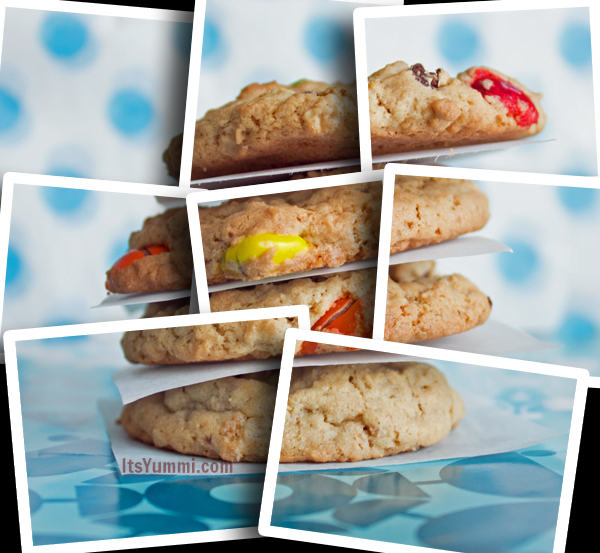 MONSTER COOKIES

Monster Cookies
Created By:
Chef Becca Heflin
Prep time:
Cook time:
Total time: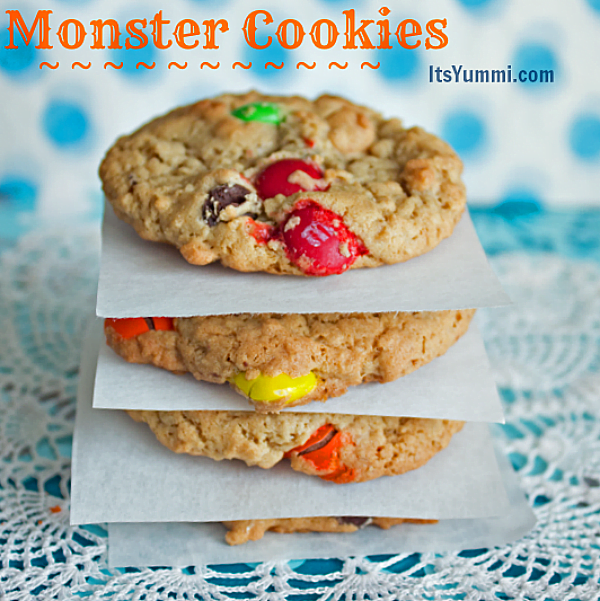 Chewy cookies loaded with rolled oats, chocolate chips, raisins, and M&M's. Fully loaded and perfect for your sweet tooth!
INGREDIENTS
3 large eggs
1 1/4 cups packed light brown sugar
1 cup powdered sugar
1/2 teaspoon salt
1 teaspoon vanilla extract
1 1/2 cups creamy peanut butter
1 stick butter (4 ounces), softened
1 cup M&Ms
1 cup milk chocolate or semisweet chocolate chips
2 teaspoons baking soda
1 cup all-purpose flour
3 1/2 cups quick cooking oats
INSTRUCTIONS
Heat oven to 350 degrees F. Line cookie sheets with parchment paper or silicone baking mats.
In a large bowl, whisk together flour, oatmeal, salt, and baking soda; set aside.
Using an electric hand or stand mixer, cream the butter and both sugars until well combined, about 2 minutes. Scrape down sides of the bowl. Add the eggs, one at a time, mixing on medium-high speed to incorporate each one completely before adding the next. Add the peanut butter and mix on medium speed until well combined, about 1 minute.
Turn mixer to low and add dry ingredients, mixing only until BARELY combined. Over mixing will result in a tough cookie. Use a wooden spoon or spatula to stir in the chocolate chips and M&M's
Using a medium sized cookie scoop, place dough about 2 inches apart on the cookie sheets.
Bake the cookies for 9 minutes. DON'T OVER BAKE – the cookies should just be set, but still slightly wet on top and very lightly golden around the edges. Let the cookies sit for 1-2 minutes on the cookie sheet before transferring to a cooling rack to cool completely.
Store in a airtight container for up to 4 days (the baked cookies freeze well, also).
These yummi cookies were shared on the WHAT'S COOKIN' WEDNESDAY linky party at Buns In My Oven