Before I get into today's post, I have a few housekeeping items to take care of.
1. Have you entered Ashton's birthday giveaway yet?  A Kitchenaid stand mixer, a $300 Target gift card, AND 10 cookbooks written by bloggers are up for grabs, so be sure to head over HERE and get yourself entered!
2. For the past 2 weeks, I've been begging asking you to come over to my new Facebook page to hook up with me. It's been great seeing some of you there, but I'm still missing lots of you!  I had over 8,000 followers on my old fan page and I've only got about 1,700 of you following me on the new page so far.  As of today, you'll no longer see any updates on the old page, nor will you see all of the great recipes of mine and those of my fellow food bloggers. You'll also be missing out on giveaway opportunities and of course, I simply miss your smiling face, so please come "like" me!
3. After spending FAR too long in the unemployment pool, I'm starting a new job today! I've been hired as the guest services manager for a new restaurant in town. I've got boat loads of nervousness and butterflies, but I'm sure that everything will be just fine. My plans are to still bring you 2-3 new posts every week, so please be sure to subscribe to new posts (click on the envelope icon at the top of this website) or follow me on BlogLovin'  via the widget on my sidebar so that you won't miss any new posts.
Now that the business is out of the way... grab your apron and let's cook!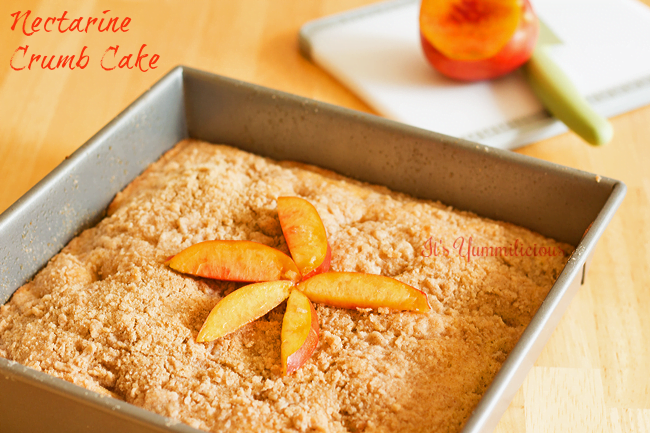 I had an interesting self-discovery yesterday. It seems that as I've grown older, my taste buds have become more sensitive. Strange, right? I used to enjoy feeling textures of foods as I ate them, like the fuzziness of peach skin or the graininess of toasted bread. I USED TO enjoy them, but that's no longer the case. The foods I enjoy the most these days are smooth, creamy, moist, or cool/gentle on the tongue. There's one exception to every rule, and those of you who've been around this blog for a while likely know what the exception is.  Go ahead... guess.
Bacon.  I prefer my bacon to be medium crispy (not burned), but definitely not under-cooked and fatty.  *shudder*  Yes. I'm picky about my bacon. Shhh... let's move on.
So when I came across a great recipe for peach cobbler muffins in my Joy the Baker Cookbook
, being the peach fuzz prude that I am, I knew I'd have to substitute with another fruit. I love the taste of peaches, but only when they're barely ripened. Too ripe and they become mushy and almost grainy.  So nectarines were the perfect replacement. To me, they're everything a peach is, but without the fuzz and mushiness!
I pondered baking this recipe up using 12 cupcake tins like Joy's recipe instructs, but frankly, I was lazy (I'm nothing if not honest) and my 8 x 8-inch cake pan was clean and accessible, so I greased the bottom and sides lightly with some olive oil (you can use non-stick spray or even some melted butter) and went for the big cake-huna.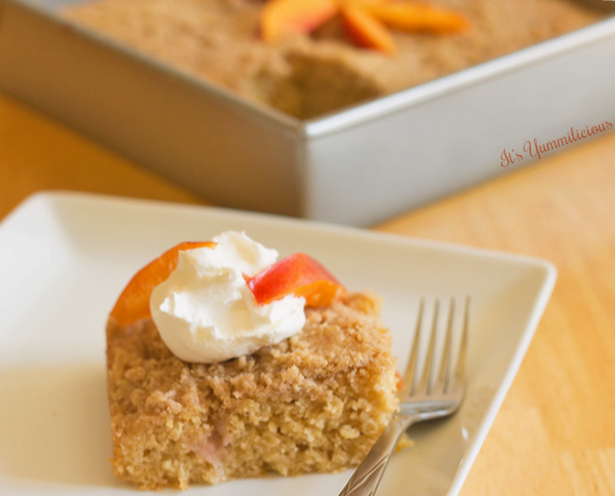 Another shocker for this recipe is that I didn't "healthy" it up by using low-carb baking mix and sugar substitutes like I've done with many of my recipes lately.  I certainly could have, and probably SHOULD have, but again...the whole lazy thing.  Besides, I would've had to walk a whole 15 steps across the kitchen to the pantry, pull out my step stool, and put my life in danger to stand on my tip toes to reach the "grown up" shelf to get the baking mix. Don't judge...I was looking out for my own safety. I either do that or fork over the cash for one of those Medic-Alert systems. It's doubtful that those people will consider letting me make payments until I'm 95 years old, so that idea is out.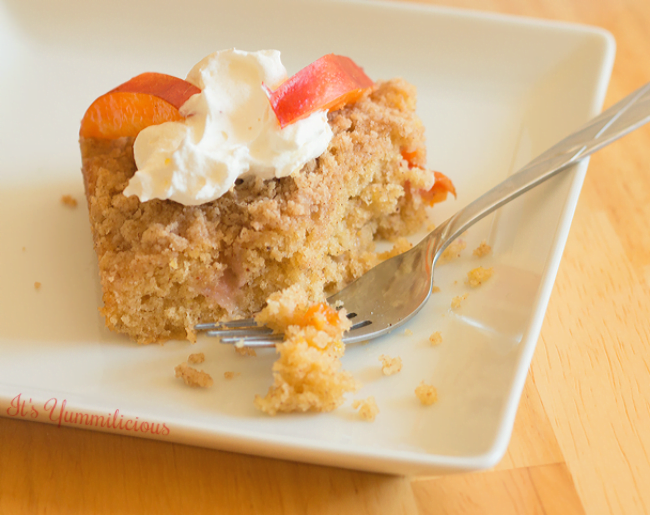 This recipe is full flavored, completely caloric, and you betcha it's yummilicious!  I hope you make it and enjoy it!
Until we meet again, be sure to keep your stomach AND your spirit well fed!
Nectarine Crumb Cake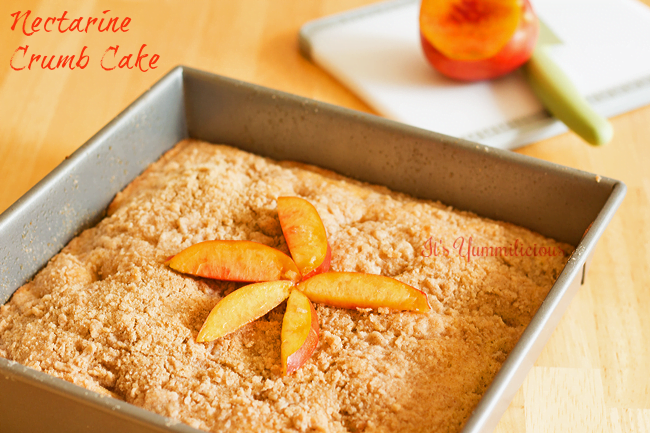 Created By:
Chef Becca Heflin
Fresh nectarines are covered in a light, fluffy cake and topped with brown sugar streusel. Grab a cup of coffee and enjoy the indulgence!
WHAT'S NEEDED
For the muffins
6.6 ounces (1 1/2 cups) all purpose flour
3.7 ounces (1/2 cup) granulated sugar
1/4 cup brown sugar, packed
1.5 teaspoons baking powder
1/4 teaspoon salt
1/2 teaspoon cinnamon
1/4 teaspoon nutmeg
2 ounces (1/2 stick) of unsalted butter, melted and cooled
1 egg
1 egg yolk
1/3 liquid cup milk (I used skim)
2 teaspoons vanilla extract
1.25 cups nectarines, diced
For the topping
1.5 ounces (3 tablespoons) unsalted butter, diced and cold
2.2 ounces (1/2 cup) all-purpose flour
1/4 cup brown sugar, packed
pinch of salt
1/4 teaspoon ground cinnamon
HOW TO MAKE IT
Place oven rack in the upper third of your oven and heat oven to 350 degrees F. Lightly grease an 8 x 8-inch cake pan and set aside.
In a medium bowl whisk together flour, sugars, baking powder, salt, cinnamon, and nutmeg. Set aside.
Place butter in a small saucepan or microwave safe bowl and melt. Remove from heat and allow butter to cool.
In another bowl, cream together the egg, egg yolk, milk and vanilla extract. While whisking, slowly (this is important, or your eggs will scramble!) add the cooled butter to the wet ingredients and whisk until well incorporated.
Add the wet ingredients to the dry and mix until there is only a tiny bit of flour left showing. Fold in the diced peaches until they are distributed evenly. Divide batter into prepared baking pan.
For the crumb topping, combine all ingredients in a bowl and mash together using your clean hands until it is crumbly and butter becomes the size of small peas. This takes about 3 minutes. Sprinkle over the muffin batter before baking.
Bake 20 minutes, or until a skewer or toothpick inserted into the cake comes out clean. Remove from oven and let cool in the pan on a wire rack for 20 minutes before serving.
IMPORTANT INFO!
-Recipe inspired by Peach Cobbler Muffins, from Joy Wilson, in the Joy the Baker Cookbook
-Cake can be kept sealed in plastic wrap at room temperature for up to three days.