Nutella Mousse Pie with caramelized bananas. Say that three times fast and then grab your apron and come on in to my virtual kitchen. I've got a great love story to tell you about, and I'll share the recipe for this delicious dessert, too!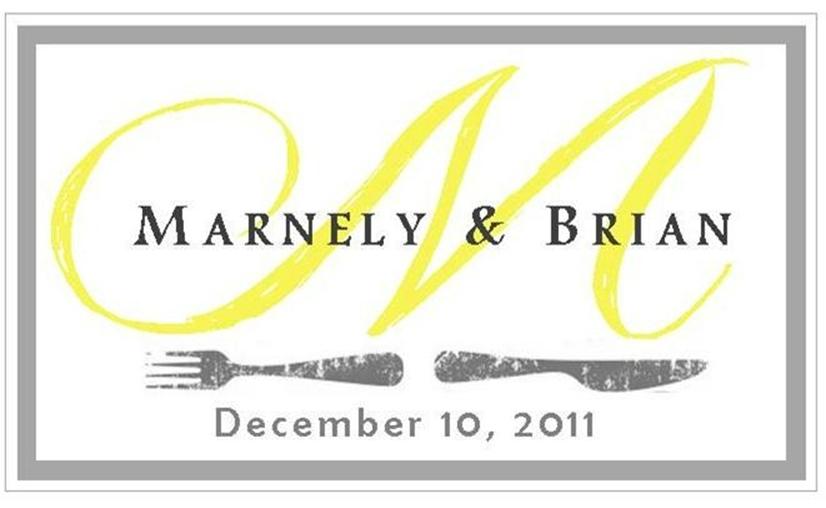 Have you ever crashed a party?

I just did. I'm guilty as Nixon, but I couldn't help myself. When I learned that one of my beloved #TwitterSisters, Nelly (@nella22) was being thrown a virtual wedding shower, I just HAD to invite myself. There's no way that I want to miss out on celebrating her happiness and big day!

Nelly announced her engagement to Brian "M" Murray late one November evening, and the Twitterverse was instantly filled with squeeees of glee from those of us who know and love her. Nelly has a heart of gold and a priceless smile, enhanced all the more when anyone makes mention of M. What can be said about the love between Nelly and Brian is this: the strength of their love shines brightly enough to light up a star-less sky! I truly could not be any happier for you, Nelly. I love and admire you so much!

The virtual wedding shower was organized by Lite Bite. A few other creative food bloggers teamed up with her to conceptualize the perfect online party and create the beautiful logo. Liz (@Mango_Queen) penned a beautiful piece for the bride-to-be and her beloved.

BLOGGER'S RECIPE FOR NELLY 'S WEDDED BLISS
Mix together: A lot of Love, Patience, Perseverance, Respect, Courage, Strength, Trust, Kindness, Honesty, Compromise & Great Sex.
Stir in : Equal Parts of Love, Support, Faith, Fidelity, Hope, Validation, Friendship, Forgiveness, Communication.

Cook over slow simmer for the rest of your life. Dot daily with a Sense of Humor.

Leave out the nagging, sarcasm, skepticism, doubts and stubbornness.

Serving Suggestions: Best prepared daily.  Serve with flourish because Married Life is a FEAST.  Live it with flavor, spice it with unconditional love, enjoy its richness.

Recipe Notes: Some ingredients won't always be fresh or available.  Or the heat may flare up and the anger spills over. Simmer down and douse the flames with all the LOVE you can throw in.

Enjoy the feast of marriage, love and life!

WHAT I'M BRINGING TO THE PARTY
One of the reasons that Nelly and I get along so well is that we share a passion for many of the same foods. Our chins become covered in drool at the mention of foods like bananas, bacon, avocados, chocolate, and let's not forget the food of the gods…Nutella!

I wanted to create a dessert that would be a great combination of many Nelly's favorite foods, and baking them into an adorable miniature form makes them a perfect match for the equally adorable Nelly!  I think this nutella mousse pie with caramelized bananas is a perfect match, don't you?

Congratulations, sweet Nelly! My words of advice to you for a lifelong marriage are: Love hard, forgive often, don't go to bed angry, and whatever you do…NEVER EVER cook bacon in the nude! 🙂
Nutella Mousse Pie with Caramelized Bananas
Chef Becca Heflin
This Recipe Makes/Serves: 12
Nutella Mousse Pie with Caramelized Bananas
This decadent dessert is a blend of rich chocolate-hazelnut mousse, caramelized bananas, and freshly whipped cream laced with premium quality cacao nibs. It's small on size, but large on taste!
1 hr, 15 Prep and Rest time (if applicable)
10 minCook Time
1 hr, 25 Total Time
Ingredients

For the crust
6 1/2 ounces graham crackers (12 crackers), finely ground (1 1/2 cups)
2 1/2 ounces (5 tablespoons) unsalted butter, melted
1/4 cup sugar
1/8 teaspoon salt

For the Nutella mousse
2 cups whipping cream, VERY COLD
2 cups Nutella
2 teaspoons vanilla extract

For the caramelized bananas
1 or 2 large barely ripe (firm) banana, peeled and sliced vertically into 12 slices 1/4" thick
1/4 cup superfine white sugar

For the cacao nib whipped cream (must be made ahead – see directions)
1/4 cup Scharffenberger cacao nibs, chopped into small pieces
2 cups heavy whipping cream
2 tablespoons granulated sugar, or more to taste
Pinch of salt
Instructions
Prepare the whipped cream
At least 6 hours before serving, in a small saucepan over medium-high heat, combine the cream, nibs, sugar and salt, and bring the mixture to a gentle boil.
Remove from the heat, cover and steep for 30 minutes. Strain the cream through a fine-mesh sieve and discard the nibs.
Cover and refrigerate the cream for at least 5 hours or up to 2 days. When ready to use, whip the chilled cream until soft peaks form.

Make the crust
Preheat oven to 350 degrees.
Pulse graham cracker crumbs, butter, sugar, and salt in a food processor until combined.
Firmly press crumb mixture into bottom and up sides of 12 standard size cupcake tins.
Bake until crust is fragrant and edges are golden, 10-12 minutes. Let cool completely on a wire rack.

Add the Nutella Mousse
Using a stand mixer with the whip attachment, or a standard hand mixer, beat the cream and vanilla until it forms soft peaks. The cream should be VERY cold. I put my cream, the mixing bowl, and even the beaters/whip into the freezer for a few minutes before I whipped the cream. The colder everything is, the better it whips up.
Once the cream is whipped, use a rubber spatula to gently fold the Nutella into the cream.
Use a spoon to fill each of the pie crusts with mousse and place into the refrigerator for 1 hour, or until firmly set.

Caramelize the bananas
Place the bananas onto a sturdy baking sheet and sprinkle evenly with the sugar. If you have a cook's blowtorch, wave it over the bananas until the sugar has caramelized. Otherwise, heat the broiler of your oven to its highest setting and place the baking sheet of bananas under the broiler until golden brown and bubbling. Let cool until the sugar has firmed up.
Top each pie with the prepared whipped cream and top each one with a caramelized banana.
Serve and enjoy!
http://www.itsyummi.com/nutella-mousse-pie/
All Rights Reserved 2016; Its Yummi (www.itsyummi.com) - This recipe may not be distributed, sold or used for any commercial purpose (including sharing on social media platforms). The ONLY authorized use is by to share an IMAGE ONLY along with a link to the blog post on itsyummi.com where the recipe can be found.
This is my recipe/post for the virtual bridal shower for Nelly hosted by Sanjeeta kk at Lite Bite.

 Special thanks to Heather for the logo, Elizabeth for the intro write up and to Junia for the spreadsheet.