Confession: I'm sort of disappointed in myself right now.  This is the reason why...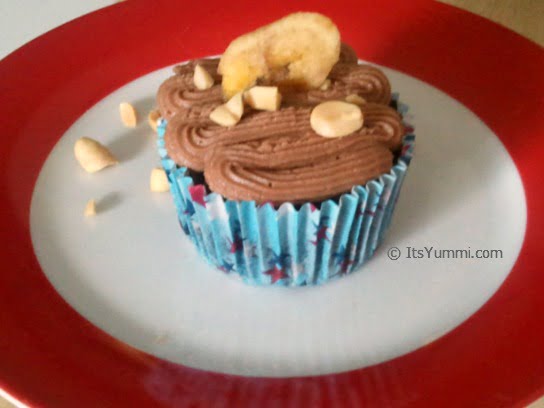 They are freakishly good Devils food cupcakes that I stuffed to the gills with peanut butter & bananas, then topped with a chocolate peanut butter icing.
To clarify, I'm not disappointed in myself for MAKING them.  Oh NO sir-ee bob.  They are out-of-this-world yummilicious!  I'm disappointed because I had a complete lack of self-control and restraint when it came to consumption of them.  I'm not even remotely kidding, you guys.  Even the BATTER was sinfully good.  I lost count after eating the 3rd cupcake in a row.  Maybe I lost count because I passed out from insulin shock or something.  I'm not quite sure...
All I know with 100% assurance is that I was a complete oinker over these cupcakes.  Just set up a trough and start practicing your best sooooo-eeeeeee.  I'll be over your way in a flash.  But be sure to make a batch or four of these before you call me.  Otherwise, you may have a wild boar on your hands.  *oink*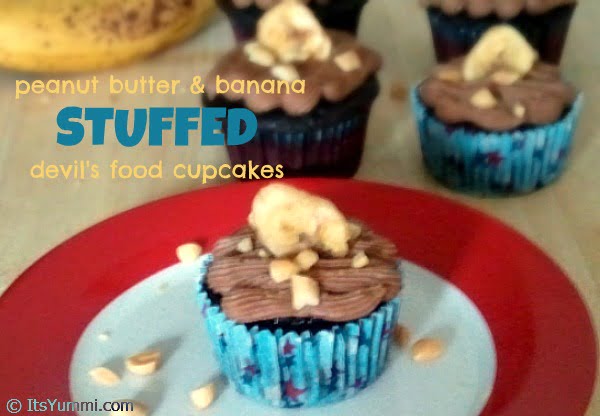 Peanut Butter & Banana Filled Devil's Food Cupcakes
Slightly adapted from recipe by Bobby Flay / Food Network Kitchens
 For the cupcakes:
3/4 cup (3.3 oz.) cake flour
1/2 cup (2.2 oz.) all-purpose flour
1/2 cup unsweetened Dutch- process cocoa powder
1 teaspoon baking soda
1/4 teaspoon baking powder
1/2 teaspoon salt
1/2 cup (1 stick) plus 2 tablespoons (5 oz.) unsalted butter, at room temperature
1 1/2 cups (11 oz.) granulated sugar
3 large eggs
1/2 cup (4 oz.) buttermilk
1 teaspoon vanilla extract
1/2 cup (4 oz.) strong coffee
For the filling:
1 very ripe banana, mashed
1/2 cup creamy peanut butter (I used Jif®)
1 cup confectioners' sugar
For the frosting:
1 stick (4 oz.) unsalted butter, at room temperature
1/4 cup chocolate-flavored peanut butter (I used Jif®)
1 cup confectioners' sugar, sifted
1 to 2 teaspoons whole milk (if needed)
3 tablespoons roasted and lightly salted chopped peanuts (optional)
18 dried banana chips (optional)
DIRECTIONS
Heat oven to 350 degrees F.
Place 18 cupcake liners into muffin tins.
In a medium sized bowl, sift the cake flour, cocoa powder, baking soda, baking powder and salt together.
In the bowl of a stand mixer (or in a large mixing bowl), beat the butter and sugar together at high speed for 15 seconds until combined and creamy.
Add the eggs, one at a time, beating until each is incorporated. Continue beating until light and fluffy, about 6 more minutes.
With the mixer at its lowest speed, beat in one-third of the flour mixture. Beat in the buttermilk and vanilla, then another one-third of the flour mixture. Beat in the coffee and then the remaining flour mixture.
Fill the muffin cups 3/4 full and bake for 18-23 minutes, or until the centers spring back when lightly pressed. Set the pans on a rack to cool.
While the cupcakes are cooling, prepare the filling by combining the
For the frosting
With an electric or stand mixer, beat together the butter and peanut butter until smooth. Gradually beat in the powdered sugar until the frosting is light and fluffy. (If needed, add milk 1/2 teaspoon at a time to make the frosting smooth.)
Frost the cupcakes. Optional: Sprinkle the tops with an even amount of the chopped peanuts and garnish the tops of each cupcake with a dried banana chip.
Makes 18 cupcakes