For the record, I'd like to say that losing a loved one doesn't get any easier regardless of how many times you go through it.  After a 14-month battle with Acute Lymphatic Leukemia, my sweet friend of over 20 years, and a brother in Christ, passed away on February 5th and went home to live a pain-free eternity with his glorious Heavenly Father.  Rest in peace, Vic…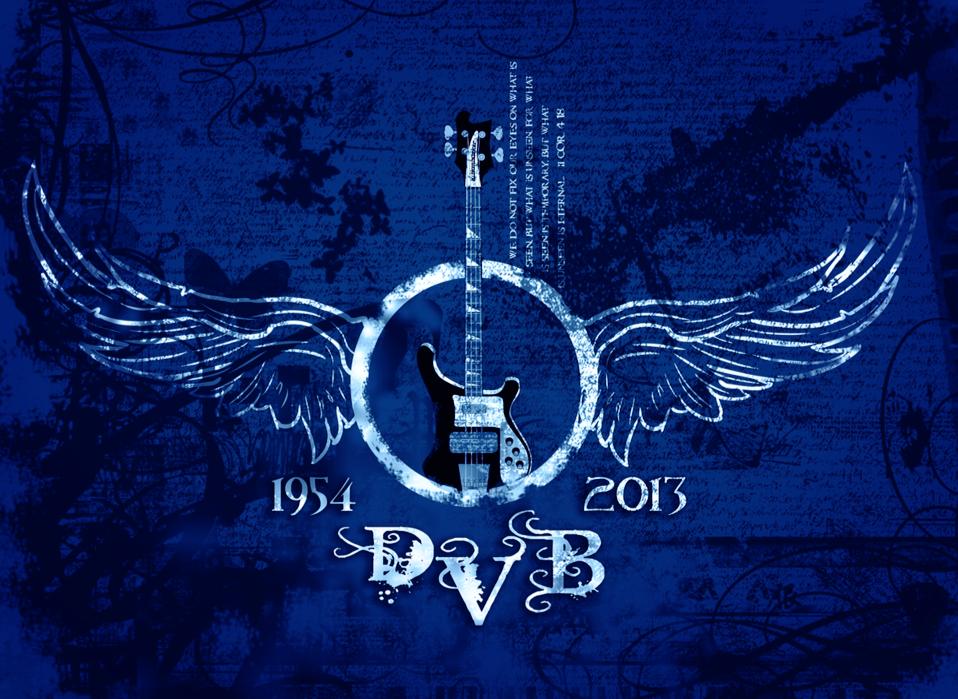 This artwork was designed by Brad Graber, another friend of Vic's.  It is such a beautiful tribute to the man we all loved and miss so very much.
Vic is the reason that I've been away from this blog for a while.  I was truly not in the frame of mind to be blogging, and I was just feeling so blah that no matter what I cooked or baked, it seemed to flop on me.  So I took a break…. but now I'm back.  With a vengeance, I should add.  I've got a great product review coming up for you later this week, along with a giveaway!  That's right, kids… FREEBIES in the house!   If you haven't already signed up to receive my newsletter updates, be sure to do so… otherwise, you might miss out on the fun!  There's a place to subscribe right at the top of this page, next to the social media icons.
Now who's hungry for brownies… with a layer of peanut butter?  Perhaps some whipped milk chocolate ganache frosting?  Anyone?  Anyone?  HEY…anyone wanna join me, or shall I eat the entire pan of these peanut butter brownies myself?    Come on… grab your stretchy pants and let's EAT!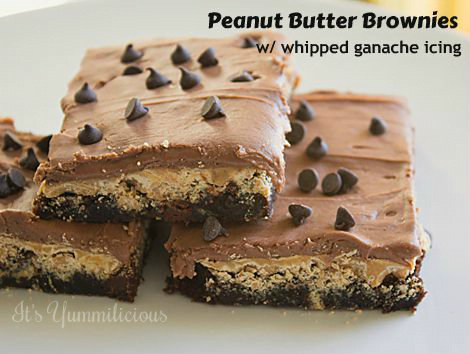 PEANUT BUTTER BROWNIES with WHIPPED CHOCOLATE GANACHE FROSTING

Peanut Butter Brownies with Whipped Chocolate Ganache Frosting
Created By:
Chef Becca Heflin
Prep time:
Cook time:
Total time:
Chewy brownies with a layer of creamy peanut butter chips and a topping of whipped milk chocolate ganache. Simply yummi!
WHAT'S NEEDED
FOR THE BROWNIES

5 oz. (1 stick, plus 2 Tablespoons) unsalted butter, at room temperature
2 oz. unsweetened chocolate
5 oz. bittersweet chocolate
1 cup sugar
2 tsp. vanilla extract
Pinch salt
2 large eggs, at room temperature
1 large egg yolk, at room temperature
3 oz. (2/3 cup) all-purpose flour


FOR THE PEANUT BUTTER LAYER

12 oz. (1 bag) Reese's peanut butter chips
2 oz (1/2 stick) unsalted butter


FOR THE GANACHE FROSTING

4 ounces bittersweet chocolate, finely chopped
4 ounces white chocolate, finely chopped
8 ounces (1 liquid cup) heavy whipping cream
HOW TO MAKE IT
PREPARE THE BROWNIES

Heat oven to 350 degrees.
Whisk flour, salt and baking powder in a small bowl; set aside. Spray an 8-inch baking pan with cooking spray. Fit a sheet of foil in pan and up two sides, so you can use it as a handle to pull cooked brownies from pan (I used parchment paper). Spray sheet with cooking spray.
Melt chocolates and butter in a medium bowl over a pan of simmering water. Remove from heat; whisk in sugar and vanilla. Whisk in eggs, one at a time, fully incorporating each one before adding the next. Continue to whisk until mixture is completely smooth and glossy. Add dry ingredients, whisk until just incorporated.
Pour batter into prepared pan; bake until a toothpick or cake tester inserted in center comes out with wet crumbs, 25-30 minutes.
When the brownies have about 5 minutes left to bake, make the peanut butter filling.
PEANUT BUTTER FILLING

Place the peanut butter chips and the butter into a microwaveable glass bowl. Cook at medium power for 1 minute. Stir and continue to cook on medium power in 30 second intervals until mixture is melted and glossy in appearance.
When the brownies come out of the oven, pour peanut butter mixture over the top of the warm brownies. Use a heat resistant spatula to spread the mixture evenly over the top. Place the brownie pan on a wire cooling rack to cool completely.
While brownies are cooling, make the ganache and allow it to chill in the refrigerator. Once it has chilled completely, place it into the bowl of a stand mixer fitted with the whip attachment and whip the ganache until it is light, fluffy, and spreadable (about 5-8 minutes).
FOR THE GANACHE

Put chocolate into a heatproof bowl.
In a medium saucepan, bring cream to a simmer (do not boil). Pour cream over chocolate. Let stand for 5 minutes, then whisk until smooth. Chill in refrigerator, whisking occasionally.
This recipe was linked up to the TUESDAY TALENT SHOW on the CHEF IN TRAINING blog
It was also linked up to TRICK OR TREAT TUESDAY at INSIDE BRUCREW LIFE