I'm sorry. Really truly sorry. This pumpkin ginger obsession of mine has sort of overtaken my life. I took a poll over on my Facebook page a couple of nights ago, asking my fans which of 3 recipes they'd like to see me post today. As I typed out the options, I was a bit embarrassed. EVERY one of them included either pumpkin or ginger...or both.  I do realize that this blog of mine should be filled with a diverse assortment of recipes.  I don't want to be the blah blah boring blogger.  I want you to fall madly in luv with me so that you'll come back every time I have a new post!
MY PLEDGE TO YOU, MY WONDERFUL READER:
I, Chef Becca "Boo" Heflin, pledge that I won't bore you with any more pumpkin creations for a while, but I HAVE to get this last one off of my keyboard and into your mouth. It's simply too yummilicious to keep it all to myself.  Behold the beauty of these pumpkin ginger chocolate chip muffins!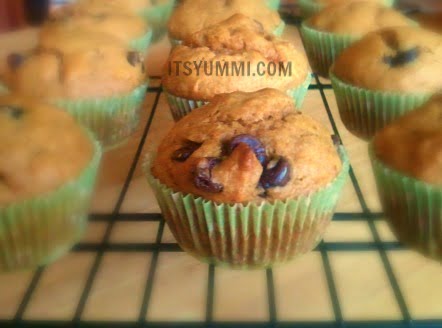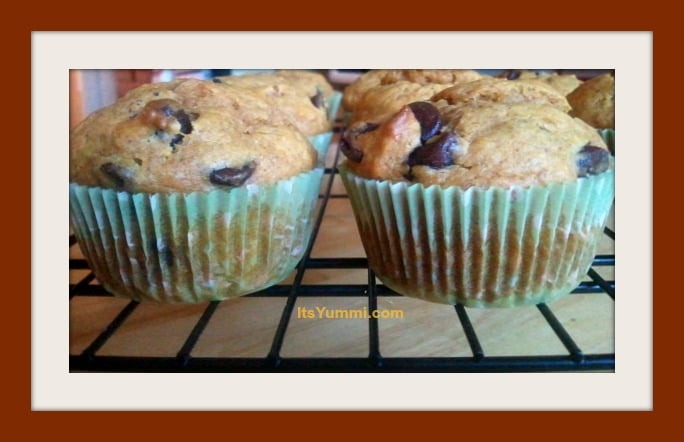 If you've ever baked with pumpkin, you're already aware of how much moisture that it adds. I really should call these cupcakes, because the texture is really more cake-like than it is muffin-like. Truth be told, the only difference between the two is the amount of sugar added. Typically, muffins contain half the sugar of a cupcake. Unless you're consuming a muffin from Starbucks...then all bets are off!
OK my lovely... LET'S GET COOKIN'!!
Pumpkin Ginger Chocolate Chip Muffins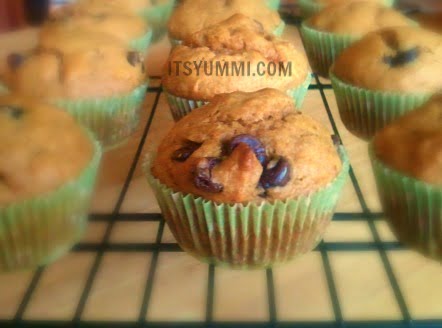 Created By:
Chef Becca Heflin
Cuisine:
Cupcakes / Muffins
When you combine the warm, earthy spices of cinnamon, nutmeg, and ginger with creamy, comforting pumpkin puree, and then kiss it all with some chocolate, you've got a special, VERY yummilicious dessert!
WHAT'S NEEDED
1.5 cups (6.6 oz. or 195 g) all-purpose flour
1.5 teaspoons baking soda
1 teaspoon ground cinnamon
1/4 teaspoon ground ginger
1/4 teaspoon ground cloves
1/4 teaspoon freshly ground nutmeg
1/2 teaspoon salt
1/2 cup canola or vegetable oil (can also use 1/2 cup melted butter)
1/4 cup sour cream
1/2 cup (3.7 oz. or 100 g) granulated white sugar
2 large eggs
1 teaspoon pure vanilla extract
3/4 cup (180 ml) solid packed, canned pumpkin puree
1/4 cup candied ginger chips (or finely diced crystallized ginger)
1 cup (175 g) semisweet chocolate chips
HOW TO MAKE IT
Heat oven to 350 degrees F.(177 degrees C). Place rack in the middle of the oven. Line 12 muffin cups with paper liners and spray each cup lightly with a non-stick vegetable spray.
In a large bowl, sift together the flour, baking soda, ground spices, and salt.
In a medium bowl, whisk the oil and sugar until well combined. Add the eggs, one at a time, whisking well after each addition. Mix in the pumpkin puree and vanilla extract. Scrape down the sides of the bowl. Alternately add the flour mixture and sour cream, in three additions, beginning and ending with the flour mixture. Fold in the chocolate chips and the candied ginger.
Fill the muffin cups evenly with the batter using two spoons or an ice cream scoop. Place in the oven and bake for about 18 - 20 minutes, or until firm to the touch and a toothpick inserted in the center of one of the muffins comes out clean. Place on a wire rack to cool.
Catalog Spree is your personal digital mall. Get all your favorite catalogs for FREE. Browse, save and share products that you love while discovering new brands.
Get a FREE 2013 photo calendar! Customize with icons, text, photos and themed designs for a unique calendar. Add up to 13 of your favorite photos and receive in as few as 3 days! The product is FREE, just pay shipping and processing.  Shipping starts at: $5.32  Makes a GREAT holiday gift!