Welcome to week #3 of Healthy Ways Wednesday!

Today's subject in the Weight Loss Wednesday group is that "E" word... exercise.  Lately, that's been a word that I've grown to hate. I know that I need to incorporate it into my #FitBy50 plan, but it seems like every time I start a GREAT exercise regime at the gym with Trainer Joe, I get injured in some way, shape, or form. I'm beginning to feel like a 49-year-old living in a 70 year old body, and truthfully, it's depressing the heck out of me.
Because of osteoarthritis and the nerve damage/scar tissue pain in my left foot, I can't do any weight bearing exercise, so Joe has been focusing on resistance training and upper body workouts to help me gain some muscle tone. The more muscle I have, the more efficiently I'll be able to burn fat. Eating foods that are lower in carbohydrates, along with my gym workouts, and trying to get my heart rate up to around the 150 range on an elliptical bike (which, for a woman who can barely bend her knees, is nearly IMPOSSIBLE), should be all I need to help me shed my excess weight. Problem is, I'll lose 4 pounds in 2 weeks, get injured and not be able to exercise for 2 weeks, causing me to gain back 3 of those pounds. This has been going on since late April of this year!  Aaaaack... it's driving me BATTY!  If any of you have similar problems and know of an exercise routine that might help, PLEASE share your wisdom with me!
In the meantime, I'm going to continue to create healthy, nutritious, and delicious foods to eat. I may not be able to exercise this week, but I'll be darned if I'm going to throw my face into a pan full of salted caramel brownies over it. I KNOW that's a recipe for disaster.  THIS recipe, however, is nothing short of fantabulous! It's packed with protein from the quinoa and chicken, loads of  good-for-you vitamins and minerals, and some wonderful sweetness from the cranberries and oranges.  With just a hint of sassy from the leeks and a wonderfully nutty flavored Asian dressing, you'll want to put on your drool bib before you dig into this dish!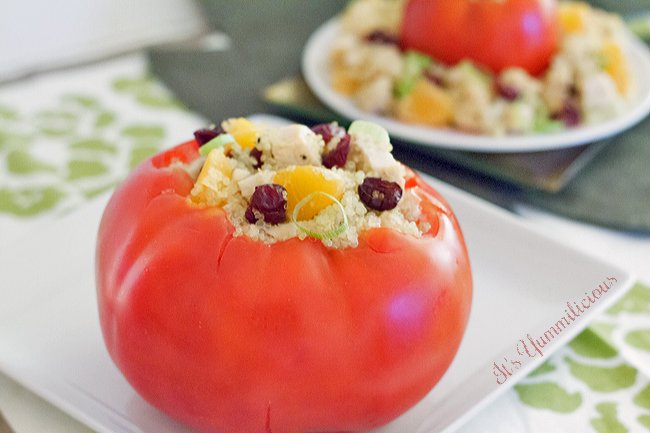 OK, before I give you the recipe, will you please do me a HUGE favor? I really need to know if the photos I'm taking are at all appealing. I take about 50 shots when I'm doing a food set up. Then I stare at the photos in my editing program for about 3 minutes each, trying to figure out which angles look the best and which shots had the best clarity and composition. It makes my brain hurt, but when I finally get what I think is the PERFECT shot all edited and ready to publish on this blog, I suddenly hate it.  Tell me, am I being too hard on myself, or should I just stop posting photos with my recipes?
Get out into the world, exercise a bit, and make yourself a GREAT week, everyone!
OH...
Head over and visit some of the other bloggers who are on a journey to better their bodies too!
Pint Sized Baker - Paleo Ice Cream
The Haas Machine - What We Are
Say Not Sweet Anne - I Hate Running
Je suis alimentageuse – Vegan Peach Cobbler
Wonky Wonderful - Chicken & Salsa Verde Quinoa Bowl
Sweet Twist Of Blogging – Week 3 Exercise
If you're reading this in your email inbox... CLICK HERE to get the recipe for my Quinoa Cranberry Chicken Salad
Quinoa Cranberry Chicken Salad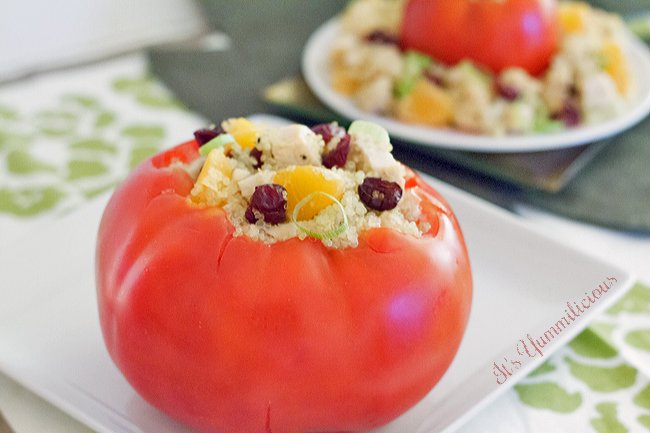 Created By:
Chef Becca Heflin
Recipe Category:
Main Dish
Slices of tender chicken breast and good-for-you quinoa are tossed together with lovely citrus flavors and a tangy Asian dressing to make a beautiful, healthy dish!
WHAT'S NEEDED
1 cup quinoa, cooked according to package directions (yield 3 cups cooked)
8 ounces cooked chicken breast, diced into bite sized pieces
2 Clementine oranges (I used "Cuties"), peeled and diced
1/2 cup dried cranberries
1 leek, cleaned, trimmed, and very thinly sliced (don't use the dark green tops)
sea salt and black pepper, to taste
FOR THE DRESSING
3 ounces (1/3 liquid cup) rice vinegar
6 ounces (3/4 liquid cup) canola or vegetable oil
2 ounces (4 Tablespoons) orange juice
1 ounce (2 Tablespoons) low sodium soy sauce
2 teaspoons sugar (I used sugar substitute)
1/4 teaspoon ground ginger
1 garlic clove, minced or pressed
HOW TO MAKE IT
Prepare quinoa according to package directions. Cooking time, approx. 12 minutes.
Cook chicken breast and cut into small, bite sized pieces.
In a large salad bowl, combine cooked quinoa, chicken, leeks, oranges, and dried cranberries. Toss to combine and season to taste with salt and pepper.
In a small bowl, combine rice vinegar,oil,orange juice,soy sauce,sugar,ground ginger,and garlic. Whisk to combine.
Just before serving, toss salad with dressing, in an amount to suit your taste.
I shared my recipe with the Plaid & Paisley Kitchen!