Raise your hand if you love COOKIES!
It's time for the October edition of the Creative Cookie Exchange, and this month's theme is apples!  When I do baking in the months of October and November, I almost always aim for the inclusion of apples since they're so readily available for picking fresh here in Wisconsin.
It's also a given that I love any cookie with great texture.  These Salted Caramel Apple Popcorn Cookies fit perfectly into that category. Chewy, crispy, sweet, salty… all in one delicious bite!  It's like a combination of caramel corn, salted popcorn, and caramel apples.  SERIOUS autumnal love <3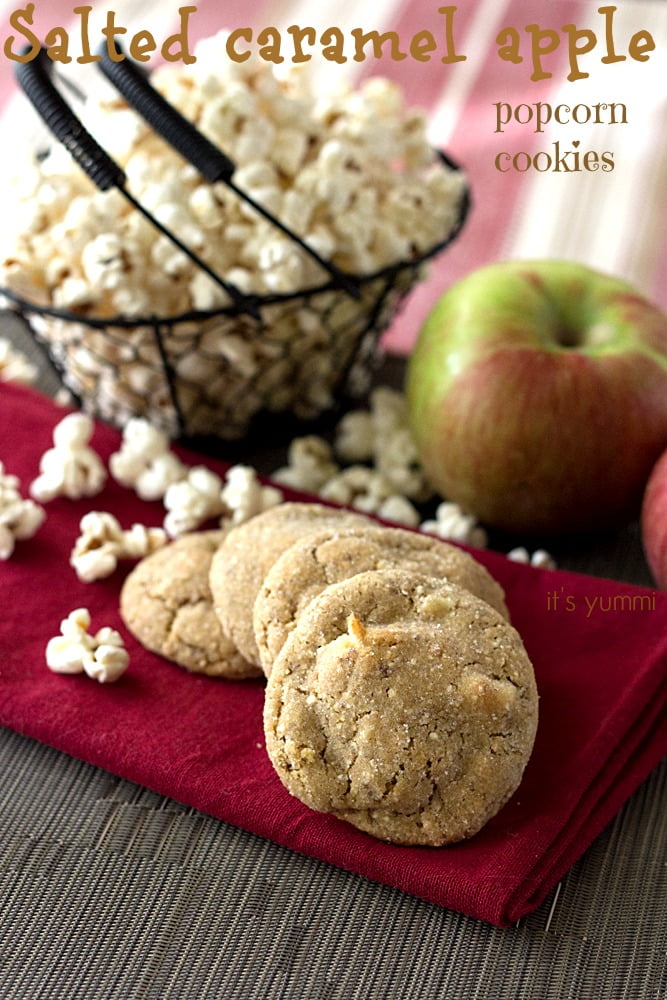 There are 12 other bloggers joining me on the mission to bake up cookies using apples as a primary ingredient.  Take a look at these fabulous sounding recipes, and be sure to head over and visit them.  Well, after you've finished baking up MINE, of course…

By the way, you're invited to bake along with us!  Just use the theme APPLES when creating your cookie recipe, and follow the directions below to share it with the world!  Or you can also just use us as a great resource for cookie recipes–be sure to check out our Facebook page, our Pinterest Board, and our monthly posts. You will be able to find them the first Tuesday after the 15th of each month.
Here's how to get involved:
To join in the fun, just complete the steps below:
1. Write a blog post with recipe and original photo. The theme this month is apples.  The recipe can use apples in any form.We would like the recipe to be one you're making for the first time, and photos must be original.
2. Post the Cookie Exchange badge somewhere on your blog so others can join in the fun:
Badge Code: should work for all types of web sites, blogger, self-hosted and free…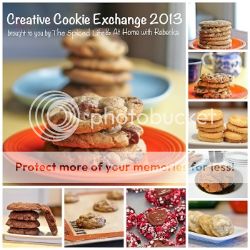 3. Make a good faith effort to visit and comment on the other cookies in the link party. We all love cookies, so that should be easy!
4. LIKE the Creative Cookie Exchange Facebook Page
5. FOLLOW the Creative Cookie Exchange Pinterest Board:
6. LINK your blog post below using the link tool located below my recipe
OK, are you prepared to head into salted caramel apple popcorn perfection with me?  Grab your apron and let's get cookin'!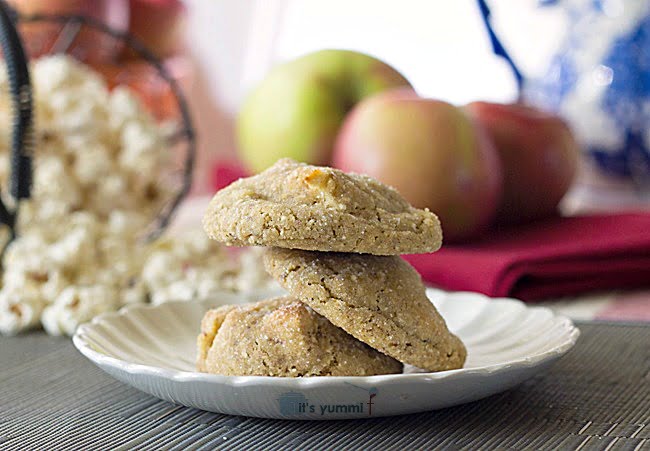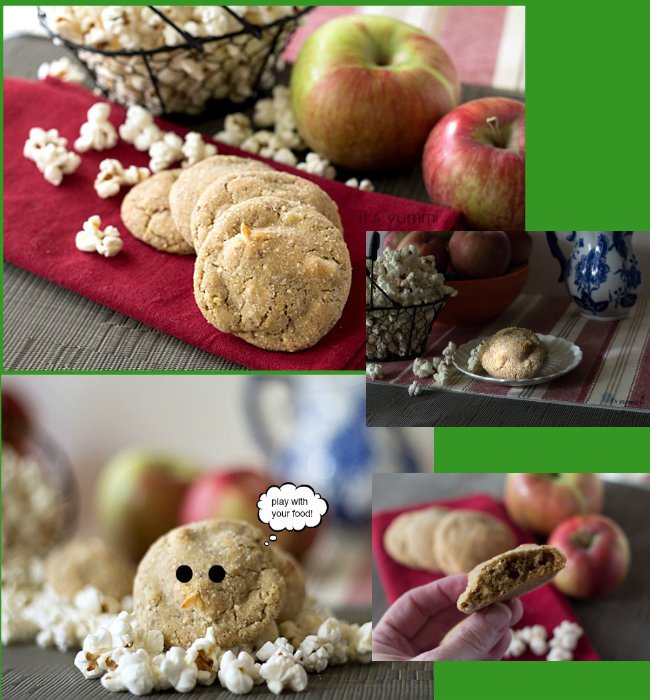 Salted Caramel Apple Popcorn Cookies
Created By:
Chef Becca Heflin
Prep time:
Cook time:
Total time: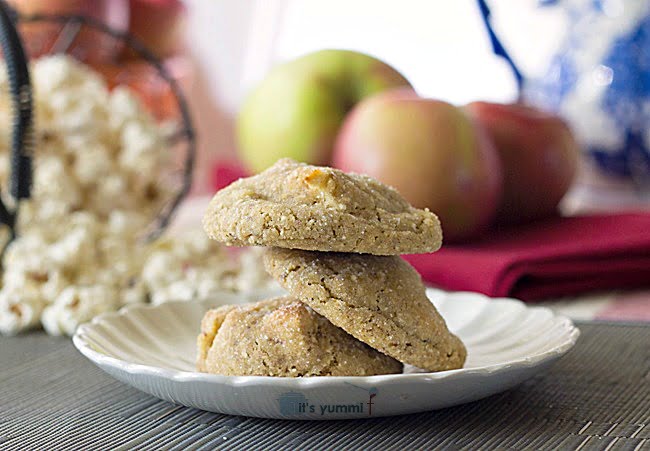 WHAT'S NEEDED
3 cups popped plain popcorn
6 ounces (1.5 sticks) unsalted butter, room temperature
1/4 cup granulated white sugar
1/2 cup dark brown sugar, packed
1 large egg
1/4 cup + 2 tablespoons caramel syrup
12 ounces Bob's Low Carb baking mix (or all-purpose flour, unbleached)
2 teaspoons baking soda
1/2 teaspoon salt
3/4 cup dried apples, chopped into small, bite-sized pieces
1/4 cup granulated sugar, for coating dough before baking
HOW TO MAKE IT
Whisk together flour, baking soda, salt, and chopped apples. Set aside.
Place popcorn in food processor or high powered blender and process until as fine as possible. You will find that you don't get a fine powder, that's okay. Leave in the food processor--we'll come back to the popcorn.
Using a stand mixer with the paddle attachment, beat butter until well creamed, about 30 seconds, then add granulated sugar and brown sugar. Beat until light and fluffy. Remove about 1/4 cup, and add to the food processor with the popcorn, and process for another 30 seconds. Set aside.
Add the egg to the remaining butter/sugar mixture, beat until light and fluffy, and then add the caramel syrup. Next, add the popcorn/butter mixture and the flour mixture. Mix until just combined.
Transfer cookie dough to an airtight container, and refrigerate for about an hour before baking.
To bake, heat the oven to 350. Make nickel to quarter-sized balls of dough (depending on how big you like your cookies), toss in granulated sugar, and then bake for 7-9 minutes. Remove pan from oven and transfer cookies to a wire rack to cool completely, and then enjoy with a warm beverage.
It's YUMMI!