Happy Saturday! I hope you're enjoying your weekend and giving yourself a little TLC. My body's been through the exercise wringer this week, so my joints and muscles have been letting me know that they're alive and kickin'. I thought about taking a nice soak in the bathtub, but I was afraid if I got in, I might not be able to get myself out. Lord help the poor soul who has to drag my naked body out of there...Even a glimpse of that horror would require a few therapy sessions for one to recover fully. Good gravy...it's time to change the subject!
If you're still looking for a gift for the special mom in your life and you're thinking you'd like to go the route of a handmade gift, you've got two options. You can put your craft enabled self into create mode and have at it....OR you can do what I did. You can unashamedly admit that you suck at anything that requires hand-eye coordination, fire up your nearest Internet browser, and head on over to Etsy. The Etsy website is chock full of crafty, hand made items, sold by the people who crafted them!  You can find everything from cupcake wrappers to clothing and bedding to baby toys!  I love love love Etsy!
The first time I visited the site, I was on the hunt for a birthday gift for a special friend of mine.  Since she loves baking, I figured I'd do a "quick" search for a cute set of potholders and matching tea towels or something.  Little did I know that there would be over 30 different virtual shops on Etsy to choose those items from!  That visit time sucked an hour from my day and I STILL hadn't found "the perfect" set.  Hey, don't roll your eyes at me like that!  How could I possibly have determined what was perfect unless I looked at ALL of my options first?  Sheesh.
So therein began my love for all things Etsy made.  A few weeks back, I was trying to find a great gift to give away during my celebration of  7,000 Facebook fans, when I came across a wonderful Etsy shop named "Around Town Girl".  Reading the shop's "about" section made me sort of tingly and giddy.  It says, " Items in this store help to promote joy & peace through self-nurture or self-love activities. Things like soaps, bath bombs, and dream pillows are all pampering and self-nurturing. With the right mindset, using such simple beautiful products can send messages of love to yourself. In order to give love from a full cup you must first fill your own cup."  I just KNEW I'd find a great giveaway gift there...and indeed, I did!  I wanted to give away an item that can be used by either gender and I wanted it to be easy to ship.  One simple click through the items in the shop revealed one of the most adorable mug cozies I've ever seen.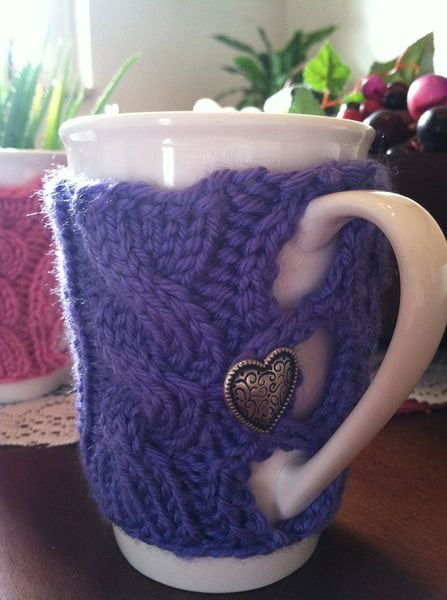 Doesn't it just scream to be wrapped around your favorite coffee mug?  So stinkin' cute!  I had an email conversation with the owner of the shop, Shileen, and after talking options and colors, I special ordered a couple of cozies for myself and a couple to give away to you!  I didn't receive these free, nor did Shileen compensate me to say all of these nice things about her shop.  As I've told you before, if I find something I like, I'm gonna shout about it from the roof tops.  So I dug deep into my own pockets to pay for these giveaway items because I wouldn't be here if it were't for the support of you all.  A giveaway is the very least I can do to show my appreciation and admiration to you for it!  I only wish I had the funds to give something to each and every one of you!
So here's what's up for grabs in this "not a Kitchenaid or uber expensive camera but still sweet & comfy cozy" giveaway: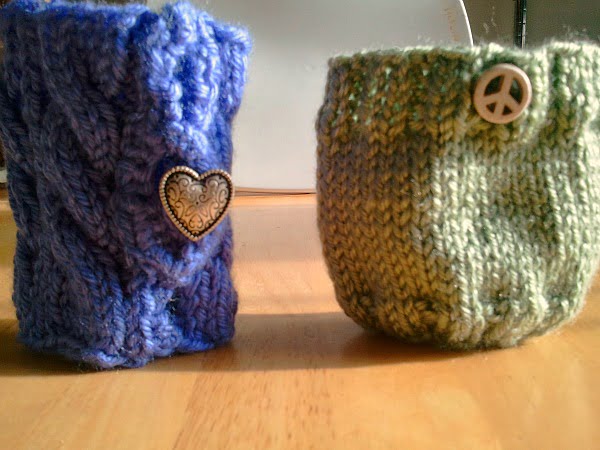 The purple cozy on the left is an exact replica of the one shown on the mug in the first photo.  It's intended for mugs with handles.  The sage green cozy on the right is a sleeve and is intended for mugs or cups without handles.  Don't let your brain be tricked into thinking that these cozies are only to keep hot beverages hot, though!  I use my cozy to help keep my hands from slipping off of my glassware when it sweats.  I love it!  The cozies are made from acrylic yarn, so if they get dirty, just pop them into the wash and they'll come out looking good as new.
Since the giveaway is sweet and simple, the entry rules are going to follow suit.  Oh, and because I'm in charge of shipping the prize, this giveaway is open to my readers in the United States AND in Canada!  Whoop!
TO ENTER:
Complete the entry form using the Giveaway Tools widget below, making sure to leave me an email address that you check often AND THEN
Leave a comment below this post, letting me know what you enjoy most about the It's Yummilicious website and what you enjoy most about my recipes.
FOR AN EXTRA ENTRY:  
Leave a SEPARATE comment, letting me know how often you come here to the blog to read my recipe posts (daily, every time there's a new post, weekly, etc.) AND tell me...If this website were to shut down, what social media outlet would you  be most likely to want to use to see my new photos and recipes?  Pinterest, Google+, or "I would stop following you". (Facebook is NOT an option)?  (BOTH portions of the question must be answered for you to receive the extra entry)
Entries will be accepted until 9 p.m. Eastern Standard Time on Wednesday, May 8, 2013.  A winner will be drawn at random.  The winner will be emailed and will have 48 hours to respond before another winner is selected.
GOOD LUCK!