Browned butter.
Those two beautiful words have become my latest obsession.  Yes, I do realize that I am way behind the times on this subject.  Browned butter was all the rage about a year ago, but in my world, a year is like a blink of the eye.  You're looking at a girl who not only still owns a Phil Collins concert tour t-shirt from 1997... I still wear it.  No lie!
So anyhoo, when Danielle informed me that her bake along for this week was cheesecake bars, I was smitten.  After all, I adore cheesecake, and it's been forever and a day since I've baked any.  Additionally, I'm infatuated with graham cracker crust, and when I sat back and realized that I could pump up the volume on my bars by making a browned butter graham cracker crust... Well, let's just say that the Earth stopped dead on its axis for a few seconds as I gasped for air.
To say that these cheesecake bars are yummilicious doesn't even come close to an accurate description.  They are so insanely delicious AND so sweet that I suspect they could fall into the category of a highly addictive substance.  One sure fire way to alter your mind is by overloading it with high amounts of sugar and fat, and that's where I do believe I have your mind altering bases covered, my friend!
The bars are sweet, but they're also dreamy and creamy.  All of that wonderful cream cheese blended with little pieces of Snickers bars, nestled on top of a browned butter crust, drizzled with 2 types of chocolate.  Yup. INSANELY over the top, but in a very, VERY good way!  Give 'em a try and let me know if you agree!  Oh, by the way, be careful or you may very well end up drinking the browned butter straight up from a glass

If you've never consumed browned butter, you're in for a treat.  It's got an incredibly nutty depth of flavor that accentuates everything it comes in contact with....sweet and savory alike!  If you'd like to learn how to make it, I found a great video that will teach you lickety-split.
Snickers Cheesecake Browned Butter Bars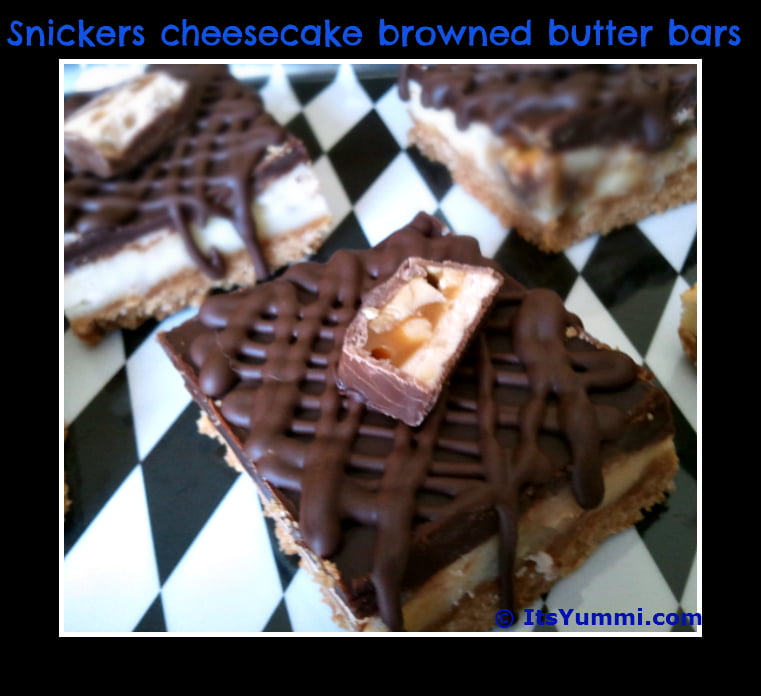 Creamy cheesecake blended with sweet and salty pieces of Snickers, all nestled into a browned butter graham cracker crust and topped with chocolate.
WHAT YOU\'LL NEED
FOR THE CRUST

3 cups graham cracker crumbs (about 18 graham cracker sheets)
3.5 ounces (1/2 cup) granulated sugar
6 ounces unsalted butter, browned (you'll need 8 ounces to start with)

FOR THE FILLING

16 ounces (2 packages) plain cream cheese, softened
2 large eggs
7.5 ounces (1 cup) granulated sugar
1.1 ounce (1/4 cup) all-purpose flour
16 Snickers Minis, cut or diced into bite-sized slices or pieces

FOR THE GLAZE

6 ounces bittersweet chocolate chips
4 ounces (1 stick) unsalted butter
1 Tablespoon + 1 teaspoon light corn syrup
HOW TO MAKE IT
Heat oven to 350 F
FOR THE CRUST
Stir the graham crackers, browned butter, and sugar together in a bowl. Press into a 9x13 pan lined with nonstick foil or parchment paper strips. Bake for 7-10 minutes and then cool while you make the filling.
FOR THE FILLING
Beat cream cheese, eggs, sugar, and flour together with a hand or stand mixer until smooth and creamy. Stir in your candy pieces and spread the mixture over your cooled crust.
Bake for 30-35 minutes, or until the cheesecake has set up. Let cool completely.
FOR THE GLAZE
Melt the chocolate and butter together over a double boiler, or carefully in the microwave. Stir until smooth, then add in the corn syrup. Spread the glaze over the bars using a silicone spatula or offset frosting spatula. Chill for at least 3 hours, but preferably overnight. After cutting with a knife, drizzle with additional melted chocolate over each slice and top with a piece of Snickers, if desired.
http://www.itsyummi.com/snickers-cheesecake-bars/
Recipe From: www.ItsYummi.com