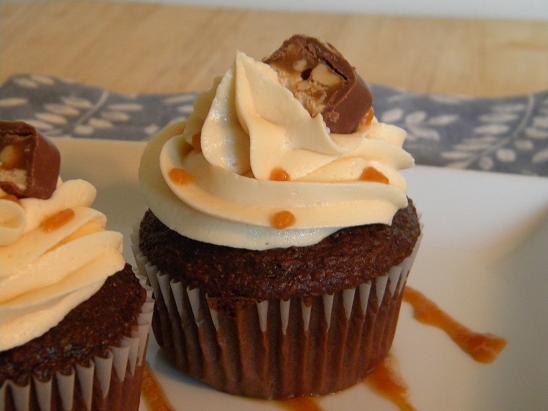 Wow...I can hardly believe that 6 months has passed since my last blog post here.  This year is flying by!
When I was here last, it was back in February.  At that time, this blog was titled "Feed Your Inner Chef".  It was a perfectly appropriate title for me, being a culinary student and all, but after I became ill and learned that I wouldn't be able to graduate from the culinary program with an Associate's degree, I felt a little less than enthusiastic about keeping the title intact.
If there's anything you should know about me, it's that I am NOT a quitter!  I may not have a future working in a commercial kitchen, but that won't stop me from following my passions.  I've decided to refocus how I work with food, and shed a different light onto it.
I plan for this blog to be a place where I can share my food knowledge with you.  Whether it be through fun and interesting food facts, sharing of links to incredible recipes that I've found throughout the blogosphere, or by passing you a virtual fork so that you can dig in to one of my creations with me!
No matter what you find here, I hope that it fills a void or meets a need in your life.  I think and hope that you'll soon agree that this revitalized blog has the perfect new title, because I firmly believe that every gift I'm given, every piece of knowledge I learn, every morsel of wonderful food I eat, and every day that I am blessed to wake up and live is just purely YUMMILICIOUS!
SPEAKING of yummilicious... I spent today making one of my favorite "this requires stretchy pants" treats - Snickers cupcakes.  To say that these cupcakes are decadent would be a major understatement.  They have a base of rich, moist, devils food cake and are then sinfully stuffed with homemade caramel sauce and Snickers candy bars.  To add a few more pounds onto your guilt table, these beauties are topped with a rich caramel buttercream frosting, drizzled with a bit more caramel sauce, and then topped with even more pieces of Snickers.  I'm convinced that the spawn of Satan invented caramel, but I don't care.  There's absolutely no reason that we can't all indulge every once in a while.  If you ask me, good food is all about taking all things in moderation.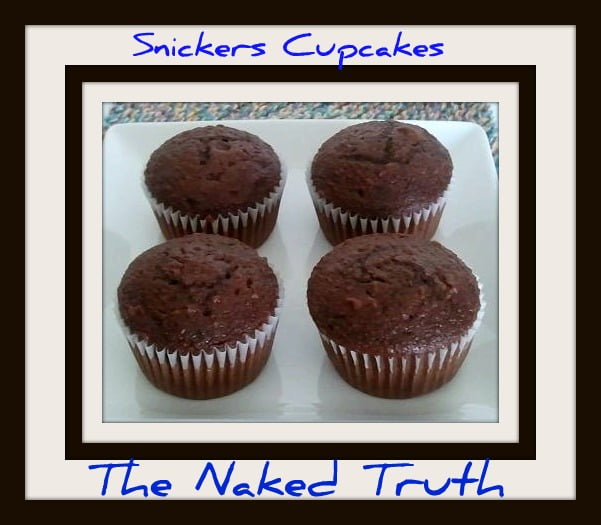 I was perfectly delighted with the original recipe I found several months ago for these delightful treats, which I found with the assistance of Jamie and Christina.  When they made the cupcakes, they used the same lovely Devils Food sour cream cupcake recipe that I used for this batch, which has become my personal favorite.
However, they both used a wet caramel sauce for the filling and icing.  I, on the other hand, made a dry caramel for today's recipe.  I love challenging myself to step outside of my culinary comfort zone now and then.  It's good brain fuel

Until recently, I had no idea that there were different types of caramel, but the talented and wonderful David Lebovitz explains in his post on  How to make the Perfect Caramel that there are two forms... wet and dry.  I stumbled across his tutorial and tips on making caramel and when he explained that he prefers dry caramel to wet, I just knew I wanted to try it.
The primary differences are that dry caramel uses pure cane or beet sugar and NO liquid is added until after the sugar is caramelized.  Wet caramel calls for brown or white sugar to be mixed with some water to help it dissolve and caramelize with less chance of burning along the way.  David's tutorial is wonderful... you can check it out here.  I felt like it was a bit trickier making dry caramel, but I can't begin to tell you how much better the flavor, color, and texture of the caramel is.  There's a PHENOMENAL difference between the two, and the extra work that the dry caramel takes is so worth the effort!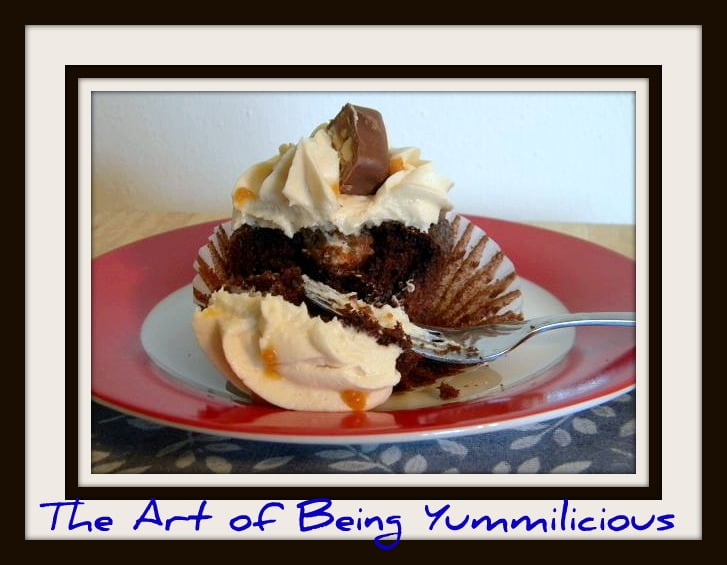 OK, my lovely friend... are you ready?!  Grab your apron and LET'S HEAD TO THE KITCHEN!
Snicker's Cupcakes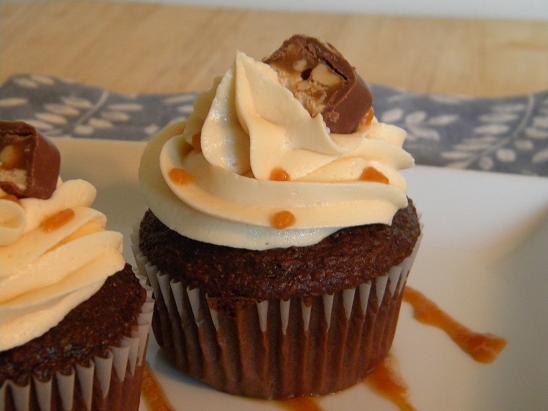 Created By:
Chef Becca Heflin
These Devils food cupcakes are stuffed to the gills with home made caramel and Snickers candy bars, then topped with caramel buttercream and a bit of caramel drizzle. YUMMILICIOUS!
WHAT'S NEEDED
For cupcakes
1/2 cup Dutch-process cocoa powder
1/2 cup hot water
2 cups all-purpose flour
3/4 teaspoon baking soda
3/4 teaspoon baking powder
3/4 teaspoon coarse salt
8 ounces (2 sticks) unsalted butter
11 ounces (1.5) cups granulated white sugar
2 large eggs, room temperature
1 egg yolk, room temperature
2 teaspoons vanilla extract
2/3 cup sour cream, at room temperature
For caramel sauce
1 cup of sugar
6 Tbsp unsalted butter
1/2 cup heavy whipping cream
For filling
20 Snickers Minis, cut into quarters (2-3 full sized Snickers bars)
3.5 ounces (1/3 cup plus 1 Tablespoon) caramel sauce (see recipe below)
For caramel buttercream
3 ½ to 4 cups powdered sugar
1/3 caramel sauce (see recipe below)
10 Snickers Minis, cut in half
HOW TO MAKE IT
For cupcakes
Heat oven to 350˚ F and line 20 muffin tins with paper liners.
In a medium (2-cup) glass measuring cup, whisk together cocoa powder and hot water until smooth; set aside.
In a medium bowl, whisk together flour, baking soda, baking powder, and salt. Set aside.
In a medium saucepan over medium heat, combine butter and sugar, stirring occasionally until the butter is melted and mixture is combined.
Remove from heat and transfer to bowl of a stand mixer fitted with paddle attachment. Beat on medium-low speed until mixture is cooled, about 4-5 minutes.
Add eggs and egg yolk, one at a time, beating until incorporated, scraping down sides of bowl as needed. Mix in vanilla and cocoa mixture.
With mixer on low speed, add dry ingredients in two batches, alternating with the sour cream, beating just until combined.
Fill cupcake liners three-quarters full, making sure that batter is divided evenly. Bake until a toothpick inserted in center comes out clean, about 18-20 minutes. Allow cupcakes to cool in the pan 5-10 minutes before transferring to a wire rack to cool completely.
Once cupcakes have cooled, use a paring knife or apple corer to make a small well in the center of each cupcake, about 3/4 of the way down. Be careful not to go too deeply or filling will seep through the bottom of cupcake. Remove the cores and set aside so that you can reuse the tops to plug holes after stuffing the cupcakes.
Making caramel sauce (recipe adapted from Simply Recipes)
Before you begin, make sure you have everything ready to go - the cream and butter next to the pan, ready to put in. Making caramel is a fast process that won't allow hunting around for ingredients. If you don't work fast, the sugar will burn. Safety first - make sure there are no children or pets under foot, and you may want to wear oven mitts, because the caramelized sugar is hotter than boiling water.
Heat sugar over medium heat in heavy-bottomed 2 or 3-quart saucepan. As sugar starts to turn liquid, stir gently with a silicone whisk or wooden spoon. DON'T OVER STIR! Just let the sugar work its magic and stir from time to time to assure that the sugar on the bottom doesn't burn.
As soon as the sugar comes to a boil, STOP STIRRING. You can swirl the pan a bit if you want, from this point on, but don't stir. Note: This recipe works best if you are using a thick-bottomed pan. If you find that you end up burning some of the sugar before the rest of it is melted or you have large clumps of sugar, turn the heat to low and let it sit untouched...the clumps should melt. Next time you attempt it, add a half cup of water to the sugar at the beginning of the process, OR start with lower heat to help sugar cook more evenly.
As soon as the sugar crystals have melted (the liquid sugar should be dark amber in color, like an old copper penny), immediately add butter and whisk until butter has melted.
Remove from heat, count to three, then slowly add cream to the pan and whisk to incorporate. NOTE: When you add the butter and cream, the mixture will foam up considerably.
Whisk until caramel sauce is smooth. Let cool in the pan for a couple minutes, then pour into a glass jar and refrigerate or let sit to cool to room temperature before moving to next step.
You'll need 3.5 ounces (1/3 cup plus 1 Tablespoon) for the filling, 1/3 cup for the buttercream icing, and about 3 Tablespoons to drizzle over the cupcakes. Any excess can be stored in the refrigerator for up to 2 weeks. Warm before serving.
Makes a little over one cup of sauce.
To make frosting
Transfer 1/3 cup caramel sauce to the bowl of a stand mixer fitted with the paddle attachment. Add the powdered sugar and beat on medium-high speed until until light and fluffy, about 3-4 minutes.
If necessary, adjust frosting consistency by adding milk (1 Tablespoon at a time) if too dry or powdered sugar if too runny.
Transfer frosting to a pastry bag fitted with a decorative tip (I used Wilton 1M). Pipe a spiral of icing, beginning at the outer edge and working inward. Drizzle frosted cupcakes with caramel sauce and garnish with chopped Snickers bars.