Spiral Sparkle Cookies. Say that 3 times fast!  These fun cookies are a snap to put together and they're loads of kid friendly fun! Come on in to my virtual kitchen and I'll show you how to whip up a batch.  But FIRST…
This week's pick for" treat most likely to cause a giggle" goes to these cuties…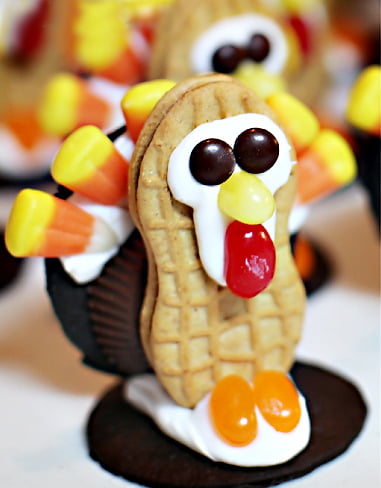 Find the recipe to this adorable treat at 7th House on the Left
 FRIDAY FACTS:
It's no secret that the price of just about everything has risen…and continues to climb.  Groceries, gasoline, office supplies, haircuts, movie tickets, and sadly…even the cost of a single, semi-stale nibble from the Dunkin Donuts drive-through has risen.  I really don't think a sickeningly sweet doughnut baked at 5 a.m. and left on an uncovered display shelf all day is worth .94, but maybe that's just me being a big WhineOBago.  After all, I know how to make my own… for a lot less money!  Some people may even wish to call me frugally snotty, and that's okay, cuz maybe I am.
I have a reason for being so thrifty lately.  Pair those rising costs of living with the fact that after a VERY brief stint with employment, I'm once again swimming in the jobless pool with a gazillion of my fellow Americans.  It's a rough world out there, Charlie Brown. I've had to suck it up and start becoming as resourceful as possible.  No pie-in-the-sky, get rich quick schemes for me, though, thank you.  I'll just save where and when I can and trust that God will provide for my needs until I can find another job.
You know, making good choices at the grocery store and stretching my grocery dollars is actually pretty easy for me.  I'm not ashamed to use coupons or to take advantage of store sales, because they save me an average of 23-30% on my overall food and household goods purchases.  As well as clipping coupons from newspapers, there are also places all over the Internet where you can go to print manufacturer coupons.  The two places that I'm able to routinely find large value coupons are Coupons.com and Redplum.  New coupons come out all the time, but ESPECIALLY on the first of the month.
FRIDAY FUN:
I'm not sure if you've noticed, but I've been doing a little redecorating around here. Over the past 2 months, I've picked up a new logo, put up some new artwork on the walls, and added a new template design to this little blog of mine.  If you've ever gone shopping for a room remodel, then you probably have an idea of how overwhelming of a project this was for me.  Looking through literally hundreds of different design ideas and color options was enough to make my head spin.  There were certain features that I wanted to be able to put into place for your convenience, too.  Things like a recipe database with thumbnail photos so that you can see the name of a dish AND a photo of what it should look like.  I wanted to give you a food and cooking tips database, too…for those times when you're ready to throw a hissy fit in your kitchen because you can't remember how many ounces are in a cup or what to do when you run out of self-rising flour.  I wanted you to get to know some of the other bloggers in my life who inspire me and/or who knock my socks off with their talent.  That's the information you'll find on this blog now.
Anyway, for those reasons and many more, I just wanted to spruce this place up.  You know that saying about the best laid plans, blah blah blah?  Yep, it's true.  You can plan to your hearts content, but sometimes projects take on a mind of their own.  In this case, I lost my mind AND my budget half way through the project, so it's going to take me another month or so to implement everything I want for you to have access to.  So that you can keep up with the new posts and other exciting news going on around here (like GIVEAWAYS, *hint hint*), I suggest that you subscribe to the It's Yummi newsletter.  It will automatically let you know when a new post has been published and/or when any other new activity is going on around these parts.  To sign up, CLICK HERE, or look over in the right hand sidebar next to this post. Fill in your name and email address, and submit.  You'll receive an email asking you to confirm your interest in the newsletter.  That's it…easy peasy!
FRIDAY FOOD:
I mentioned a couple of weeks ago that I'm participating in the Great Food Blogger Cookie Swap again this year.  It's so much fun creating cookies for others and receiving yummi cookies in return!  This year, the swap organizers took things to another level.  They partnered  the Cookies For Kids Cancer organization.  All of the participants of the exchange this year donated money as an entry fee of sorts.  OXO graciously offered to match our contributions, too, so we all feel awesome to have risen awareness and helped to fund research to find a cure for childhood cancer.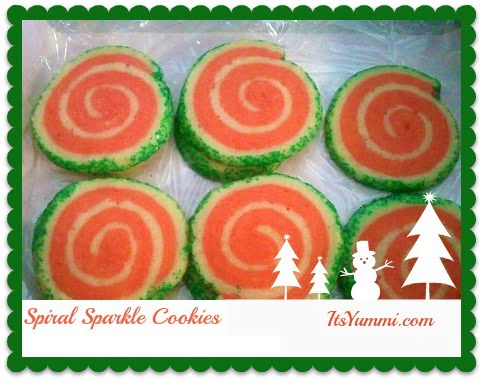 These spiral sparkle cookies were one of a few that I considered baking for the swap.  In the end, I found one to use that will be easier to ship with less chance for breakage.  These whimsical cookies remind me of the swirly eyes of Mr. Grinch in "How the Grinch Stole Christmas" cartoon.  They're relatively simple to make, and if you've got kids helping, they'll have great fun rolling the dough through the sprinkled sugar.  It's a win-win all around when you sit down with a plate full of these, put on some holiday music, grab a mug of hot cocoa, and watch big ol' smiles appear on the faces in the room!
Until we meet again, don't forget to feed your stomach AND your spirit!  Have a great weekend!
RECIPE FOR SPIRAL SPARKLE COOKIES
Spiral Sparkle Cookies
Created By:
Chef Becca Heflin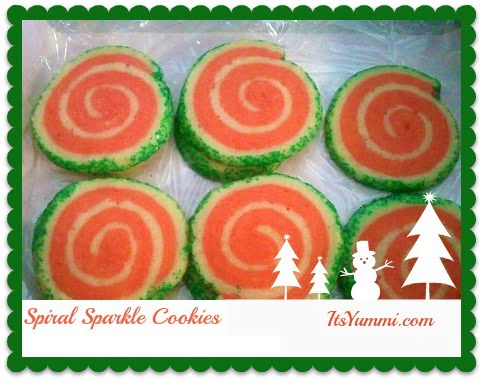 These whimsical sugar cookies are rolled up and sprinkled with sweet colored sugar before being sliced and baked to perfection. They make cute holiday gifts, too!
WHAT'S NEEDED
2 cups all-purpose flour
1 1⁄2 teaspoons baking powder
1⁄4 teaspoon salt
6 tablespoons (3⁄4 stick) unsalted butter, softened
1⁄3 cup (1⁄3 stick) shortening
3⁄4 cup granulated sugar
1 large egg
1 tablespoon whole milk
1⁄2 teaspoon pure vanilla extract (peppermint, almond, or lemon also work well)
gel food coloring (I used Americolor gel #119)
Colored sugar or other desired toppings for rolling
HOW TO MAKE IT
Combine the flour, baking powder, and salt in a small bowl; Set aside.
Using an electric mixer fitted with a paddle attachment, beat the butter and shortening on medium speed until creamy.
Gradually add the sugar and beat until light and fluffy, about 1 minute.
Whisk together the egg, milk, and vanilla extract in another bowl.
Slowly blend into the butter mixture on low to medium speed and mix until smooth. Scrape down the sides of the bowl as needed to ensure even mixing.
Turn the mixer to low speed and gradually add the reserved dry ingredients, mixing until just incorporated.
Remove half of the dough from the bowl, flatten into a disk between two sheets of wax paper. Use a rolling pin to roll the dough out to a rectangle about 1/4 inch in thickness, and approximately 8 inches x 11 inches. Set aside. Add two drops of red food gel coloring to remaining dough in mixer. Turn mixer to low speed and mix until color is incorporated throughout dough. Repeat step above to roll out colored dough. Refrigerate both sheets about 15 minutes, or until firm.
Remove top sheet of wax paper from each piece of dough and flip red dough over and on top of white dough. Beginning on one long edge, roll the dough to make a log so the two colors spiral inside each other. Wrap the log in waxed paper and refrigerate at least 2 hours and up to 4 days (rolled dough may also be wrapped well and frozen for up to 4 months).
Position a rack in center of oven and heat to 350°F. Line 2 cookie sheets with parchment paper (or silicone baking mats) and set aside.
Place colored sugar or other desired decorations into a shallow baking dish. Roll the dough through the desired toppings, then slice the log into cookies approximately 1/8" thick.
Place cookies at least 2 inches apart on prepared baking sheets. Bake until the cookies are lightly browned around their edges, about 8 to 10 minutes Remove from oven and cool 1 to 2 minutes on the cookie sheets before transferring to wire racks to cool completely.