As much of the southeast United States is being pummeled by tropical storm Andrea, I'm looking out my window at a gloriously beautiful Wisconsin day.  The sun is bursting its rays against my patio door, casting dancing tree shadows onto my living room floor, much to the delight of my fur babies.  Those silly cats will chase their own shadow when given the chance.  I'm feeling incredibly blessed to be far away from the devastation right now, but equally humbled and led to constant prayer for all of you who have suffered through tornadoes, floods, fires, and high winds over the past several months.
I'm really looking forward to next Tuesday night, when I'll be participating in a live, interactive cooking demonstration being held by Chef Chris Hill from Bachelor Kitchen.  Chris and his publisher, Del, have arranged this event to raise funds for the Regional Food Bank of Oklahoma.  A $10 ticket is the cost of admission, with 100% of that money going to help the victims of the Oklahoma tornadoes.  Give up a couple of barista-made beverages and you can swing the ticket price.  There are still plenty of tickets available, and Chris will be walking us through a delicious recipe, so please consider attending the event!  Click HERE for more details and to purchase a ticket.
With one more week to wait before the start of our farmer's market season, I'm bursting at the seams to use some of the spring bounty of fruits and veggies that I've seen on the blogs of some my foodie buddies from the warmer states.  Over the past week, Chung-Ah, Monica, and Carla all teased me with their strawberry and lemony desserts.  After seeing Strawberry Crumb Bars with Meyer Lemon Glaze, Strawberry Swirled Lemon Bars, and Strawberry Cheesecake Dip, I had taken all I of the taunting of fresh fruit that I could handle.  I trudged off to the grocery store and paid whoreish prices for a quart of strawberries and a couple of barely ripe lemons because I HAD to make something sweet & tangy of my very own.  What I came up with was nothing short of glorious, proving once again that my ghostly white Wisconsin body is longing to live in a warm weather state... for at least 4 or 5 months out of the year.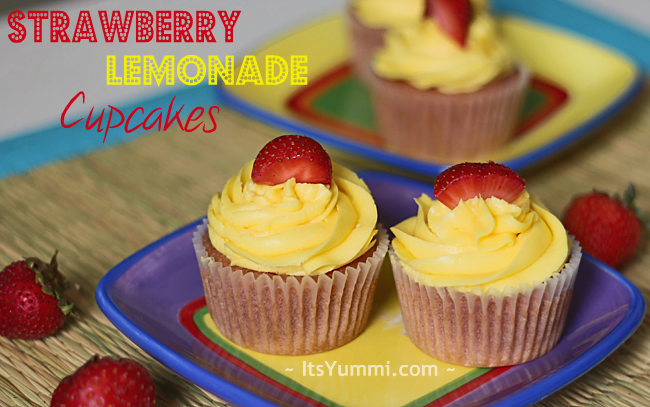 Strawberry Lemonade Cupcakes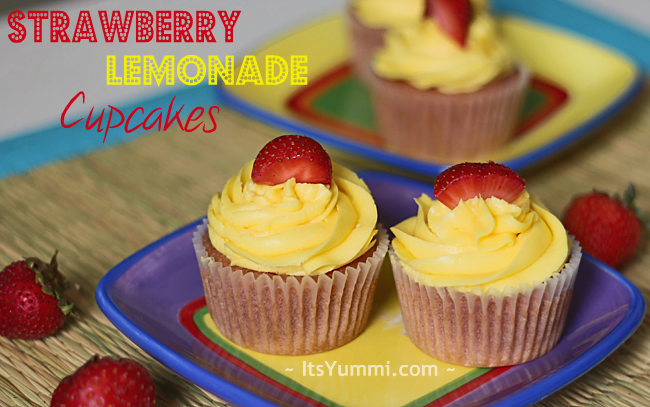 Created By:
Chef Becca Heflin
Sweet strawberries blended into a moist, fluffy cupcake and topped with a creamy lemonade buttercream frosting. A dessert that shouts summer time!
WHAT'S NEEDED
1.25 cups Bob's Red Mill Low-Carb Baking Mix
1 teaspoon baking powder
1/4 teaspoon baking soda
1/2 teaspoon salt
2 teaspoons vanilla extract
3 ounces (1/2 cup) granulated sugar
4 Tablespoons Splenda Brown Sugar Blend
3 ounces (1/3 cup) canola oil
6 ounces (3/4 cup) 1% milk
7 large (1.5" diameter) strawberries
1 teaspoon lemon juice
zest of 1 lemon
Red food coloring (optional)
For the Frosting
7 ounces (1 3/4 sticks) unsalted butter, softened to room temperature
2 teaspoons lemon juice
2 cups unsifted powdered (confectioner's) sugar
HOW TO MAKE IT
Chop the strawberries into small pieces into a large bowl and use a potato masher to mash them until they are pulpy. Transfer mashed berries to a fine mesh sieve and place over a bowl. Press out all of the juice possible. Discard strawberry pulp (or reserve for mixing into some yogurt!)
Heat the oven to 350°F and line a 12 cup muffin tin with cupcake liners. In a large bowl, sift together flour, baking powder, baking soda and salt. Add sugar and brown sugar and whisk to combine. In a separate bowl, whisk together the strawberry juice, oil, milk, lemon zest, lemon juice and vanilla. Make a well in the center of the dry ingredients and pour in the wet ingredients. Add red food coloring here if desired, to make the cupcakes a brighter shade of pink/red. Mix until relatively smooth.
Fill the cupcake liners about 2/3rds full. Bake for 20-22 minutes or until a wooden toothpick inserted into the center comes out clean. Transfer to a cooling rack and allow to cool completely before frosting.
Strawberry Lemonade Frosting
In the bowl of a stand mixer, beat butter with a paddle attachment 2-3 minutes, until whipped and airy. Add powdered sugar, about 1/2 cup at a time, on LOW SPEED and beat until combined. Add the lemon juice and vanilla and continue to beat for 2-3 minutes or until frosting is light and fluffy. Transfer to a piping bag and frost as desired.