Truth-
I have a bit of a girl crush on Joy Wilson, a/k/a Joy the Baker.  She's like rainbows and baby giggles and adorable kittens all wrapped up into a comfy apron of loveliness!  BONUS: She's gutsy... just look at the ink on her arms!
I also adore the recipes in her new cookbook.  Well, most of them.  There are a couple that look wonderful in photo form (there isn't a bad shot in the entire book!), but I have to stay far FAR away from making them.  Like the recipe for chocolate covered coconut macaroon ice cream.  I'm deathly allergic to coconut and I'm lactose intolerant.  Same thing goes for her chewy coconut granola bars.  OH, how I wish I could make them as the recipe intends, but I really don't feel like having my throat swell closed so tightly that I turn blue and drop to the ground with chewy granola bar crumbs hanging from my chin.  It's just SO unfashionable.
Then there's this week's recipe.  Kale, spinach, banana, and peanut butter smoothie.  I LOVE a good banana and peanut butter combo, and I even enjoy spinach, but ummm...look at the bright, healthy green color.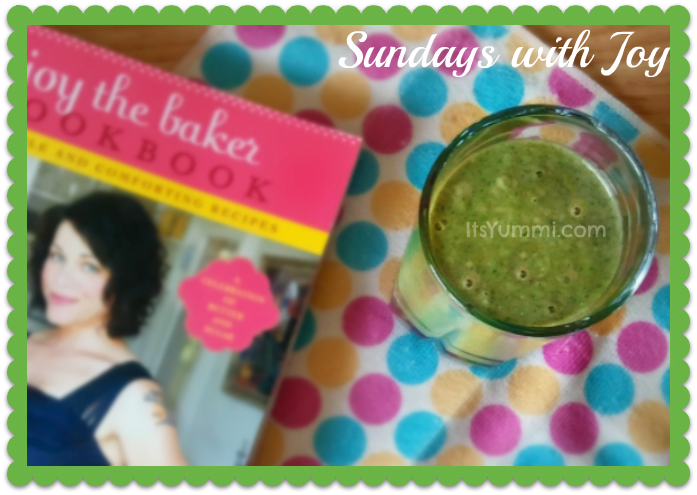 I tried to get enthusiastic while I was preparing the smoothie, cross my heart I did...but it just never happened.  Despite the positive comments from some of the other SWJ bloggers, who swore up and down that you can't taste the spinach or the kale, I just couldn't wrap my brain around the concept.  I kept looking at it sitting in that glass and it reminded me too much of pea soup...which I TRULY detest.  I was SURE I was going to hate letting that cold, creamy,  green, milk-based concoction slide down my throat.  Then I took a nice sized swig, and GUESS WHO WAS WRONG?!?!  Never let it be said that I don't own up when I've misjudged.  I'm sorry, Joy.  I'll work on trusting you more.
Granted, it isn't the greatest thing I've ever ingested, but it really was pretty tasty!  The banana and honey are the predominant flavors.  It has a nice hint of peanut butter in the background (you only use 1 Tablespoon of it, so the taste doesn't overwhelm everything else).  Despite having 2 cups of healthy, leafy greens in the smoothie, there was no taste of them anywhere!  Just a little bit of a texture difference.  Not bad at all!  Joy's recipe calls for almond milk or soy milk, but I decided to use regular 1%, since that's all I had in the fridge.  It made the smoothie nice and thick.  If I make this again, I may even throw in some crushed ice to make it a little bit thicker... more like the consistency of a milkshake.  The fact that this smoothie is uber healthy (especially for someone with an iron deficiency like me) gives this treat bonus points.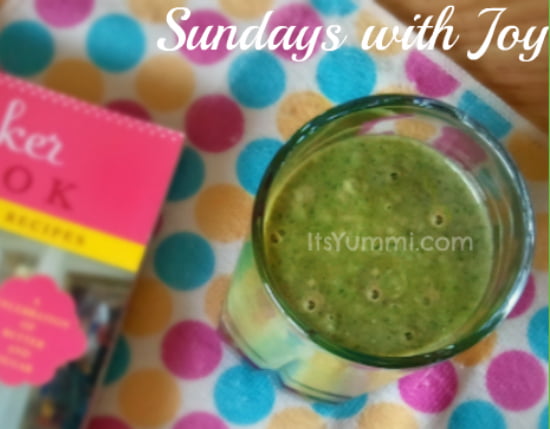 I'd love to hear from you if you're a green smoothie lover.  What do you put into YOUR smoothie to make it yummilicious?  For those of you who try this recipe, please comment below and let me know what you think of it!  I want to know that I'm not the only one who's been proven wrong!  :)
Have a wonderful week, my friend.  If you have any food-related questions or you're looking for a specific recipe, I'm only an email away.  Use the contact me tab at the top of this page, or hop on over to my Facebook page and leave your question on the wall.  I'll get you an answer as quickly as possible.  Thanks so much for stopping by!
~BECCA