Have you ever pondered the healing powers of chocolate?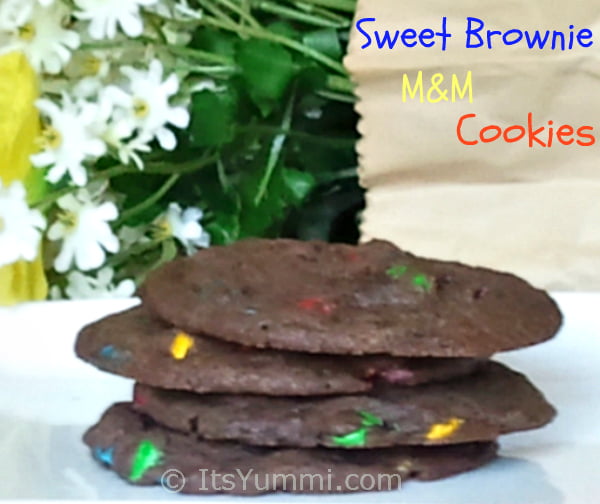 OK, so maybe the rumors are true and I really am nutty as a fruit cake, but I get a bit obsessive when it comes to chocolate talk.... or chocolate consumption.... or chocolate photography...or.... you get the idea.
When I was in culinary school, one of my baking class projects was to take an amazing cookie recipe and make it healthier.  I wasn't thrilled about the concept of losing delicious flavor by removing half of the fat and sugar, but in the end, it didn't turn out half bad.  I started with a base recipe for sweet brownie cookies, which is where today's cookie also got its roots.
These cookies are obscenely chocolate-y.  They also have a texture that is a wonderful hybrid of chewy brownie meets crispy cookie.  It's just AHHH-MAZ-ING!  Add in a few M&M's for good measure and I can guarantee that it will please even the most extreme chocolate obsessed people in your life.
Speaking from personal experience, the dough tastes almost as yummilicious as the final cookie, so make a double batch of dough and throw a few chunks of it into your favorite vanilla bean ice cream, then have a loved one take pictures while your eyes roll into the back of your head.  You've been warned.
Sweet Brownie M&M Cookies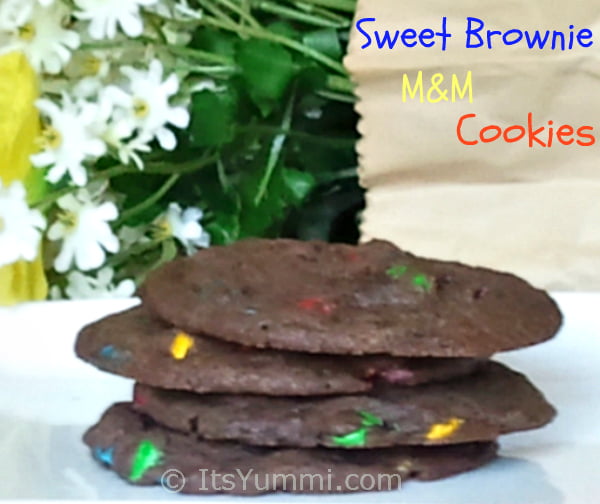 Recipe adapted from Chef Jenn Malovitz-Solloway at Fox Valley Technical College
WHAT YOU\'LL NEED
8 ounces unsweetened baking chocolate
8 ounces unsalted butter
5 whole eggs
2 cups granulated sugar
1 Tablespoon vanilla extract
8 ounces (1 cup) all-purpose flour
4 ounces pecans, chopped (optional)
10 ounces M&M chocolate candies (optional)
HOW TO MAKE IT
Heat oven to 325 degrees F (300 convection)
Whip the eggs and sugar with a paddle mixer attachment for 10 minutes
While the eggs/sugar are mixing, melt chocolate and butter together over a double boiler.
Add the melted chocolate and vanilla extract to the eggs.
By hand, stir in the flour, nuts, and M&M's. DON'T OVERMIX!
Using a #24 scoop (3 Tablespoons), drop the cookies onto a parchment paper lined cookie sheet.
Bake for 15-18 minutes, rotating pan after 10 minutes.
Notes
These cookies are SINFULLY rich and decadent... as evidenced by the calorie and fat content! Feel free to share with a friend...or not!
http://www.itsyummi.com/sweet-brownie-mm-cookies/
Recipe From: www.ItsYummi.com