The Easter holiday usually brings along an abundance of hard boiled eggs. My Sweet 'n Tangy egg salad sandwich recipe is the perfect use for them! My version is packed with protein and great taste, but it's lower in fat and calories than traditional egg salad. Come on in to the virtual kitchen and let me show you how easy this sandwich is to make!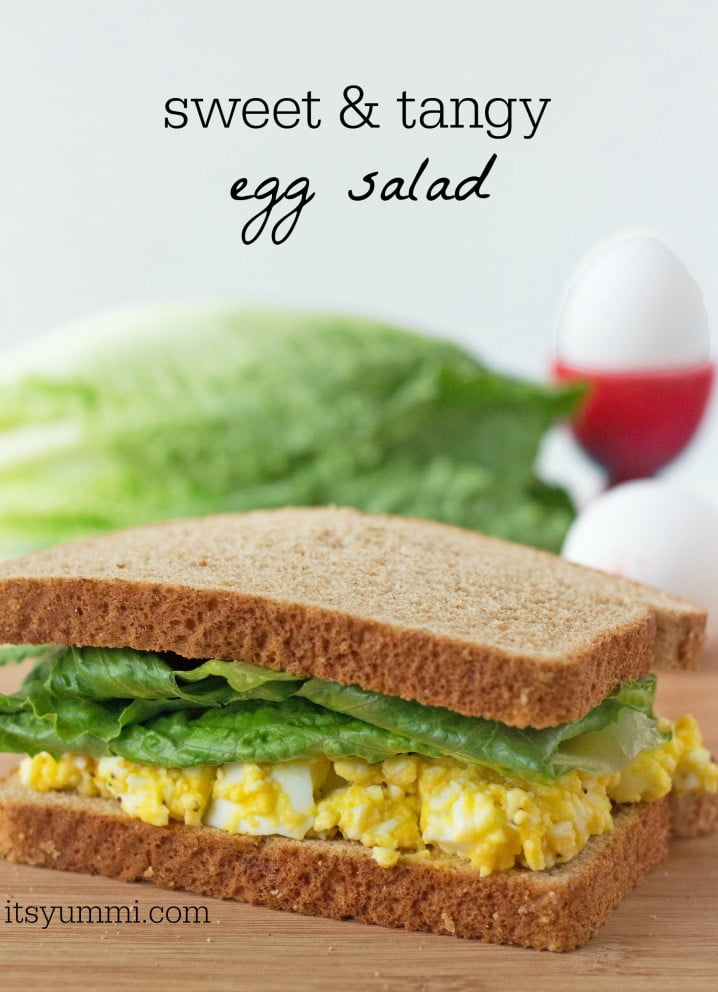 A couple of weeks ago, I gave you a recipe for a kumquat poppy seed vinaigrette. That delicious dressing would make a beautiful appearance on any salad or over crisp Spring veggies, but it's also the key to unlocking the unique flavor and healthy benefits in this egg salad sandwich recipe. You can get all of my #FoodFacts on kumquats in that post, but I'll tell you again that they're loaded with vitamin C, they're naturally low in fat, and they're not too high in natural fruit sugars, so it's a citrus fruit that you might want to keep on hand. If you don't shop at a grocery store with a large selection of produce, just ask your produce manager to order you some. I think you'll love the tangy burst of sweet and tart that it'll give you, and it pairs so well with the creaminess of the eggs.
Oh, speaking of produce managers, I've got a cute story for you! April 2nd was National Love Your Produce Manager® Day, and my friends over at Friedas Produce had a fun campaign on their social media pages. They asked us to publicly thank our favorite produce manager, using the #LYPM hashtag. I took the opportunity to thank my favorite PM, Dave at Festival Foods, thanking him in this Tweet:
A HUGE thank you and Happy Produce Manager's Day to Dave at @festfoods in Darboy, Wisconsin! You're my produce hero! #LYPM

— Becca ~ It's Yummi! (@ItsYummi) April 2, 2014

I wasn't sure if Dave used Twitter or not, but they have a fabulous social media manager, so I was hopeful that he'd get the message, and he did. What I didn't realize, though, is that Frieda's had a nice surprise up their sleeve for both Dave and I. Look what they Tweeted back to me the next day:
Congrats @ItsYummi & Dave at @festfoods Darboy WI! You've won our #LYPM #Giveaway twitter division. We'll mail the prizes to Becca!

— Frieda's Produce (@FriedasProduce) April 3, 2014

PRIZES?! I had no idea there was anything but fun involved, so giddy was the word of the day! I had great fun yesterday, when I stopped in to surprise Dave with his gift card from Frieda's. He was super excited and ridiculously cute when he told me that he'd probably spend it buying produce!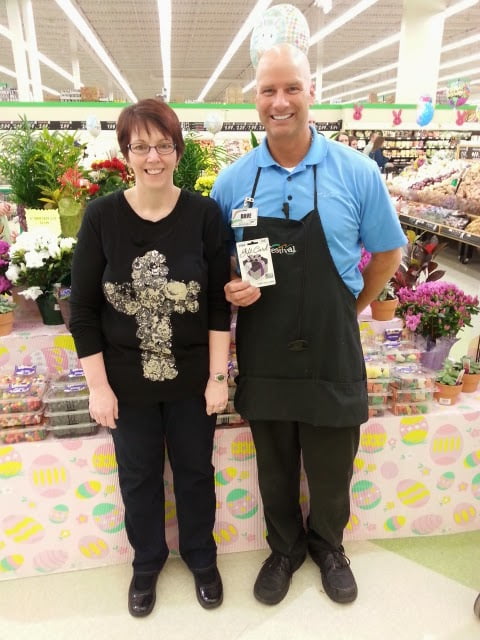 Have I mentioned lately how much I love being a chef and food blogger?  My job is sometimes demanding and often nerve wracking, but it's ALWAYS a blessing for me to be able to bring you great food for your stomach AND your spirit!  My recipes aren't fancy, but they'll help you put food on your table quickly, economically, and with as few processed chemicals as possible.  For me, the ultimate goal is to keep you well fed and healthy.  I think I'm doing a good job of that, and I hope you think so, too!
If you'd like to keep up to date with my new recipes, please use this form to get them sent directly to your email.
 


 
I'd like to start blogging low carb menu plans, but I need to see if there's enough of an interest for them before I dedicate the time to putting them together.  Please leave me a comment and let me know what you think!
OK, now who's hungry for this sweet 'n tangy egg salad sandwich recipe?  Grab your apron, because it's time to get cookin'!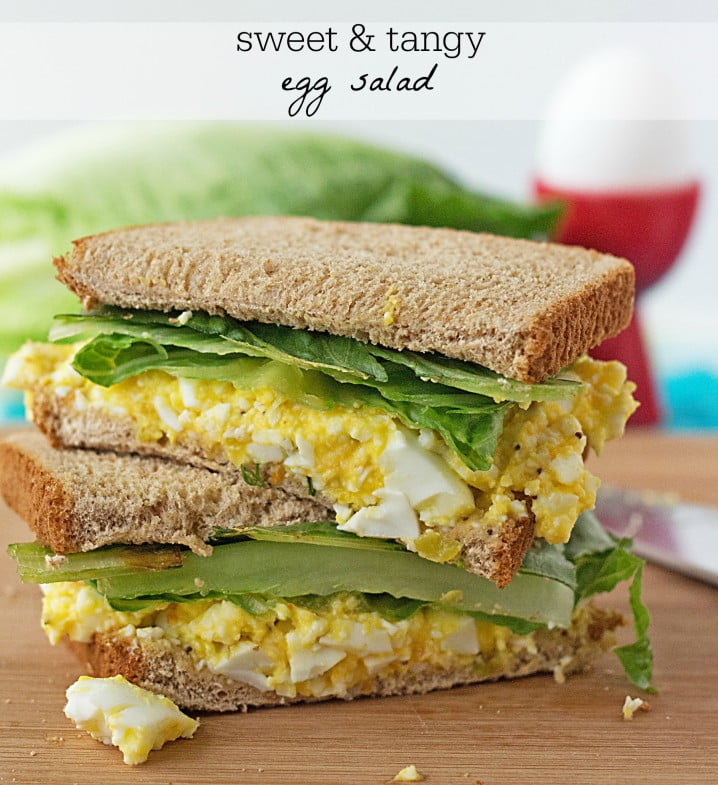 I kept this egg salad low in fat by removing a couple of the egg yolks after hard boiling them. The yolks are full of fat and calories, and the whites are full of healthy protein, so I usually try to remove at least 1 yolk (and sometimes 2) for every 4 eggs I use, even when I use them in omelets and quiches. You truly won't notice the difference, I promise! I also lowered the fat and calories by substituting plain Greek yogurt for half of the mayonnaise in the recipe. The tangy zip from the yogurt is a great match to the sweetness of the vinaigrette and pickle relish. With less calories, less fat, and lots of sweet and tangy deliciousness, I'm hopeful that this will become your go-to egg salad sandwich recipe!
Sweet 'n Tangy Egg Salad Sandwich Recipe