Welcome to WEEK 14 of Sundays with Joy!  I can hardly believe that I've been creating recipes from Joy the Baker's cookbook for over 3 months now.  Each week has brought new sensations to my palate and wonderful foods to my plate.  This week's recipe is one of my favorites to date.  Seriously, lovelies... these are some of the best pancakes I've eaten in my life!

My personal theory on why these cakes taste so wonderful is that they're made from a buttermilk base.  They could certainly be made with regular milk, but the acid in the buttermilk gives them a tangy undertone that pairs really well with the blueberries and oranges.  There are also two leavening agents in the recipe.  The use of baking soda AND baking powder helps the pancakes rise a bit higher, keeps them moist, and makes them incredibly light and airy.  The final ingredient is a touch of almond extract to make everything come together like a symphony in your mouth.  The result is a pancake that leaves your taste buds singing a happy tune!
Joy's idea of taking this recipe to the next level is to forego traditional maple syrup as a stand-alone topping.  That's right.  Nothing Aunt Jemima has created  yet could do these beauties justice.  Instead, Joy and I suggest that you use REAL maple syrup, pair it up with some orange juice, mix in some powdered sugar and make yourself some liquid crack seriously addictive maple orange glaze to serve with this dish.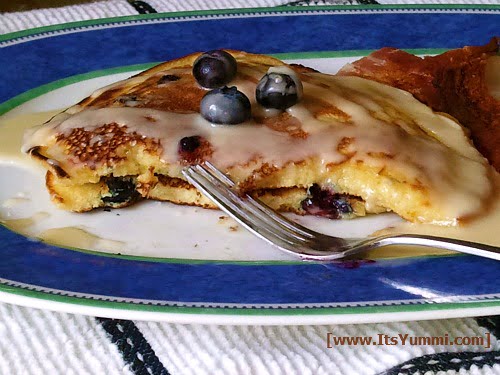 I don't typically share the recipes from Joy's book with you unless I've adapted one enough to call it my own.  The reason for that is simple...  Joy worked very hard to develop her recipes and compile them into a beautiful book.  I want to encourage her to write more amazing books in the future by helping all of you to support sales of the current book!  But Joy Wilson is also about spreading and sharing love in the food community.  That's why I don't think she'll mind my sharing this week's recipe with you.  I truly hope you enjoy these as much as I did.  Either way, I hope you have a delightfully yummilicious week!
~ Becca
Blueberry Orange and Almond Pancakes with Maple Orange Glaze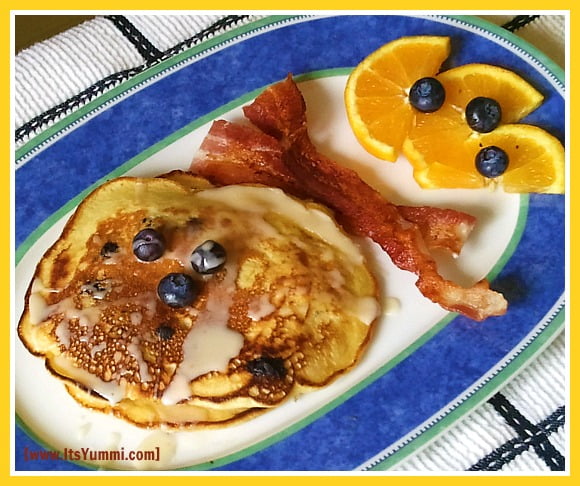 Plump, juicy berries paired with the flavors of orange and almond makes these buttermilk-based pancakes light, fluffy, and delicious. Paired with an orange maple glaze, they become cakes of delight!
WHAT YOU\'LL NEED
FOR THE PANCAKES

1 cup all-purpose flour
1 Tablespoon granulated sugar
1 teaspoon baking powder
1/2 teaspoon baking soda
1/2 teaspoon salt
1 larg egg
3/4 cup buttermilk (or 3/4 cup regular milk mixed with 2 teaspoons of lemon juice or white vinegar)
1/4 cup fresh orange juice
2 teaspoons orange zest
1/4 teaspoon almond extract
1/2 to 3/4 cup fresh blueberries (or use frozen, but be sure to thaw and drain them well)
3 to 4 Tablespoons butter, for the griddle (to cut calories and fat, use non-stick cooking spray)

FOR THE GLAZE

1.5 cups powdered (confectioner's) sugar
3 Tablespoons fresh orange juice
1 Tablespoon pure maple syrup
HOW TO MAKE IT
Heat oven to 200 degrees F. Place a rack in the upper third of the oven. Use this to keep the pancakes warm as you cook them.
TO MAKE THE PANCAKES
In a medium-sized bowl, whisk together the flour, sugar, baking soda, baking powder, and salt.
In a small-sized bowl, whisk together the egg, buttermilk, almond extract, orange juice, and zest.
Whisk the wet ingredients into the dry ingredients, just until combined. Fold in the blueberries and let the batter rest for 5 minutes while the griddle heats up.
Over medium heat, melt 1 Tablespoon of the butter into a cast iron skillet, griddle, or large frying pan. Spoon 2 Tablespoons of batter into the hot pan and cook until golden brown on both sides, approximately 2 minutes per side. Place the pancakes on an ovenproof plate and store them in the oven to keep warm while you cook the rest of the pancakes. Add more butter or spray the pan as needed.
TO MAKE THE GLAZE
Whisk together the powdered sugar, orange juice, and maple syrup. Drizzle over the warm pancakes and enjoy!
Notes
This recipe makes very small pancakes. If you like larger portion sizes, use 1/4 cup batter for each pancake. It will yield 5-6 standard sized pancakes.
http://www.itsyummi.com/swj729/
Recipe From: www.ItsYummi.com
If you'd like to start cooking along with me each week, or you've enjoyed the dishes I've made so far and want to make them for yourself, you should pick yourself up a copy of Joy's amazing cookbook.  It's available at retailers everywhere, but I found the best price for it over on Amazon.
Disclaimer: If you decide to purchase the book via this link, I will receive a small commission from Amazon