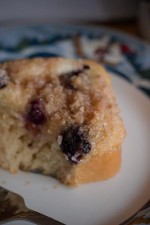 Before I start today's post, a big Yummilicious congrats goes to Carrie Gregory, the winner of my Land O Lakes giveaway.  Have fun with your new cooking tools, Carrie!
So many of you know that I started my own business in December.  In home cooking lessons are TONS of fun, but so are the online/Facebook parties.  Such a neat experience to bring friends, family, and co-workers together for a fun evening.  I had a party last week where we talked about recreating our favorite childhood treats.  Of course, I mentioned how I had recreated the amazing apple cinnamon crumb cake that my dad used to pick up for us at Meuer's Bakery.  One of the guests at the party said that she had memories of her grandma's sour cream pound cake (YUM!) and another mentioned that she is smitten with blueberry desserts.  Pie, cobbler, cake, cookies... she told me that if it's blue, she'll eat it!  I made her promise not to eat a Smurf, and then assured her that I'm just as smitten with those plump, juicy berries.  So much so, in fact, that when my friend Christine made a pan of strawberry cream cheese stuffed streusel cakes, I knew that I'd have to recreate them using blueberries... so I did!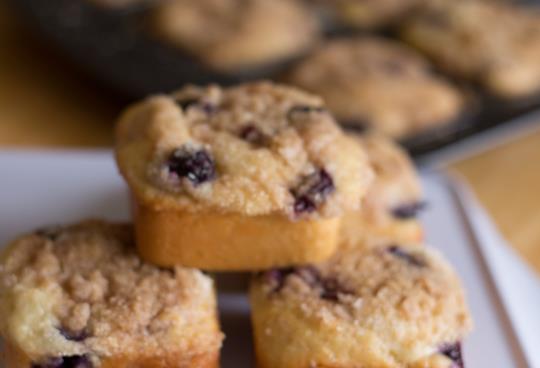 Before you try cleaning or adjusting your monitor, display, or your bifocals, please know that the photo above IS blurry.  It's not supposed to be, mind you, but it is.  I got a new camera lens and I'm still practicing.   I also accidentally deleted the GOOD photos and kept the bad ones.  Sometimes, I really disappoint myself.  *sigh*  At least you've got  a blurry visual of the goodness that awaits you!
I can tell you with all certainty this recipe makes an ahhhh-mazing cake, so despite the bad photos, it tastes tremendous!  Light & fluffy cake packed with juicy blueberries and topped with streusel.  Seriously...what's NOT to love?!  :)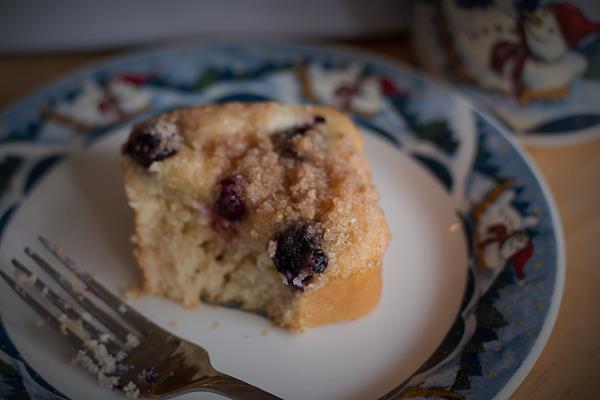 Before I give you the recipe, I have to say that the Pampered Chef brownie pan is like a cook's dream!  I use mine for everything from baked goods to individual lasagnas & meatloaves, and even quiche and mac & cheese cups.  It's got a non-stick finish, but it's NOT Teflon, and I've never had to use cooking spray or oil on the pan before using it. Everything just slides right out.  Best $19 I ever spent on a baking pan!
I hope you have a fabulous week...  Thanks SO much for stopping by to allow me to feed your spirit AND your stomach!
hugs & blessings!
BY THE WAY, if you haven't done your taxes yet, I highly recommend this software.  It walked me through every step of the process and made sure that I received all eligible credits, etc.  First time in several years that I had a decent return!  :)