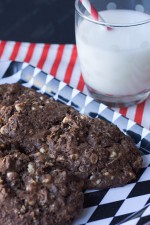 Lesson learned today...Never ever expect the day to go exactly as you planned it to.  My freaking great idea to get #FitBy50 backfired on me as I walked on the treadmill this past Saturday.  After my left foot swelled to the size of a baby elephant, I started screaming in pain, which caused my neighbors to call the cops because they thought I was being stabbed by a serial killer.
No, officer.  I'm not being hurt by anyone other than myself.  Feel the burn...
Anyway, x-rays were taken and I learned that I've got a sprained left foot and 2 bone spurs that are stabbing into the metatarsal nerves on the top of my foot every time I bear weight on it.  That's it... I'm never exercising again.  I'm clearly allergic to it.  Let's eat cookies instead, m'kay?
These cookies are one of those treats that can be baked up within 30 minutes, giving you an instant lift to heights of chocolate happiness.  Look at these babies!